A great grand-daughter born in New York and a great-grandmother born a world and four generations back in Turkey— connected by a wedding coat. This is the beautiful story of Evangelia Tsaoussis and her desire to pay tribute to four generations of her family's Greek heritage.
Ever since Evangelia (Eva) first laid eyes on her Yiayia Eliso's wedding coat, she felt a connection to it. Yiayia Eliso was her great-grandmother, her "little yiayia" who was both as tall and as tiny as Eva was. And although they were born world apart and in different eras, more than a century apart, growing up—little Eva felt a special bond with her great grandmother.
Both were born with the same attitude and thirst for life as the other; that same undying love of family and fierce survivor attitude. Eva and her great-grandmother were very close. Yiayia Eliso passed away at the age of almost 100 leaving Eva with a full lifetime of memories.
Yiayia Eliso was born Elizabeth Bantos in the early 1900s in the historic Phanar district of then Constantinople to parents who fled from Pontos and walked for days to reach safety. It was the time in the late 1800s and early 1900s when life for Greeks in Asia Minor was volatile and dangerous.
Yiayia Eliso's mother Vasiliki was given a traditional Greek wedding coat by her mother, taking the story of this embroidered jacket back five generations. With the help of a Turkish Imam in Constantinople, Eliso's family was helped with safe passage to Epirus in mainland Greece, where they stayed for a few years, before heading to Athens, where the family settled.
All along the way, the wedding coat that was with the family for generations was amongst the most precious cargo when the family resettled from one place to another. Eva's family tree is the stuff legends are made of— having survived the massacres and genocide of the Greeks of Pontos, migration from Constantinople to mainland Greece, both world wars, the occupation, the civil war and subsequent expulsion from their homeland, eventually arriving in America as refugees, where Eva's mother Liz (named after yiayia Eliso), was born.
Liz grew up in New York's close-knit Greek American community. She eventually married and had two children— Eva, and a son George. She instilled in both of her children a love of faith, culture and community service and always shared stories of her rich family history and heritage. So when Eva matured and it was time for her to get married— it was only natural that she honor her family— and the memory of her great grandmother with whom she shared so much— by donning the family wedding coat.
The coat is completely handmade, crafted of heavy navy blue wool that was meticulously hand stitched and embellished with gold threading and brocade. The beautiful intricate stitching patterns are indicative of the Greek-Ottoman influence worn by Asia Minor Greeks in festivals and important ceremonies of the time. The coat eventually arrived in America in 1956 when Eliso and her husband Foti emigrated to the heavily-Greek Hell's Kitchen neighborhood of New York City.
This coat has been passed down through five generations of first born women, from Vasiliki, to her daughter Elizabeth (Eliso), to her daughter Evangelia (Eve), to her niece Elizabeth (Liz), to her daughter, the present Evangelia (Eva).
How it survived the, ransacking of the dowries, and its cross continental migration, can only be through its own determination to be a testimony to the strength and reliance of the women who have worn it.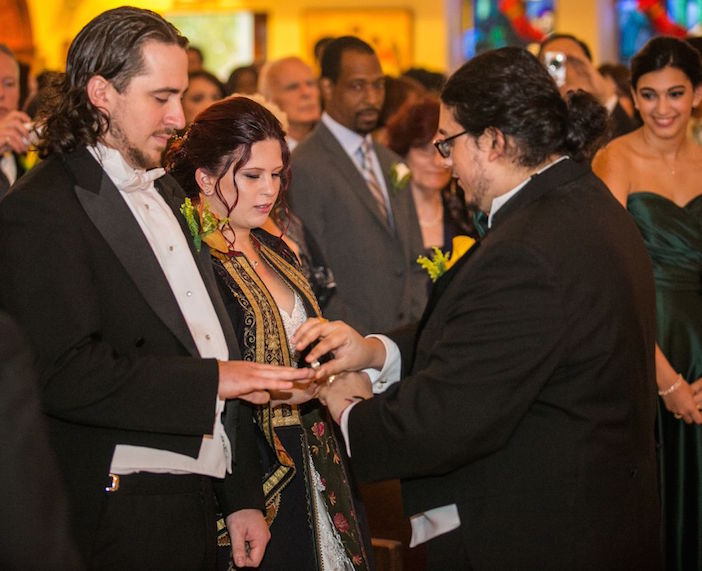 From the beginning Eva wanted to wear the coat as a part of her wedding ensemble to honor both her great-grandmother and her heritage and to be part of the legacy of women who never ever gave up and persevered through all of life's obstacles and journeys.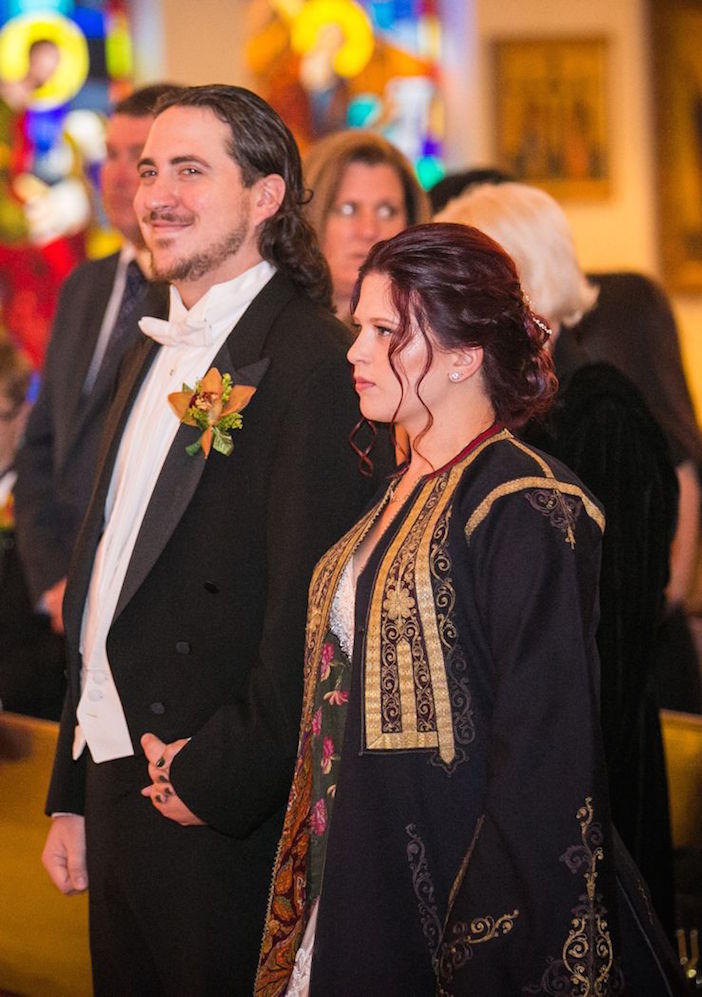 Her brother George generously paid for its restoration, and it was formally presented to Eva on her wedding day as she reached the altar of St. Paraskevi Greek Orthodox Church in Greenlawn, New York.
Eva was married on November 1, 2014. She wore it during the Betrothal Service in her Yiayia Eliso's memory and honor, with great respect and love.
Two women, two generations apart, spiritually connected on their wedding day by wearing the wedding coat made with love by their ancestors.