On 7th May 2016, Apostolos Baranowski set out for one of the toughest marathon runs in Greece which bears the formidable reputation of a "soul-breaker". Apostolos managed to run a grueling 107.5km non-stop from Ancient Delphi in 14 hours (!), running throughout the night and morning, to get to the village of Plataea.
And all of that with the aim of raising funds for Hellenic Hope, a UK-based charity founded in 2012 supporting children at risk in Greece that has positively affected the lives of over 3,500 children with educational, medical and subsistence support through 39 funded projects.
Apostolos shared his story of motivation that powered him onto this marathon course for the second time since 2014.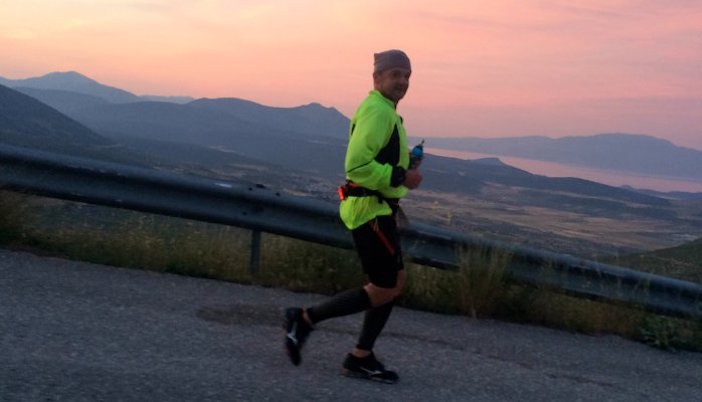 Why did you choose this run?
I'm a seasoned endurance runner, with a passion for running in Greece. I don't need to be asked twice to lace up and take on a new challenge, especially if running insane distances is for a worthy cause. I've chosen this particular course because it is considered to be one of the toughest in Greece. The elevation is insane and it has a formidable reputation of being a 'soul-breaker'.
How did you feel at the beginning?
Relief! And let me elaborate on that. In order to prepare for this race I trained for 4 months, running 6-7 days and averaging between 90-120km per week. With so many people relying on me, it was a relief to get through the training without injury. In my opinion an ultra-marathon is not so much about the race, as it is surviving the training without setbacks. All the runners who found themselves at the starting line were already winners.
On a purely emotional level, when I was standing in line waiting for the final push that was going to send me into an abyss of uncertainty, my mind was definitely on overdrive. I can say with certainty that my heartbeat was like Tito Suarez playing the bongos while tap- dancing on an iron corrugated roof!
When was the hardest moment of the race?
Just after Distomo, at the 40km mark, we were running to an altitude of 1,050m. Then we descended to Ag. Anna at 760m and finally to 235m at Domvania. Personally I don't mind the uphill. The worst muscle damage occurs on decent, because you're constantly applying the "brakes". My knees and quadriceps took a real beating and that's when the first signs of fatigue started to set in.
How did you feel at the end? Physically and mentally?
I'd been running non-stop for over 14 hours and hadn't slept in over 38h. It's safe to say that when I stepped over the finish line I didn't look or feel like the belle of the ball. The human body is not designed to run these kinds of distances, you have to be able to assert your authority (mind and spirit) in order to perform and keep going under all extremes.
However, a feeling of joy would be an understatement! There's a sense of sheer jubilation that I hadn't let my family, Hellenic Hope and friends down. I also felt gratitude. Gratitude that I have a family who had unselfishly supported me in my preparation. Gratitude that I have my health and was given the green light to run. Health should never be taken for granted, one day you have it the next you might not!
Any unexpected incidents that you hadn't predicted?
At about the 78km mark, my liver decided to throw a stamping tantrum, and began producing toxins. It's one of the last things any ultra-runner wants to have to deal with. The unfortunate thing is that you can't just shake it off. It's with you for the rest of the race and you've just got to deal with it as best you can.
What were the highs and the lows?
My highs:
The camaraderie shared between the runners. Unlike other events the athletes do not compete against each other, they share a common bond to support one another and finish the race together.
A collection of small but surreal events. In the middle of the night, I heard the morning song of small birds, tricked by the glare of my head-torch into thinking it was daytime.
The priceless feeling of running as the night gave way to a new day!
Chicken soup at the 59km checkpoint. It was seriously gourmet!
My lows:
The heat at the last 30km. I started to drink too much water, too fast and paid the price. Stomach cramps, dizziness and other symptoms that decorum prohibits me from mentioning.
Would you do it again?
YES definitely! An ultra marathon is not simply a quick fix adrenaline rush, for example like bungee jumping. When you run extreme distances it's an adventure, you're actually experiencing a lifetime of living in a single race. That's the aspect of the sport I adore. I've already found my next challenge, probably a 156km ultra marathon on the island of Crete. A trail running affair if I'm not mistaken!

What was it that kept you going?
A combination of things kept me going during my darkest moments:
Determination to demolish every obstacle that mother nature, my mind and body put in front of me. A relentless stubbornness to reach my goal. If you have doubts you'll fail. You have to be ruthless with yourself, making the pain your ally and not your enemy.
I'm not a superstitious runner but I do always carry one item with me of immense sentimental value. My father was a decorated World War II veteran, a man I greatly admire and a driving inspiration in everything I do. In the pocket of my running belt I carry a ribbon from one of his war medals. I make a pledge in honour to his memory, that I will deliver it to the finish line. At all costs.
It goes without saying my family and their unconditional love and belief in me. Indeed a big thank you to my long suffering partner Efi who was my support during the whole duration of the race. Last but not least, the children that my humble efforts will help through Hellenic Hope. The kind individuals who donated money and my generous corporate donors, Tallon Trading and Foodrinco S.A.
"Philotimo" is a Greek word meaning "Friend of honour"; it is the highest of Greek ventures and regulates how one should behave in their family and community. It is about respect and doing the right thing. In it's purest form it means "doing good".
Nothing is impossible when we work systematically and relentlessly towards a goal. I truly believe that the members of Hellenic Hope and you, the supporters, carry the very essence of "philotimo" in your hearts and I am confident that together we can work to ease the suffering of impoverished children in Greece.
Note: Apostolos' fundraising platform is still open for donations to Hellenic Hope. Read the Hellenic Hope 2015 Impact report here… Follow Hellenic Hope on Facebook, Twitter and LinkedIn.