A crisis can disarm or paralyze us— or it can provoke us to action. For months, I sat by, like many of you, reading story after story in the international media about the crisis in Greece. Pensioners with n access to their funds, more and more children going hungry, a rise in homelessness— and so on.
You almost become desensitized to the news after seeing headline after headline.
When Polychronis Tzortzakis emailed me, sharing his own story about being a Greek National Cycling Champion and his desire to compete in the World Championships in Richmond, Virginia, I was moved to action.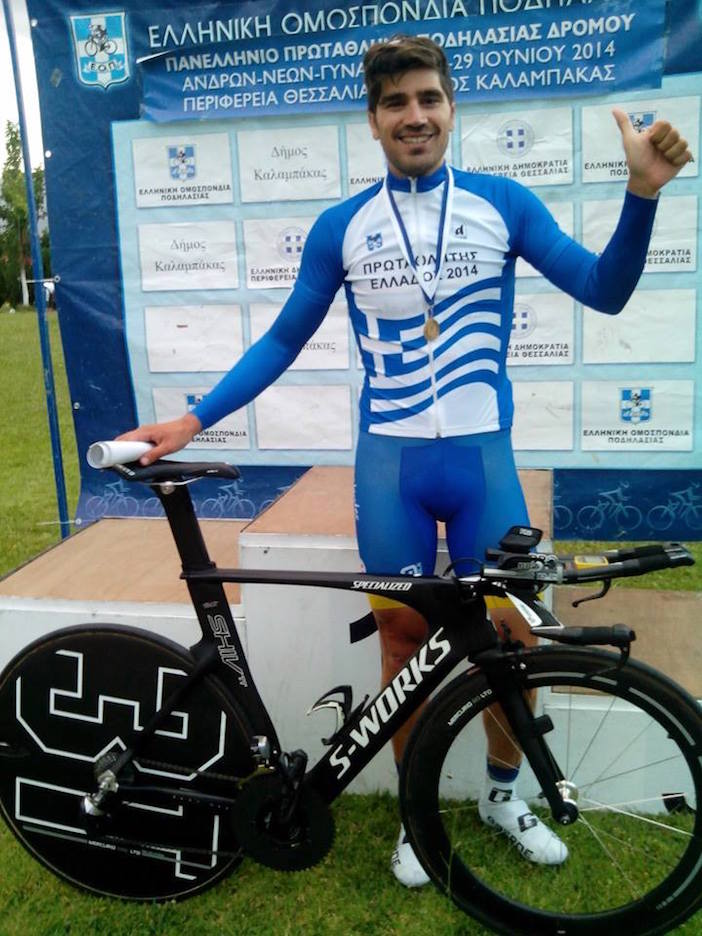 The Greek Cycling Federation— like so many sports and cultural bodies in Greece— is out of cash. Budget cuts are preventing them from sending many elite athletes to international championships. The same is true for Olympic medal winners in various sports and as we approach the 2016 Rio Olympics, we will certainly be reading more about this.
So I started the Greek Athletic Champions Fund on Indiegogo to try and raise some funds to help Polychronis compete in the World Championships and if enough was raised— to help more athletes in similar circumstances.
I'm pleased to report that only 4 days into the campaign, the diaspora as responded in a major way. It's humbling to see the numbers.
$1789 or 18% of our target goal of $10,000 has been pledged by 27 people coming from the United States, Canada, Australia, the UK and Greece.
The fund is also currently featured as "trending" on Indiegogo's front page for sports campaigns.
But the biggest update came from Polychronis, himself, when he shared a photo of him on his bike crossing the finish line at a race in France yesterday. Polychronis wrote:
"At one point I was in a breakaway of 4 cyclists for the last 30km and I attacked on the last 8th kilometer of the race and finished solo with almost a minute advantage over the next cyclists! I felt really good and was boosted by the help that I'm receiving from Greek-Americans these past few days. Knowing that there are people out there who care gave me a lot more motivation to win this race with the Greek flag on my jersey."
At the time of his race, about a dozen Greek Americans had added funds to an Indiegogo campaign. Since then, numerous diaspora Greeks have joined this effort thanks largely to the audience of The Pappas Post— the main publicity sponsor of this effort.
Please consider helping. There are numerous ways to help:
Make a donation— even $5 will go a long way to help the Greek National Cycling Champion achieve his goals of competing at the World Championships.
Share the campaign on your social media— just click the link and use the share buttons at the left sid of the page.
Spread the word to your sports-loving family and friends about this campaign.
Finally— if you anyone in Richmond, Virginia who may be interested in helping us organize a proper welcome for Polychronis when he arrives for the World Championships, please share this message so we can come into contact with them and put a local welcome committee together.