Protestors in Athens on Monday, April 16 directed their ire against the United States' air strikes against Syria at a statue that has seen its share of violence over the decades.
Harry Truman, President of the United States from 1945 to 1953 is seen as a symbol of American intervention in Greek politics, primarily by communists and leftists in Greece, resulting from the Truman Doctrine that pumped billions of dollars of aid into the country after World War II to prevent the spread of communism.
The statue– a gift from the Greek American organization AHEPA, was installed in 1963 and has been attacked, vandalized, toppled and even bombed dozens of times since its placement in Athens.
"What we did today is a symbolic move against the U.S. and the war (in Syria)," said Yorgos Perros, a member of the communist-affiliated union PAME in an interview with Reuters. "The statue is a symbol of imperialism and the United States in Greece."
AHEPA condemned the attack in a statement from its headquarters in Washington DC.
"AHEPA respects and encourages freedom of speech and the rights of individuals to gather and demonstrate peacefully," Hollister said. "However, there are certainly more productive and effective ways to express dissent or opposition than to resort to senseless acts of vandalism."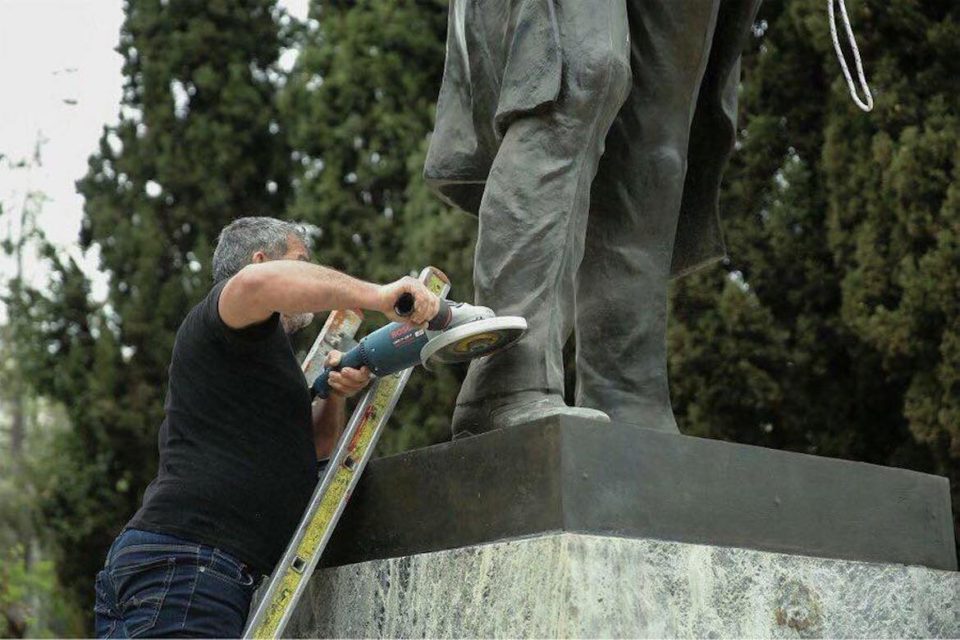 The statement added a special thank you to Greek police for preventing further vandalism and said the organization would work with the mayor of Athens and the municipality to explore measures to protect the statue from future attacks.
In his message that was read to the 20,000+ crowd in attendance at the ceremony to install the statue in May of 1963, President John F. Kennedy stated: "I hope this outstanding memorial, which the Order of AHEPA has made possible, will come to symbolize not only our common heritage and efforts, but will serve to remind us of the high priority President Truman gave the progress of Greece toward economic development and social justice in peace and freedom."
Former Greek Prime Minister Constantine Karamanlis stated at the time that "If the Greeks want to survive as a free nation, they should not forget the dramatic period with which Mr. Truman's name is linked. Should they forget it, they would deserve their fate and have no right to ask for anyone's help."
---
Is The Pappas Post worth $5 a month for all of the content you read? On any given month, we publish dozens of articles that educate, inform, entertain, inspire and enrich thousands who read The Pappas Post. I'm asking those who frequent the site to chip in and help keep the quality of our content high — and free. Click here and start your monthly or annual support today. If you choose to pay (a) $5/month or more or (b) $50/year or more then you will be able to browse our site completely ad-free!

Click here if you would like to subscribe to The Pappas Post Weekly News Update