This article is part of our Greek American History Preservation Project in collaboration with the Greek America Foundation. We need your help! Support the Greek American History Preservation Project as we seek to record important moments in our community's history. There are vast archives waiting to be tapped and brought to the public's attention on our digital platform. Support our work today to keep our history alive for future generations. The Greek American History Preservation Project by The Pappas Post and the Greek America Foundation aims to digitize and share unique stories of Greek America and make them accessible to casual readers and researchers alike. Donations support research from various American archives, writing, as well as rights usage rights to allow newspaper articles, photographs and footage to be published online on our platform. Use this link to make a recurring or one time donation to support our efforts.
---
More than 500,000 Greeks — 90 percent men — emigrated to the United States between 1880 and 1920, creating a demographic nightmare for their future as a community due to the lack of women.
As a result, the era of the picture bride was born and thousands of young Greek women were sent to America, many only after having seen their prospective husbands in a photograph that was sent to the village from faraway America by a friend or relative attempting to make the connection, or from a marriage agency set up in the immigrant communities abroad.
It was a dangerous journey for unwed girls, and although some were enthusiastic to leave Greece for the mythical New World, many were forced against their will to leave and begin new lives with stage — often much older — men.
Numerous stories were passed from mouth to mouth and village to village about young girls left at the docks or train stations because they were not as beautiful as their photographs, or because the prospective husband never showed up to claim his bride.
Picture brides soon entered the consciousness of Greeks on both sides of the Atlantic.
Popular Greek singer Rita Abazis recorded a song called "Min Me Stelneis Mana Stin Ameriki" or in English, "Mama Don't Send Me to America" about a daughter begging to her mother not to send her to America.
Mama, don't send me to America, I'll wither and die there.
I don't want dollars — how can I say it?
Only bread, onions, and the one I love.
I love someone in the village, Mama, A handsome youth, an only son.
He's kissed me in the ravines, And embraced me under the olive trees.
Yiorgo, my love, I'm leaving you, And I'm going far away.
They're marrying me off in exile (xenitia).
They take me like a lamb to be slaughtered,
And there, in my grief, they will bury me.
In the 1920s and 30s, the American Hellenic Educational and Progressive Association (AHEPA) organized trips from its chapters across the U.S. to Greece for its male-only members to meet prospective brides.
Often arriving wearing their AHEPA fez and strange western clothing, these men were often mocked– and feared– simultaneously by bands of village girls who were lined up to match with a potential husband.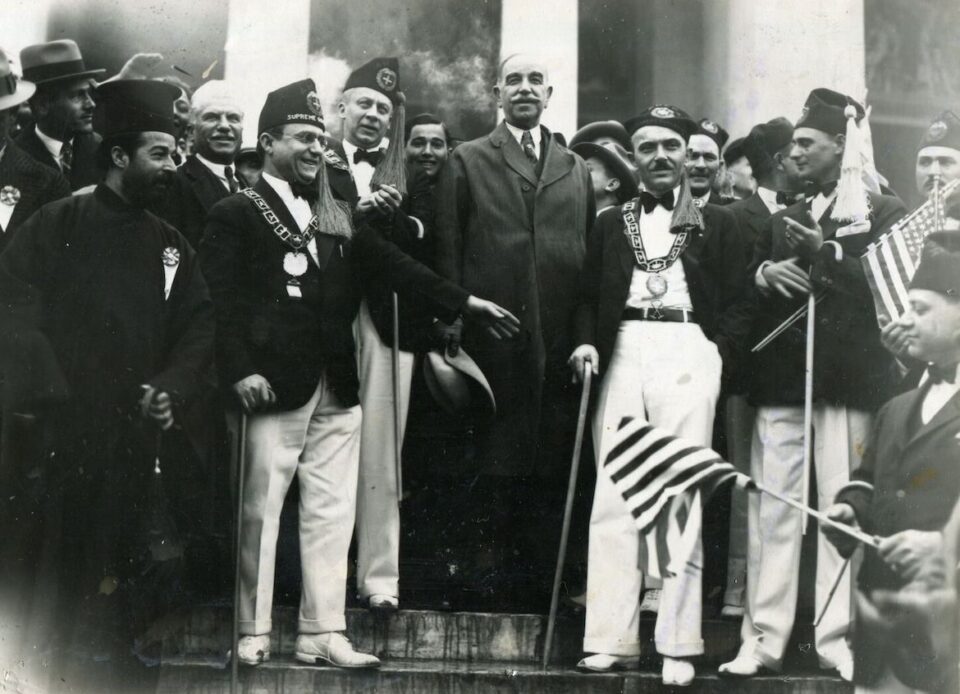 Another song entered Greek popular culture — "Den Ton Thelo ton Ahepa," or in English, "I don't want the Ahepa" — which pokes fun at the men of Ahepa and fez they wore signifying their membership in the Greek-American fraternal organization.
I don't want the Ahepa
how can I tell you?
No matter how many millions he has,
I love someone else

I love a young lad
With a thin waist
I don't want him, I don't want him
The Ahepa with the fez

The American public was fascinated by the picture bride phenomenon, practiced extensively by Greeks, Armenians and other people from Eastern Europe and the Middle East.
A similar phenomenon was happening on the West Coast with Japanese and other oriental ethnic groups.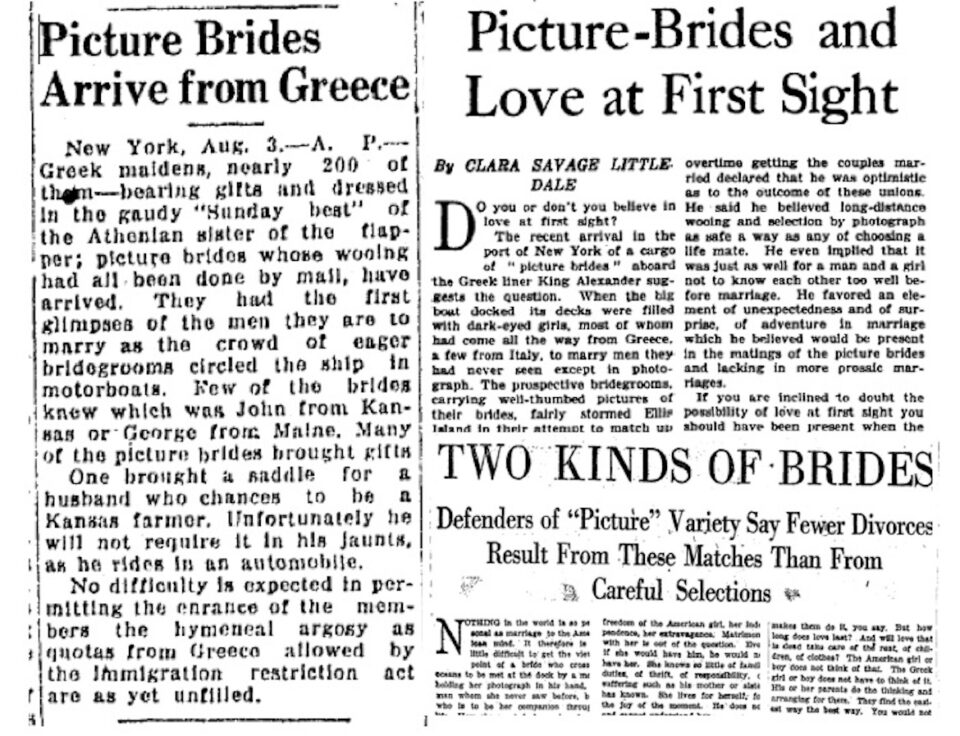 The New York Times and other American newspapers ran stories regularly about ship arrivals with picture brides, even including scandalizing details like "three young men who were doomed to disappointment" when their brides to be "exercised a woman's privilege of changing her mind and announced that they had fallen in love with fellow passengers" on the trip across the Atlantic.
Many of the stories were sad, including this one about the spurned picture bride whose prospective husband claimed wasn't as pretty in person as she appeared in her photographs or this one about the 16 picture brides who weren't claimed at Ellis Island and were forced to return to Greece.
Some were funny, like this one about the picture bride who was sued by the man she was supposed to marry. "Oh, I thought I was going to marry a young man," she said. "I don't want to marry an old man."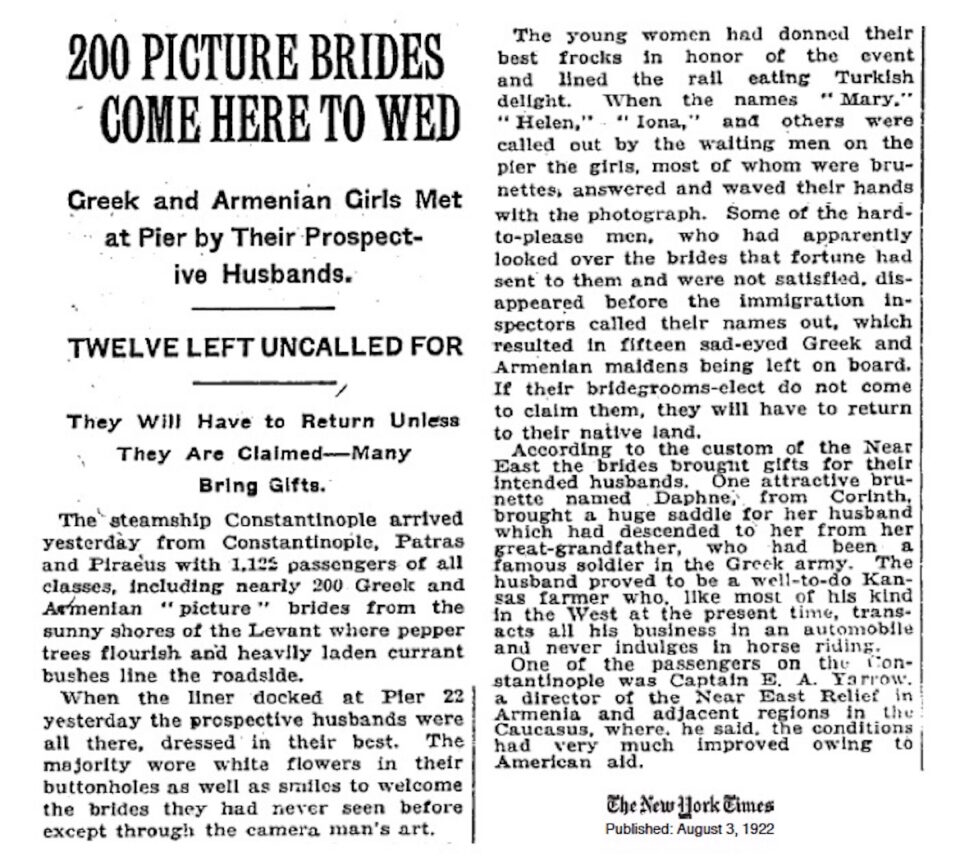 Still other stories involved picture brides bringing gifts for their husbands, including one who brought a saddle, only to learn that he doesn't ride horses but instead drives a car.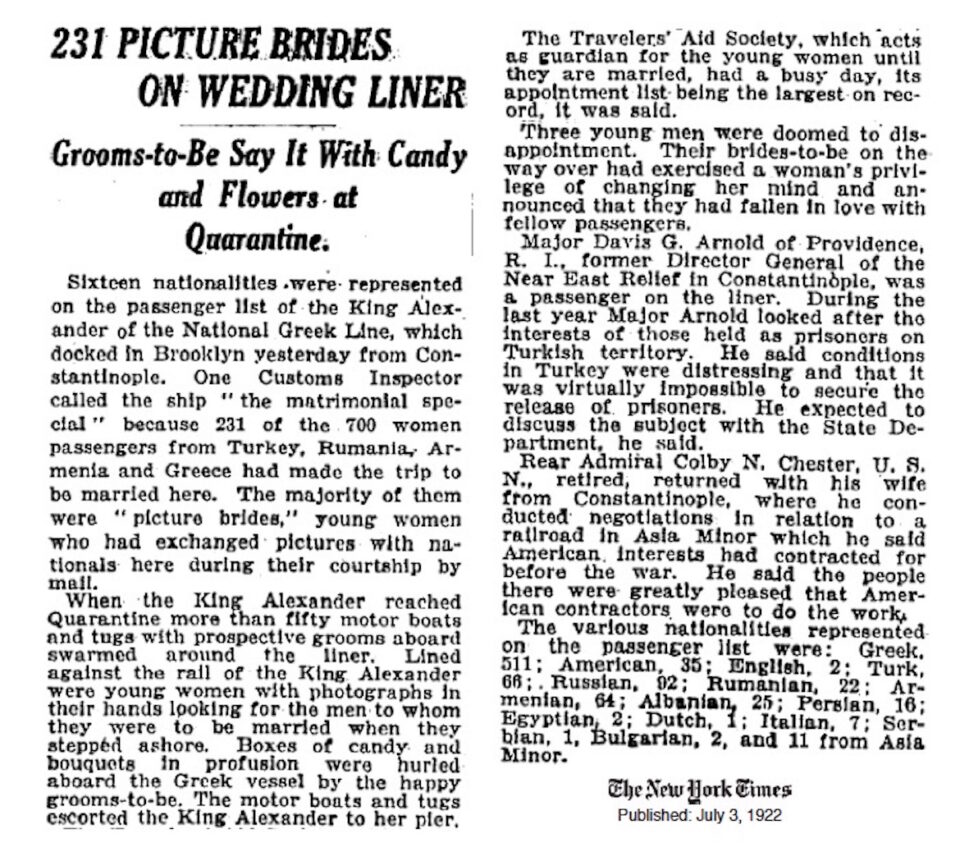 ---
Featured photo: January 21, 1921, New York, NY — Five picture brides arrive from Greece on the S.S. Megalli Hellas to marry Greek-Americans. The majority had never seen their prospective husbands, their courtships having been carried on by mail and the exchange of photographs. Each of the brides-to-be carried photos of her future husband and each of the loving swains crowded about the ship with pictures of his prospective bride. In many cases these photographs were the sole means of identification. (Photo credit: Statue of Liberty National Monument and Ellis Island, National Park Service)
---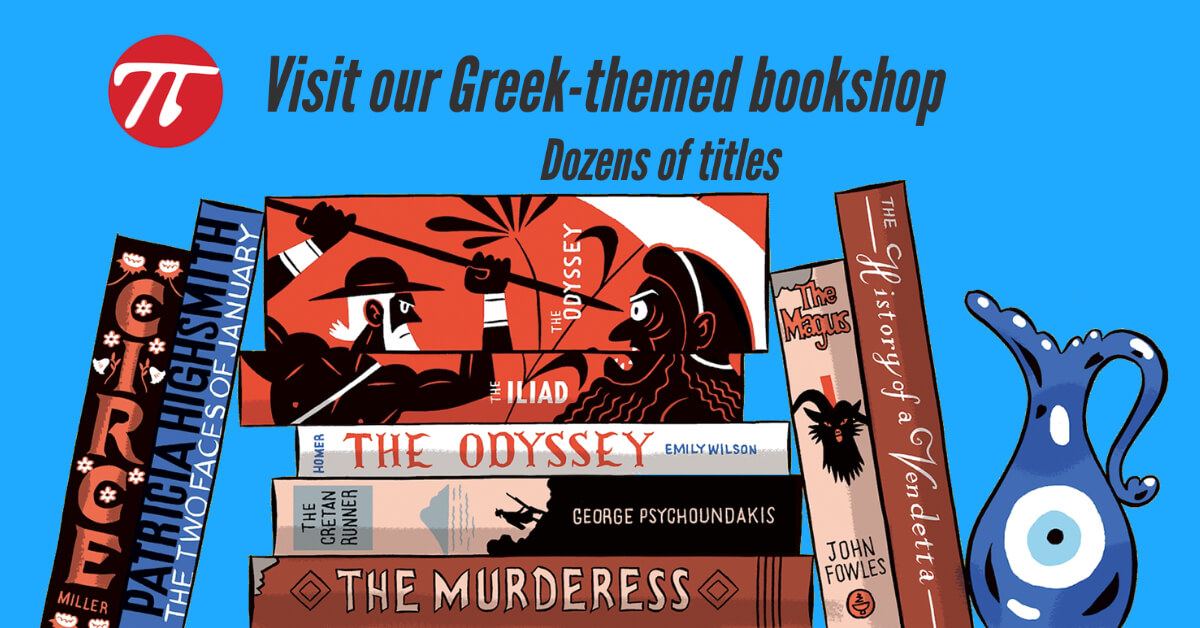 ---
Is The Pappas Post worth $5 a month for all of the content you read? On any given month, we publish dozens of articles that educate, inform, entertain, inspire and enrich thousands who read The Pappas Post. I'm asking those who frequent the site to chip in and help keep the quality of our content high — and free. Click here and start your monthly or annual support today. If you choose to pay (a) $5/month or more or (b) $50/year or more then you will be able to browse our site completely ad-free!

Click here if you would like to subscribe to The Pappas Post Weekly News Update