We're half way through the World Cup Qualifying stage as Greece prepares to travel to Zenica to take on Bosnia and Herzegovina this Friday, June 9, in what most people believe is Greece's most important remaining match. Currently, Belgium sits at the top of the Group with 13 points, while Greece is in second with 11 and Bosnia in a close third with 10. It's almost inevitable that the dominating Belgium will win the group, so that will leave Greece and Bosnia scrambling for second place. These teams last met in Piraeus in November of 2016 for their first match, where they drew 1-1.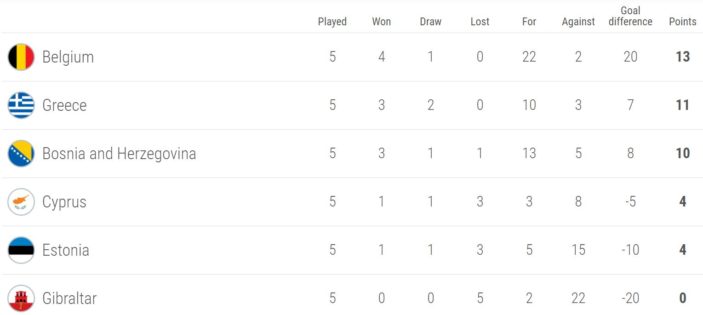 The winner of each group automatically qualifies for the World cup, while the top eight (of nine) second place teams will go to a playoff round. Currently, Greece is ranked #3 among all second place teams which means if the group stage ended today, they would have earned a ticket to the playoff round. A victory for Greece this Friday will give them a comfortable lead over Bosnia and full control of second place with only four games remaining, while a draw will still keep it too close for comfort. A loss could be devastating, as it will yield control to Bosnia and make our fate rely on their performance for the remainder of qualifying.
Greece's Squad
Goalkeepers: Orestis Karnezis, Stefanos Kapino, Andreas Gianniotis
Defenders: Sokratis Papastathopoulos, Kostas Manolas, Vasilis Torosidis, Kostas Stafylidis, Marios Oikonomou, Giorgos Koutroubis, Babis Lykogiannis, Panagiotis Retsos
Midfielders: Giannis Maniatis, Alexandros Tziolis, Petros Mantalos, Kostas Fortounis, Tasos Bakasetas, Dimtris Kourbelis , Carlos Zeca, Manolis Siopis
Forwards: Kostas Mitroglou, Dimitris Diamantakos, Giannis Gianniotas, Tasos Donis, Apostolos Vellios
Greece will be without a lot of crucial players in this match. Andreas Samaris, Giorgos Tzavellas, Panagiotis Tachtsidis and Kyriakos Papadopoulos are all suspended, while Nikos Karelis is out due to injury. This leaves very few feasible options in the midfield which will make it hard for Greece to control possession. Luckily Greece has a great defense and a forward in Mitroglou who is in top form, but I'm not sure if that will be enough to overcome the weakness in the midfield. Former national team member and current AEK player, Lazaros Christodoulopoulos, is also missing despite the fact that he has been playing at an unbelievable level lately, and its surprising that head coach, Michael Skibbe, was unable to find a spot for him on this roster given all the suspensions. It is, however, true to Skibbe's form as he is known to stick with a core group of players.
Greece has been playing well lately, so let's hope they can carry that momentum into this crucial match. They're coming off of a hard fought match in Brussels back in March where they almost won had it not been for a late goal from Belgium in the 89th minute, but rather had to settle for the 1-1 draw. If Greece can maintain the same level of play they had versus Belgium, they should fare well against Bosnia.
Hellas ole!
How to Watch Match Day 6
Greece at Bosnia and Herzegovina, 21:45 Local Time (11:45 PST, 14:45 EST)
USA: Fox Soccer 2GO
Greece: COSMOTE Sport 1; SKAI TV
Canada: Sportnet World; Sportnet World Now
Online: AGONASport.com ($6.95)
More from Thanasi Papoulias…
ExcuseMeAreYouGreek.com / Facebook / Instagram / Twitter
---