This month I spent most of this summer and early fall in Hania on my ancestral island of Crete, checking on the olive trees that will soon be harvested for my fourth annual batch of Agourolado— or early harvest extra virgin olive oil. 
The fields I visited surround the village of Varipetro and the farms are owned and operated by a fifth generation farmer named George Poulakas, whom I've known for more than 25 years. George is dedicated to this land that's been in his family for generations and treats each tree like his child.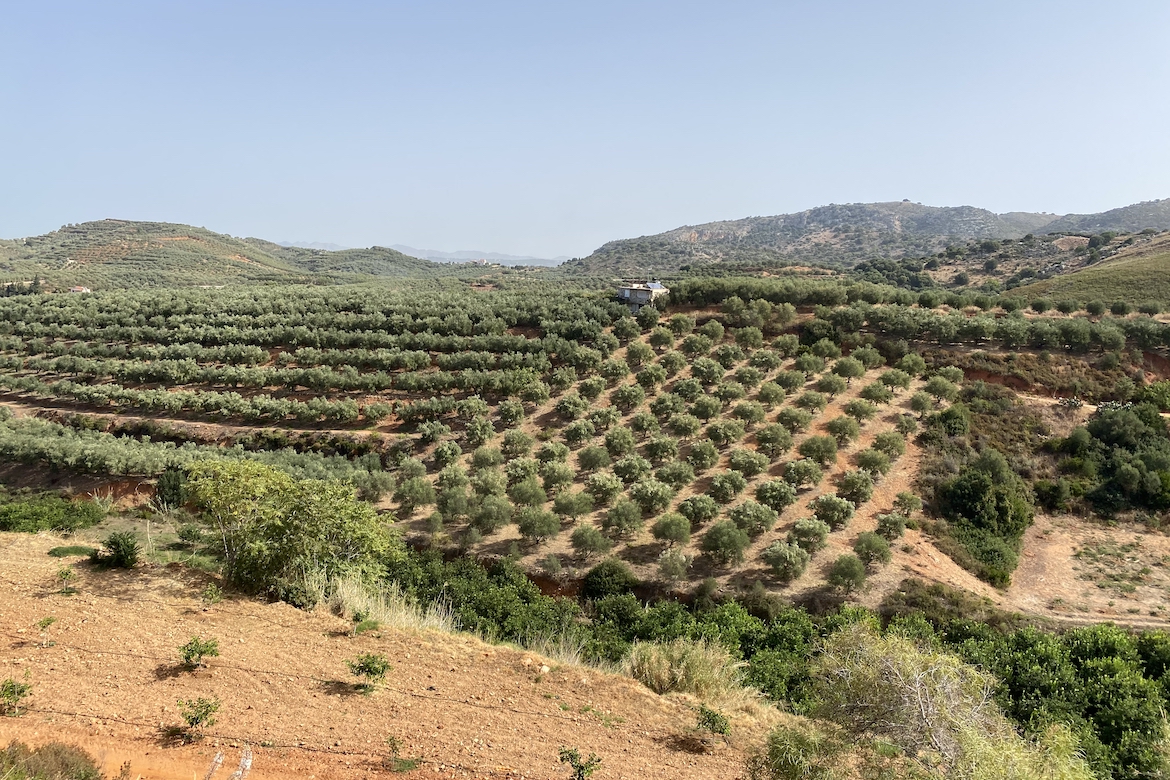 He harvests tons of the finest olive oil in the world every year and sells it to various providers who, in turn, sell it on the local market. Oranges, lemons and avocado are also part of his farming portfolio.
But my "agourolado" isn't regular, typical olive oil. This is the "special oil" that's made from unripe olives which are harvested almost a month before the regular harvest. Because the olives aren't yet fully ripe, it takes about three times the amount of olives to produce oil.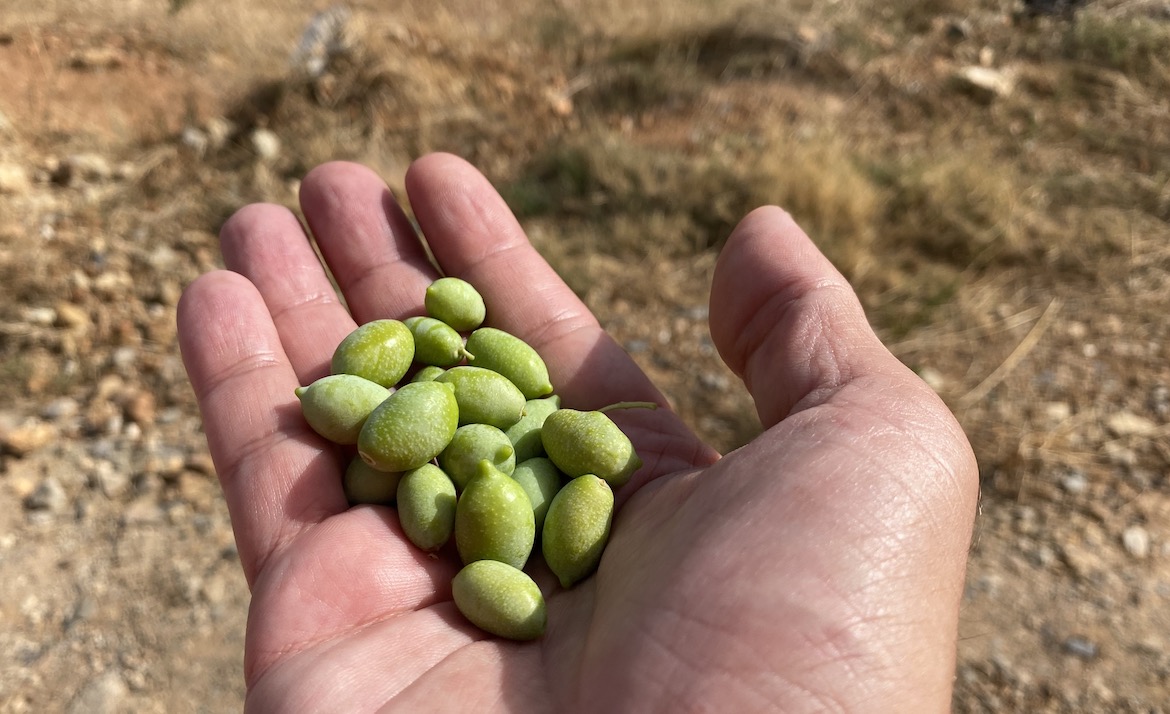 George calls it "liquid gold"— not only for its qualities but also because early harvest olive oil is much more expensive to produce. These tiny, unripe olives also don't fall easily from trees when shaking so traditional methods with mechanized tree shakers don't work and they are most often picked by hand, a tedious and time-consuming process.
The uses and benefits of early harvest olive oil
"Agourolado" isn't for cooking. It's meant to be eaten raw, on bread, or over a salad or topped over practically any dish. Many people I know in Crete— including myself— drink a few tablespoons every morning as part of a daily regimen.
I actually started doing this a few years ago after being diagnosed with cancer and being introduced to the numerous health benefits of early harvest olive oil from doctors who were treating me.
You'll be shocked by its burning, peppery sensation once it hits your throat. It's not smooth like regular olive oil and furthermore, it's green and thicker than regular olive oil. The peppery flavor comes from elements called "polyphenols," which are what make this olive oil so healthy. Basically, the higher the polyphenols, the healthier the oil.
You should consume it raw not only for the unique peppery taste, but also for the amazing health benefits associated with compounds called polyphenols.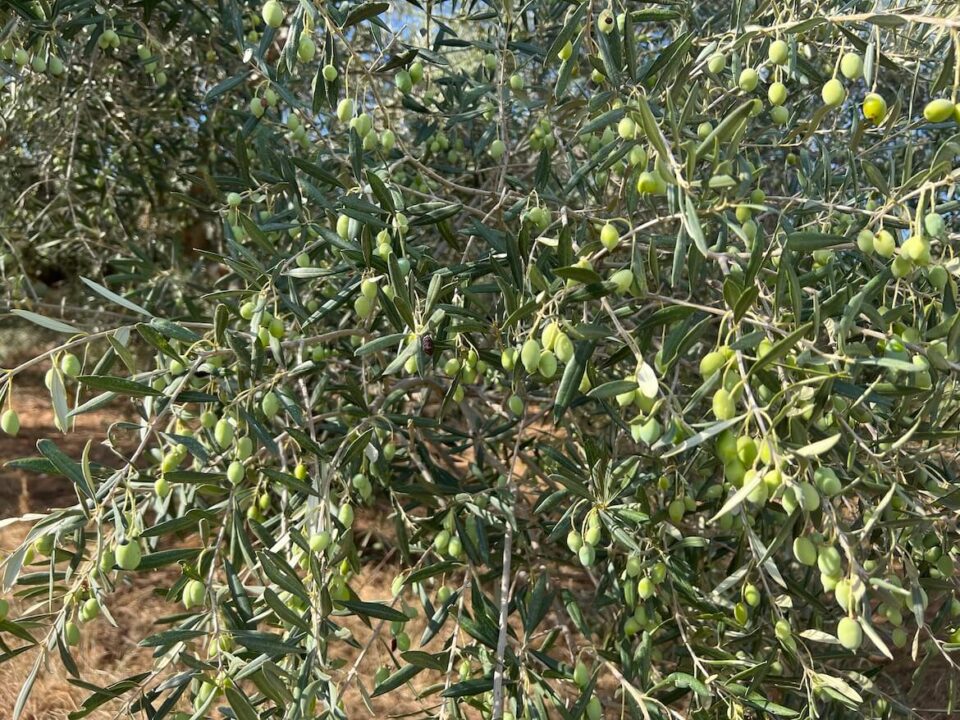 I launched this brand of olive oil four years ago after my cancer diagnosis and treatment when my doctors told me about modern-day medical research associated with the ability of these polyphenols in this specific kind of oil to kill cancer cells. 
This led to a deep dive into my own personal research and I learned that what modern science was uncovering in the laboratory today, the Ancient Greeks already knew thousands of years ago. 
They called this special oil "omphakion" and Hippocrates, the father of western medicine, used this exact kind of olive oil from unripe olives to treat and cure dozens of ailments. 
What do studies say about early harvest olive oil?
According to numerous studies from throughout the world, a daily intake of two tablespoons of high phenolic olive oil is necessary for the human body to derive the numerous benefits that come with the polyphenols. 
Temple, the University of Thessaloniki, UC Davis, Harvard and many other research centers in Europe and throughout the world have released studies on these benefits, which include:
Lowering blood pressure
Protecting arteries from damage
Lowering bad cholesterol
Reducing the risk for type II diabetes
Preventing many types of cancer
Preventing strokes
Fighting premature aging
Decreasing the risk for depression and dementia
Slowing the progression of Alzheimer's up to 40%
Reducing inflammation in the body
Study links
Last year, I changed the branding a bit. It's still called "Agourolado," which is what this oil is called in Crete, but I'm selling it under the new brand I've created called "Papadomanolakis," which was the original last name of my grandfather, whose actual likeness appears on the bottle perched on top of the green olive while playing his traditional lyra.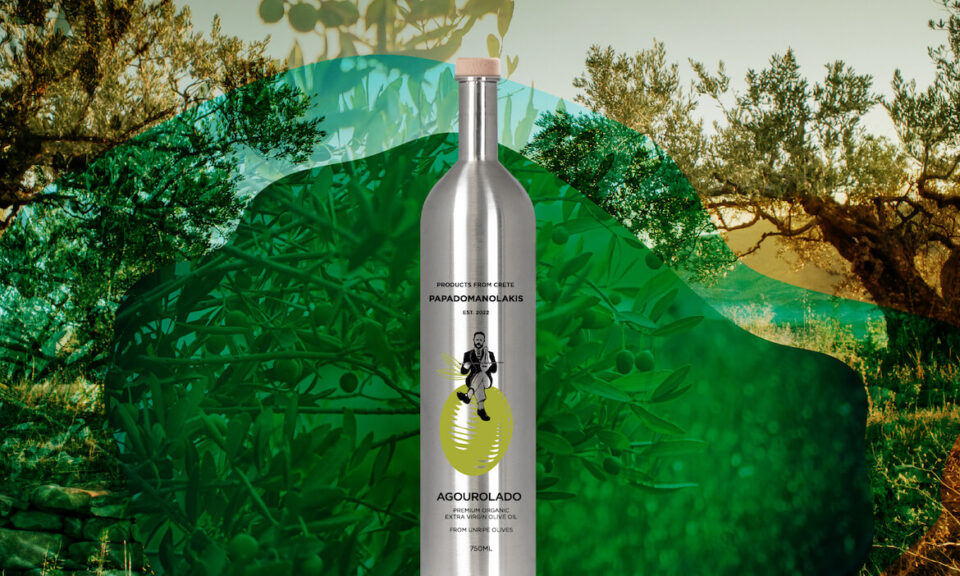 Under this new brand, I also added new products that— similar to Agourolado— carry with them great stories, great health benefits and a long, rich heritage spanning thousands of years. These products will include honey, the miraculous indigenous Cretan herb dictamos and what we call "malotira," or Cretan Mountain Tea. 
If you want to join me into a deep dive into learning more about the creation of my brand, click here to read about how it all started, as well as all of the medical research associated with high phenolic extra virgin olive oil.
Also, since this oil is so unique and it should only be consumed raw, click here to see some fun and tasty ways to use it in your everyday meal preparation.
Click here to pre-order a bottle of 2023 harvest "Agourolado"
Olive oil will arrive in the United States late November/early December and will ship to your homes shortly after customs clearance. Expect an early to mid December arrival in your kitchens.
DEADLINE OCTOBER 31, 2023