Kick off the holiday season with the Hellenic Dancers of NJ at a FREE "Intro to Greek Dance Workshop" on Sunday, December 4, 2022, from 4 – 5 pm at Kimisis Tis Theotokou Church, 20 Hillcrest Road, Holmdel, NJ. No experience is necessary, and all dance levels are welcome to this family-friendly event!
Participants of "Intro to Greek Dance" will journey to Greece during the workshop by learning four traditional dances that are beloved throughout the country. The cultural and historical significance of each dance will also be shared. Participants are encouraged to "join the circle of dance" and become a part of the HDNJ "village."
Greek folk dance is a cultural thread that connects generations of Greeks through music and movement. Depending on the region, each folk dance depicts the story of a significant moment in Greek history, both ancient and modern. Today, these dances not only preserve Hellenic culture but connects Greeks globally with people of different backgrounds through the common language of dance.
Registration is encouraged: info@hellenicdancersofnj.org.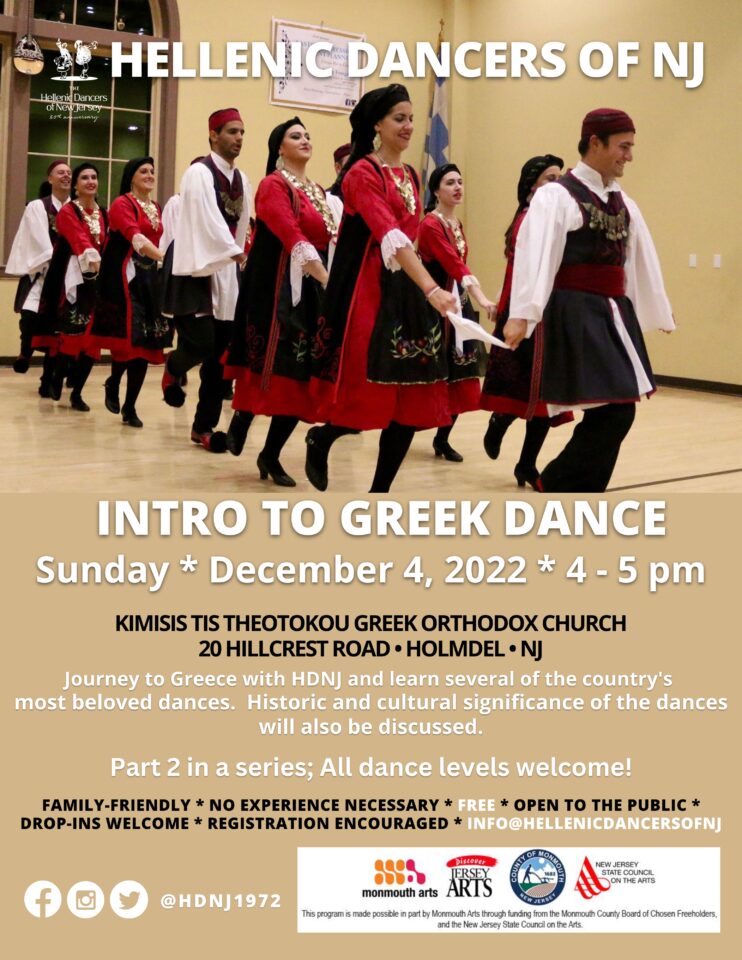 This troupe is nationally recognized for its presentation of Greek traditions and has performed at a number of local and national events. For 50 years, the Hellenic Dancers of NJ (HDNJ) has researched, presented, and preserved over 350 folk dances, songs, and traditions from mainland Greece, its islands, Cyprus, and Asia Minor, and passed them on to three generations of Greek Americans.  The troupe has been commended numerous times throughout its history for its dedication to its mission, as well as the enthusiasm and excitement of its performances. The dance troupe is currently comprised of first, second, third, and fourth-generation Greek Americans, ranging in age from 16 – 50, and representing the many Greek communities of New Jersey.
This program is made possible in part by funds from Monmouth Arts, a partner of the New Jersey State Council on the Arts,
and the Monmouth County Board of County Commissioners.