Before there was Facebook, Twitter and other digital media to promote a tourist destination, nations, tourist bureaus, airlines and other travel companies used the old fashioned poster to promote a destination. Greece was no different.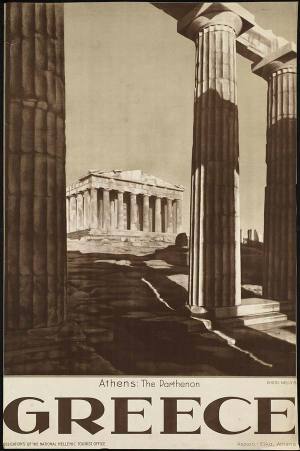 Seeking to capitalize on the nation's beauty and cultural heritage and attract foreigners to Greek shores, then Prime Minister Eleftherios Venizelos founded the Greek Tourist Organization during his second term between 1928-32. The first poster commissioned in 1929 to promote Greece in various European capital cities included a photograph of the Parthenon shot by the famous Greek photographer Nelly's. Click here to get a re-print of this famous poster. The poster kicked off what would become a series spanning decades and continuing to the present day.
See our collection of vintage prints available for sale on The Pappas Post book store site.
In the 1930s, Greek officials commissioned some of the nation's top artists to create posters, each with their own aesthetic signature to represent images of contemporary Greece. Names like Pericles Vizantios, Dimitris Mytaras, Louisa Montesantou, Takis, Alekos Fasianos, Kostas Tsoklis and Panagiotis Gravalos— all legendary artists, participated in these various campaigns.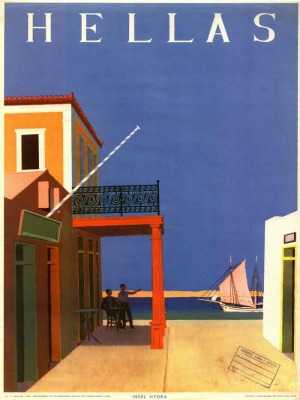 Yiannis Moralis, an important Greek visual artist and part of the so-called "Generation of the 30s" was tapped in the 1950s by the Greek National Tourism Organization to create a poster. He painted a stunning local scene on the island of Hydra in 1956. An original version of this poster recently garnered more than $3000 at a Christie's Auction. Moralis' print has become one of the most iconic Greek tourism posters over the past century with prints on sale in various shapes, variations and sizes.
Iconic posters of the island of Mykonos and Mt. Athos, the monastic community in northern Greece, created in the 1949 by artist M. Pechlivanidis & Company have also become a popular re-prints with originals selling at auctions for upwards of $2000 each.
Get the Mykonos or Mt. Athos posters.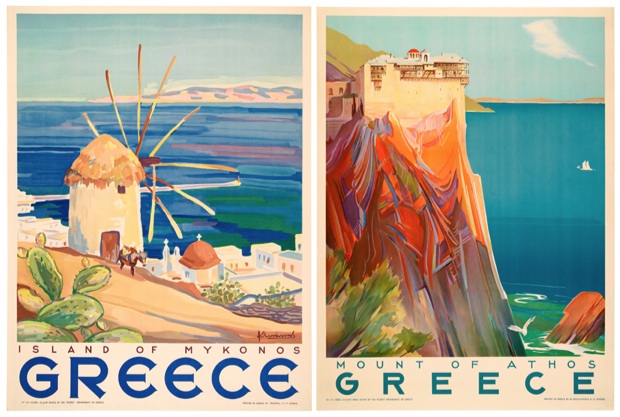 In its 74 year existence Trans World Airlines (TWA) produced hundreds of posters promoting aircraft, service & destinations throughout the world, including dozens depicting Greece. These airline posters contributed greatly to spreading awareness about the airline's destinations, as well as the culture, history and art of the destinations. An iconic poster featuring a statue of Athena is a best-seller on the art circuit. Another featuring the head of Zeus won numerous art awards for its unique style and design at the time of its release in the 1970s.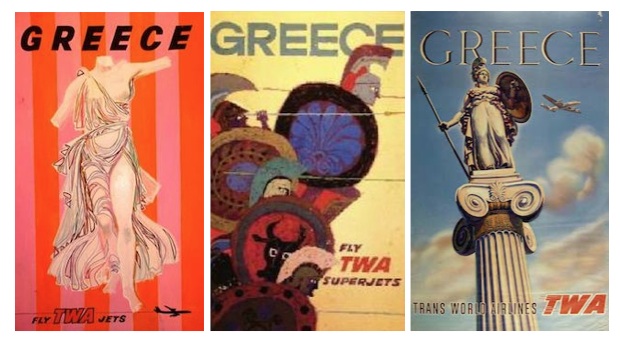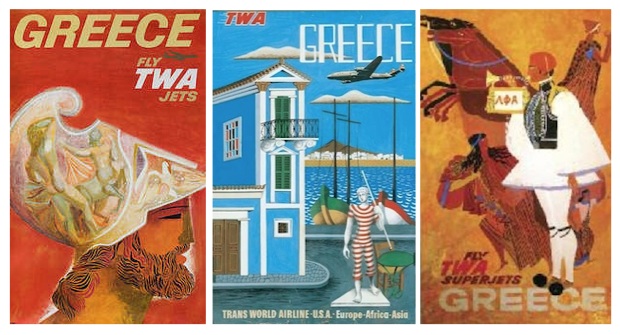 Tourism posters also generated political conflict, like a campaign of the Turkish Tourism board that used symbols and destinations that many viewed as offensive to history, including Christian symbols and ancient Greek sites. Greeks throughout the world started awareness campaigns arguing that Turkey was confusing the public about real history.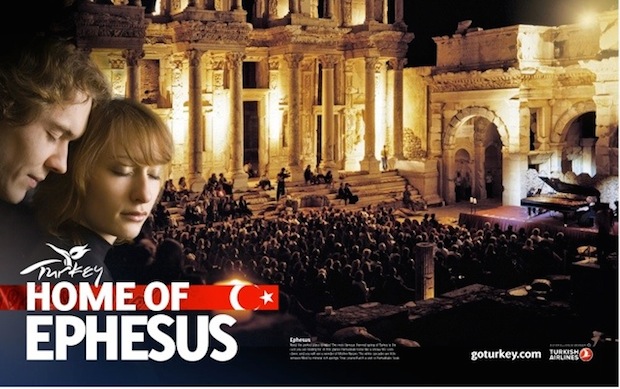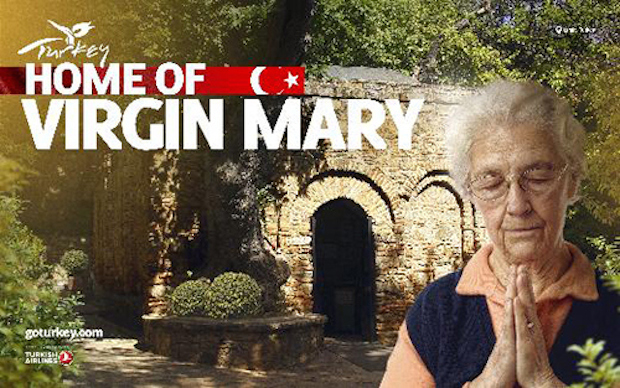 See our collection of vintage prints available for sale on The Pappas Post book store site.