The Olympic marathon is the ultimate endurance race in modern sports — 26.2 miles that honor the exact distance run by the legendary runner Pheidippides, who ran from Marathon to Athens to announce the victory of the Greeks over the Persians at the Battle of Marathon in 490 BC.
Frenchman Michel Bréal was inspired by the ancient Greek tale and pushed to have the marathon in the first modern Olympic games in Athens in 1896. The race would take the same route from Marathon to Athens, which at the time consisted of vast countryside and olive tree groves.
Spyridon Louis never had formal running training but entered the qualification race a few weeks before the Olympics for his chance to represent Greece. He wasn't a favorite to win, but years of working for his father's mineral water company was enough training for him to ultimately emerge on top.
Louis' father owned a mineral water company in the village of Maroussi, then outside the city of Athens. Louis worked for his father and used to cart water back and forth between the village and the businesses in the city.
The 1896 marathon — and Louis' victory — are the stuff Greek legends are made of.
According to stories from ancestors, while trailing the leader, about 10 kilometers before the end of the race in the town of Pikermi, Louis stopped at a local taverna and downed a glass of wine (or Cognac as some have suggested). He quickly caught up with the leader and won the race, entering the Panathenaic Stadium — also known as the Marble Stadium — which was built for the 1896 Olympics as a symbol to Greece's ancient heritage.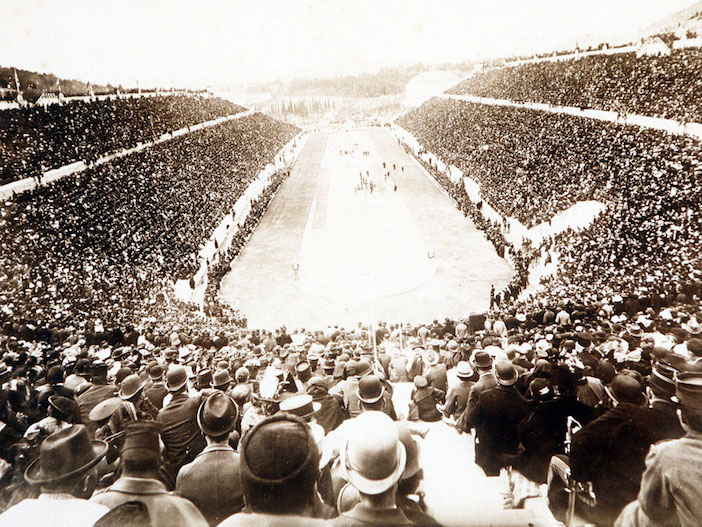 Greek fans were elated and Spyridon Louis became a national hero. He received his olive wreath and gold medal and his only wish from the king was granted by the ruling monarch at the time.
Louis wanted a cart to transport his father's water between Maroussi and Athens.
---
Is The Pappas Post worth $5 a month for all of the content you read? On any given month, we publish dozens of articles that educate, inform, entertain, inspire and enrich thousands who read The Pappas Post. I'm asking those who frequent the site to chip in and help keep the quality of our content high — and free. Click here and start your monthly or annual support today. If you choose to pay (a) $5/month or more or (b) $50/year or more then you will be able to browse our site completely ad-free!

Click here if you would like to subscribe to The Pappas Post Weekly News Update