We caught up with Greek-Australian author Will Kostakis during his trip to New York City. His bestselling novel, The First Third is a humorous, heartfelt look at growing up in a small but potent Greek family in Australia.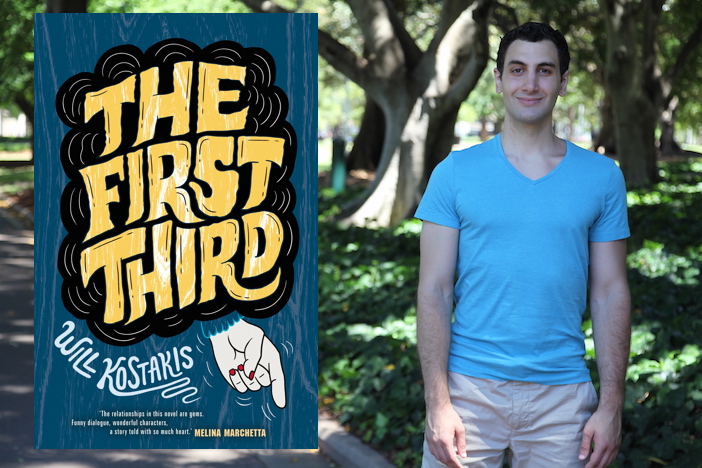 "I was prompted by the question, 'What if my yiayia had a bucket list?'" Will tells us.
Life is made up of three parts, he further explains.  In the first third of your life (and thus the title of the book), you're embarrassed by your family; in the second, you make a family of your own; and in the end, you just embarrass the family you've made. That's how Billy's yiayia explains it, anyway. She's given him her bucket list (cue embarrassment), and now, it's his job to glue their family back together.
"I started to think about what she'd want – like my mom remarrying, for instance – and then I wondered how she'd go about turning all those wants into reality. So I wondered what would happen if she gave me her bucket list of inappropriate, impossible tasks, to complete myself."
The First Third was shortlisted for the Australian Prime Minister's Literary Award and won the country's largest teen choice prize for young adult books, The Gold Inky.
Will is currently in the US researching his new book, The Sidekicks, due out in early 2016.
Here's an excerpt from his book The First Third, available in the United States and elsewhere on eBook electronic format, or in paperback from the Australian bookshop Boomerang Books.
***
I was fourteen when my grandmother taught me above love and the difference between moussaka and lasagne. The two were apparently related. She called me into her kitchen where she'd laid them side by side, the moussaka made from scratch, and the lasagne, store-bought and still in its aluminium tray.
'This,' she explained, pointing to lasagne, 'you buy. Easy. But it no special. You get five, ten. No hard. You just pay more. Moussaka,' she pointed to the homemade dish, 'is different. The tray keep lasagne together, but the moussaka, look–it break easy. Because it fresh. Less cheese, more eggplant, more oil. It better for you and you make with agape, love. Yes? This,' she pointed to the lasagne, 'is Australian girl.'
It was probably not the fairest comparison, but Yiayia had already moved on.
'This,' she pointed back to the moussaka, 'is good Greek girl. Hard to find and sometimes messy, but better for you.'
I was fifteen when I fell in love with lasagne. Her name was Kayla and she hadn't given me any reason to, beyond the odd polite smile from behind her cash register, or the occasional, 'Can you cover my shift this Saturday?'
But I was stupidly, wildly in love with her.
I told her on a rainy day. We were standing under a bus shelter after work, a veil of water between us and the road and a late-running bus between us and where we were going. I had a captive audience.
It was the speech I'd expected to make her love me back. It had evolved from a simple, 'I kind of really like you,' affair into this epic proclamation. It had been built and reordered and refined over weeks. I had rehearsed it in the shower, I had mouthed it while I stacked shelves of office supplies at Staple World. It was perfect. It was powerful. It was… not well received.
She made two attempts at a reply. I barely got more than an exhale. She looked out at the rain. It was bucketing. Someone would need to have a pretty good reason to brave that. She looked back at me like she had a pretty good reason.
She was sorry.
My heart sank. Surely the idea of me loving her wasn't so bad that she'd risk pneumonia to avoid it?
Yes, yes it was.
She ran across the street, shielding her hair.
And she took my breath away, which, despite what every love song had made me believe, was not a good feeling.
I was sixteen when I met moussaka.
The night-time Easter service was the social event of the Greek calendar. Recently widowed, my grandmother needed a date. Simon was too old to surrender a Saturday night, and Peter was too young to be a useful chaperone, so the burden, and my grandfather's jacket, had fallen onto my shoulders.
My grandmother paraded me through the church before the liturgy. Her chest swollen with pride, she showed me off to all the other yiayiathes.
Yiayia is Greek for grandmother and yiayiathes is what you get when there's more than one. Any more than four and…well…
I gritted my teeth as they kissed, hugged, pinched and poked me. All around, there were clusters of yiayiathes performing the same scarring ritual on other embarrassed grandchildren. A little way down the aisle, one girl had yiayiathes huddled by her hemline, checking the fabric of her skirt. When she noticed me watching, she rolled her eyes. It was magnetic.
Before I could reply with an exaggerated facial expression of my own, Yiayia tugged my arm. The crowd had thickened. The yiayiathes holstered their fingers and began to disperse. I was dragged to a spot up the front. I lost sight of the girl. Until she went to sit beside me and landed on part of my jacket. There was the unmistakable crunch of aluminium foil.
Busted.
She apologised and I told her it was nothing.
My heart raged against my chest, half because I'd been caught with chocolate in my pocket during Lent and half because she'd chosen to sit with me.
She raised herself off the pew and I pulled my jacket, with its overstuffed pocket, out from underneath her.
She apologised again as she sat down. She was beautiful. Every blink she took slowed time and…And I was probably playing too close attention. I looked away.
The service was beginning. I casually slid my hand into my pocket, broke a piece off the chocolate bar and brought it up to my mouth. I thought I'd been relatively subtle about the whole thing. I hadn't been.
She leaned into me. 'I want in.'
Heart. Raging.
'Oh. Okay, yeah.' I angled my pocket towards her.
She checked her grandmother wasn't watching and reached in, wrestling with the alfoil. When she withdrew her hand, she whispered her name. 'Maria Cheng.'
Half the city's Greek population had descended on the church, but she looked nothing like any of the other Marias. She could tell what I was thinking.
'Greek grandmother came over on the boat with her sister, married an Asian,' she said.
'Oh.'
Yiayia shushed us.
'Sorry,' we both said.
At the end of the service, she said, 'I had fun.'
She ate half of my food–I wouldn't have called it fun, but I agreed for the sake of conversation.
Then she said, 'I'll see you next year.'
It was big.
When I told my best friend afterwards, he confirmed it.
'This is big,' Sticks said.
As the only other person who knew I'd never kissed a girl before, he could see how monumental a development it was. He said we had to prepare for it. We. We. Apparently my first kiss was going to be a team effort.
A year later, he'd written up a plan and everything.