The original caption from the photo (above), dated August 13, 1925 reads:
"Above is a striking photo showing a little immigrant family on the dock at Ellis Island, N.Y., just having passed the rigid examination for entry into the "land of promise" looking hopefully at New York's skyline while awaiting the government ferry to carry them on to the land of the free."
If Donald Trump were doing the captioning, it would probably read:
"Disgusting people arriving from shithole countries here to take American jobs."
I wasn't offended by President Trump's depiction of countries as "shitholes."
It's part and parcel of his own personal feelings about "undesirables" and his belief that he is better than others. And to be honest, people like Donald Trump have been part of the American psyche for centuries.
In the early 1900s, they may not have been called "shitholes". Rats and rodents were used more often, especially in the early 1900s. Eventually as immigration waves changed and war and famine spread elsewhere, the name-calling did too.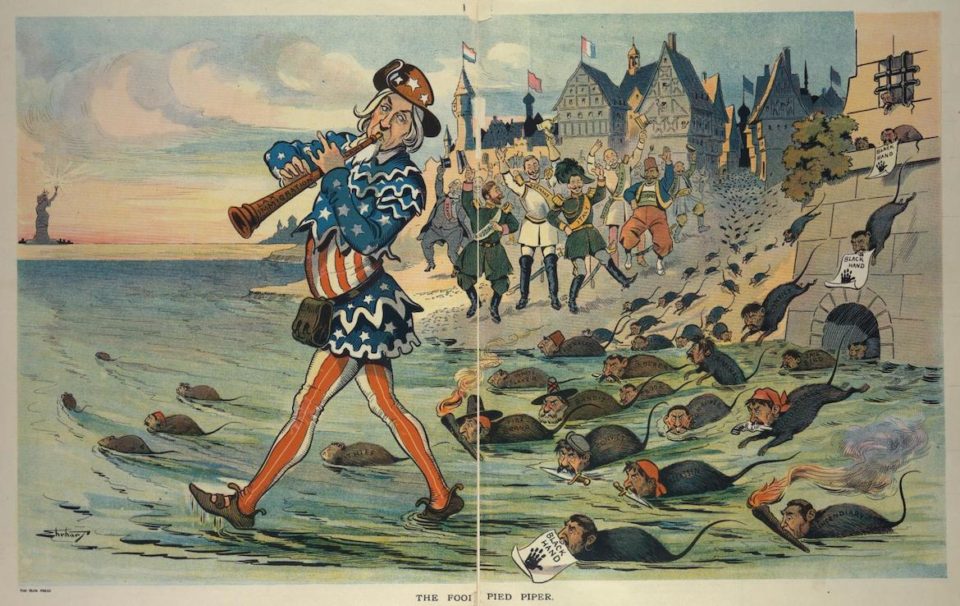 The vast majority of us are here today because our parents, grandparents and great grandparents — whether we are Greek or German, Syrian or Slovenian, Italian or Iranian — left because at that time, their countries were, well, shitholes.
Ireland was once a shithole country. The great potato famine forced millions to flee to America and the country was imploding and couldn't feed its own people.
China too, in the late 1800s. What a shithole that place was after the Opium Wars and that country's own Civil War that left millions dead or starving.
And poor Italy. Today, Americans of Italian ancestry are the fifth largest ethnic group in the U.S. — because in the late 1800s, Italy was a shithole. People were starving, especially in the south.
And in the 1970s, what a shithole Slovenia was, in the grips of the totalitarian communism of the Soviet Union, so much so that a young woman named Melanija Knavs did all she could to get out. Things were so bad she even violated immigration laws in the U.S. because she was so determined to leave her shithole of a country.
The Greeks have an interesting history too — waves of Greek immigrants arrived not from only one shithole (Greece) but also another shithole — the Ottoman Empire, which itself was a mess of war, genocide and poverty.
The vast majority of today's prominent, successful and educated Greek Americans are descendants of immigrants who landed here because of famine in the Peloponnese in the late 1890s and early 1900s, or were war refugees who were left homeless after fleeing a genocidal campaign against them by Ataturk in Turkey.
The second wave of immigrants — including my father — came here after World War II. What a shithole Greece was then — thanks to the Nazi Germans and their devastating occupation.
So no. I wasn't offended that Donald Trump used the word "shithole" when he questioned why we should accept people from certain countries.
America's history, for anyone who has studied it, has been filled with vile, vicious and racist attacks against immigrants and the places they came from. This is nothing new.
Donald Trump is merely echoing the nativist Americans who have, throughout history referred to people as gooks, degos, wops, monkeys, greasy Greeks and chinks.
And their nations were referred to as jungles, cesspools of filth, disease zones and mud-puddles. In 2018 the new term amongst this un-American gang is "shitholes."
What has offended me much more is that we have a President sitting in the Oval Office who was born and raised in the shadow of the Statue of Liberty and Ellis Island who doesn't understand, realize or acknowledge the history of this country and the fact that it was built on the backs of immigrants from shithole countries.
The very essence of America is that it was ALWAYS welcomed people from shithole countries.
In fact, that is the beauty of America and its very soul.
And the fact that this is lost upon the man representing me in the White House — well, this offends me more than his use of the word "shithole."
---
Is The Pappas Post worth $5 a month for all of the content you read? On any given month, we publish dozens of articles that educate, inform, entertain, inspire and enrich thousands who read The Pappas Post. I'm asking those who frequent the site to chip in and help keep the quality of our content high — and free. Click here and start your monthly or annual support today. If you choose to pay (a) $5/month or more or (b) $50/year or more then you will be able to browse our site completely ad-free!

Click here if you would like to subscribe to The Pappas Post Weekly News Update