Many of us are lucky to hold on to pages and pages of handwritten recipes from our mothers and grandmothers. Some are chicken-scratch, indecipherable to the reader but we won't throw them away.
No. These handwritten recipes, often written by immigrants who barely knew how to write and often improvising Greek letters to mimic English sounds– they are fairly treasures to most of us.
My dear friend Despina Gianopulos Landers posted a recipe on her retreat company's blog for her mom's Lemon Pound Cake. So what does a lemon cake and a travel retreat company have in common?
Knowing Despina and how and why she founded this company, I saw the connection. I immediately got a shoe box out from under my bed and started leafing through my mom's recipes that I kept after her death.
Despina's recipe stirred up a lot of memories from my own childhood, as well as a funny story when I was in elementary school and asked my mom to prepare something Greek that I could take to school during an event that showcased different ethnic backgrounds of the kids in class.
My mom made a lemon pound cake… probably a lot like Despina's mom's cake. I remember protesting to my mom at the time… "Mom! This isn't Greek," I told her.
"It's made with lemons," my mom responded. "Of course it's Greek. Lemons are Greek. How do you think Avgolemono is made? We put lemon on everything we eat, of course lemons are Greek."
Despina and her mom's lemon pound cake…
An accomplished marketing executive in her previous life for global powerhouses like Condé Nast and E! Entertainment Television, Despina was born and bred in Brooklyn, New York and eventually moved to Los Angeles where she lives now with her husband Jay and their daughter, Sophia.
She's not doing marketing anymore, having decided a while back that life is too short to be in a daily rat race and that the true meaning of life is personal happiness. And Despina's happiness is centered around her love for Greece, a quality instilled in her by her parents.
If you're still waiting for the connection to the recipe for the lemon pound cake, it's coming. I promise.
A few years ago and after a lifelong friendship with Melia Tataki and Natalia Christodoulou from Athens, the trio co-founded a travel retreat company that organizes fun retreats on the island of Andros.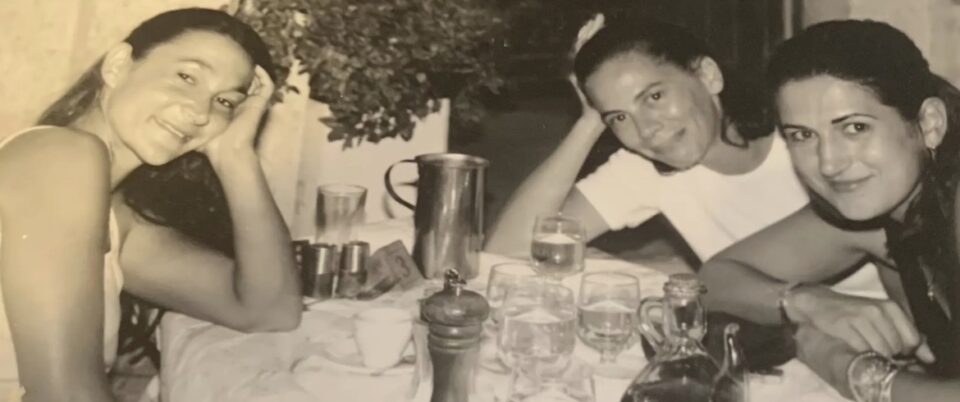 The company is called Olive & Love Retreats and brings people to the island the three friends have been visiting together for decades. And yes, there are a lot of Lemon trees on Andros.
This spring, Olive & Love Retreats is hosting "Lemon & Laughter," a retreat taking place between April 20-23 that will include a lot of wildflowers and waterfalls, hiking and exploring… and a complete immersion into the world of… LEMONS.
Andros has a long tradition of growing the citrusy fruit– an essential ingredient in Greek cuisine that invigorates and balances a wide variety of dishes, both savory and sweet. Retreat participants will get to experience and discover the multiple uses of the lemon, from spoon sweets to drinks and liqueurs to essential oils for aromatherapy.
So when Despina posted the recipe to the company's blog page… I knew exactly where her mind was. I knew she was thinking about her mom, family trips to the "patrida" and the traditions that bind us, like those handwritten recipes.
It's such a simple recipe but the aroma in your kitchen will take you back to Greece.
And come to think of it… perhaps my mom was right. Lemons are Greek.
Follow Olive & Love Retreats on Instagram here.
From the kitchen of the late Mary Gianopulos (aka Despina's mom)
1 pound unsalted butter
2 1/2 cups sugar
6 eggs
6 cups  flour
1 tsp. baking soda
1 tsp salt
2 cups buttermilk
¼ cup lemon juice
¼ cup lemon zest
2 tbs. vanilla extract
¼ cup confectioner's sugar 
Mix all ingredients in a bowl. Grease the inside of a round or rectangular Bundt pan and bake in 325 degrees (f) oven for 1 hour. Optional: Dust with 1/4 cup confectioner's sugar for decoration.
---
Is The Pappas Post worth $5 a month for all of the content you read? On any given month, we publish dozens of articles that educate, inform, entertain, inspire and enrich thousands who read The Pappas Post. I'm asking those who frequent the site to chip in and help keep the quality of our content high — and free. Click here and start your monthly or annual support today. If you choose to pay (a) $5/month or more or (b) $50/year or more then you will be able to browse our site completely ad-free!

Click here if you would like to subscribe to The Pappas Post Weekly News Update