In our quest to maintain that #GreeksAreEverywhere hashtag and share totally meaningless (but stoking our pride) information… Here's one for our readers.
The Charlotte Observer from North Carolina released a list of the oldest restaurants in the city and (not surprisingly)… the list was almost completely comprised of Greek-owned restaurants or restaurants with a Greek family past.
According to the history of Holy Trinity Greek Orthodox Cathedral in Charlotte, the first Greek immigrants settled in Charlotte around 1910 and eventually comprised a small colony of about twenty individuals.
By the start of World War I the colony of immigrants had grown to about fifty people with estimates today of an 8,800-strong community of people who identify as having Greek heritage, based on the 2013 American Community Survey.
As is obvious by the list, many Greek Americans are involved in the restaurant business.
The Charlotte Observer list of restaurant owners reads like a white pages out of Astoria, New York.
In fact, eight out of the ten restaurants on the list had a Greek connection.
The city's oldest restaurant— Green's Lunch— was founded (by a non-Greek) in 1926 but was bought by Philip Katapodis in 1945 and is still run by his daughter Joanna Sikoitis.
The Diamond is the city's second oldest restaurant, founded in 1945 and sold to Jerry Pistolis in 1982.
The third spot on the Observor's list is The Greystone, founded by a Greek immigrant names Tom Kanos who came from Greece in 1941. Kanos' son-in-law, Andy Koutsokalis, took over in 1976, and now his son, Tommy Koutsokalis, runs it.
The fourth oldest restaurant is The Open Kitchen. Constantine "Gus" Kokenes and his wife, Vasiliki, came from Greece early in the 20th century and opened a small diner, the Star Lunch. Their sons, Speros and Steve, started the Open Kitchen as a small curb-service and counter place. It's still owned by Steve's children, daughter Christina Skiouris and her brothers Alex and Dean.
The South 21 Drive-In, founded in 1959 is #5 was founded by brothers Sam, George and Nick Copsis.The current owner is George Housiadis, whose wife, Maria, was the daughter of Nick Copsis.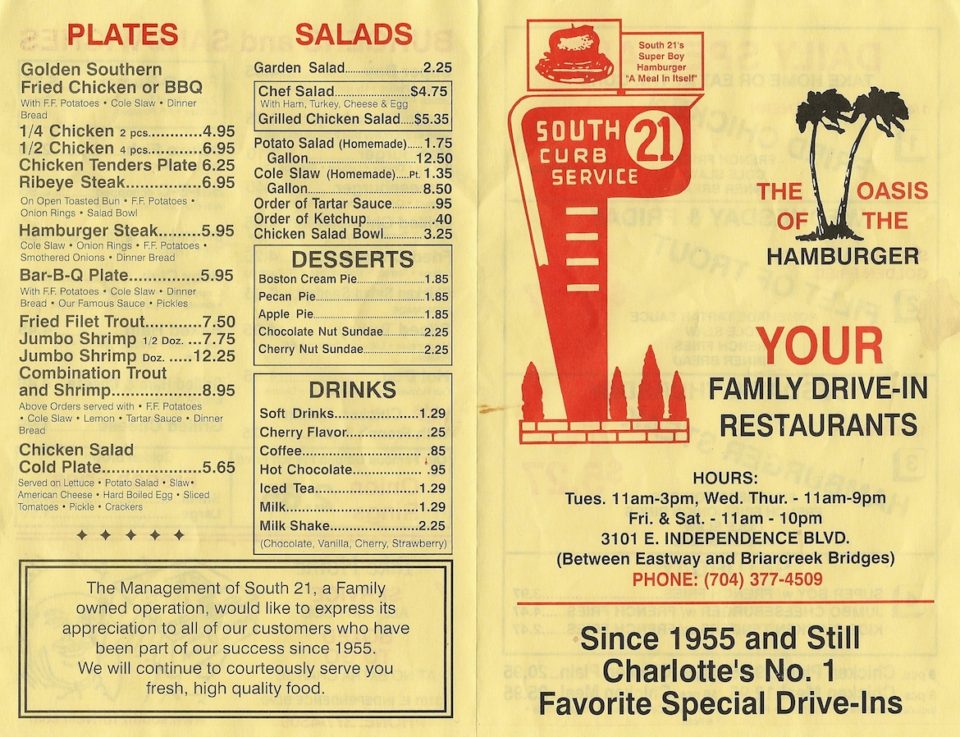 Bar-B-Q King was opened by Charlie Psomadaski and Jack Law and sold in 1972 to Pete Giannikas. It's now owned by his brother, Steve Giannikas, and George and Gus Karapanos. It's the 6th oldest restaurant in the city.
The 7th oldest is Price's Chicken Coop and (surprisingly) has no Greek connection. The same goes for Bill Spoon's Barbecue, founded in 1963 and #8 on the list.
Founding owner of Mr. K's, Theodore Karres came to Charlotte in 1966 and bought a small ice cream stand named Zesto's in 1967. Karres built a larger building in 1971, adding burgers to the lineup of ice cream and shakes. Today, it's owned by George Dizes and his wife, Pamela, Theodore Karres' daughter. It's the 9th oldest restaurant in the city.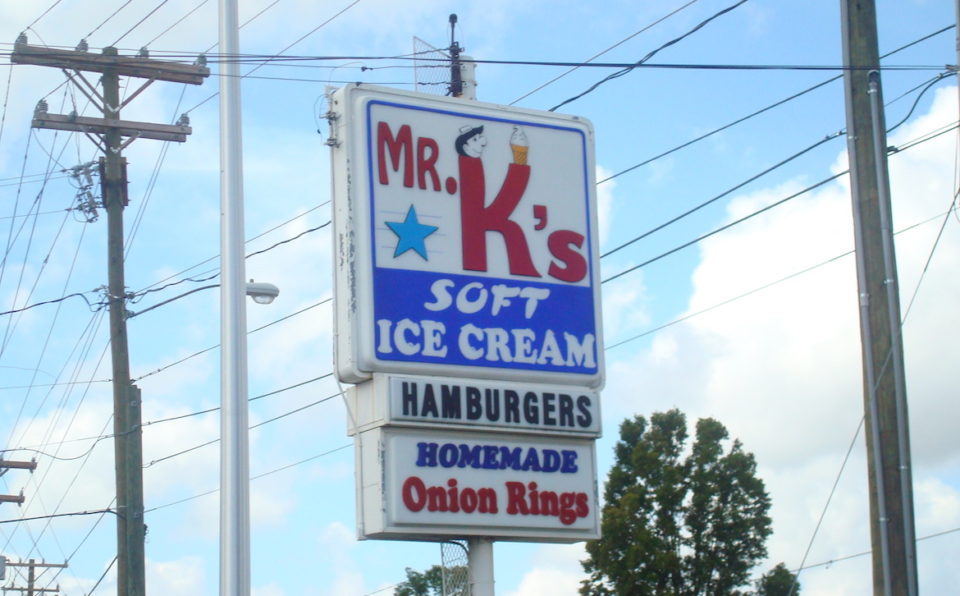 The last and 10th spot on the newspaper's Top 10 Oldest Restaurants in Charlotte is two restaurants tied for 10th place.
Pavlos Drosinis originally opened his small restaurant called Kings, but when his youngest son, Demetri, was born in 1981, he celebrated by changing the name to Philadelphia, for the Greek words for "brotherly love." Demetri, his brother Dino and their mother, Alice, now run it.
The late Gus Bacogeorge was a partner in Johnny's Drive-In Grill, a little restaurant that burned in 1967. He crossed the street and opened his own place, Gus' Sir Beef in 1969, featuring country-style cooking using vegetables from his own farm and wrapping up the Observer's Top Ten list.
*****
Since you're here… I have a small favor to ask.
More and more people than ever before are reading The Pappas Post and despite increasing costs to maintain the site and provide you with the quality content that you deserve, I will never "force" you to pay for our website or add a paywall.
I believe in the democracy of the internet and want to keep this site and its enriching content free for everyone.
But at the same time I'm asking those who frequent the site to chip in and help keep it both high quality— and free.
We've implemented a "free-will" annual subscription for those who want to support our efforts. I guess it's fair to call it a philotimo subscription… because you don't have to do it but it's really the right thing to do if you love the site and the content we publish.
So if you like The Pappas Post and want to help, please consider becoming a "philotimo subscriber".Click here to subscribe.
If you'd rather make a one time donation, we will gladly accept any amount, with appreciation. Click here to donate any amount.