August 3 is National Watermelon Day in the United States and instead of just eating one, why not try one of our eight great ways to add a bit of Greek flavor to your melon?
Here are eight great recipes we've gathered from some of the world's top chefs.
1) Bobby Flay's Greek-Inspired Watermelon Mint Iced Tea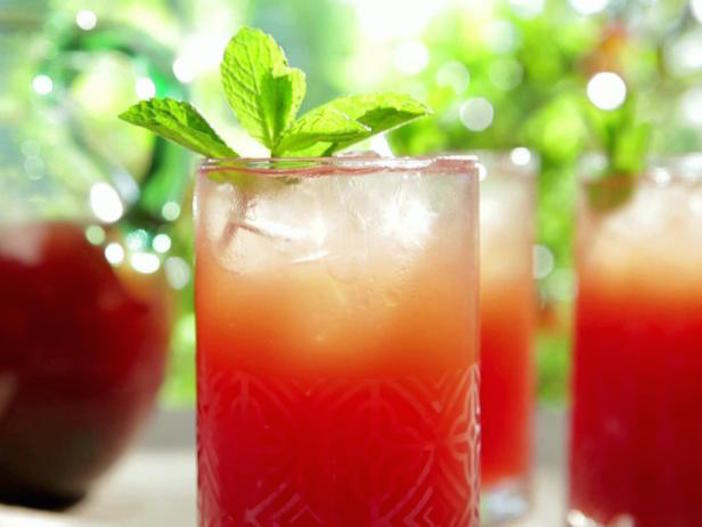 Ingredients
8 cups chopped seeded watermelon
7 black tea bags
2 tablespoons clover honey
½ cup fresh mint leaves
Fresh mint sprigs, for garnish
Instructions
Puree the watermelon in batches until smooth, then strain into a pitcher. Cover and refrigerate until very cold. Bring 6 cups water to a boil in a medium saucepan. Remove from the heat, add the tea bags and honey and let steep 5 minutes. Add the mint leaves, cover and refrigerate until cold. Discard the mint leaves and add the tea to the watermelon juice. Serve over ice in tall glasses with mint sprigs, if desired.
2) Nigella Lawson's Watermelon Salad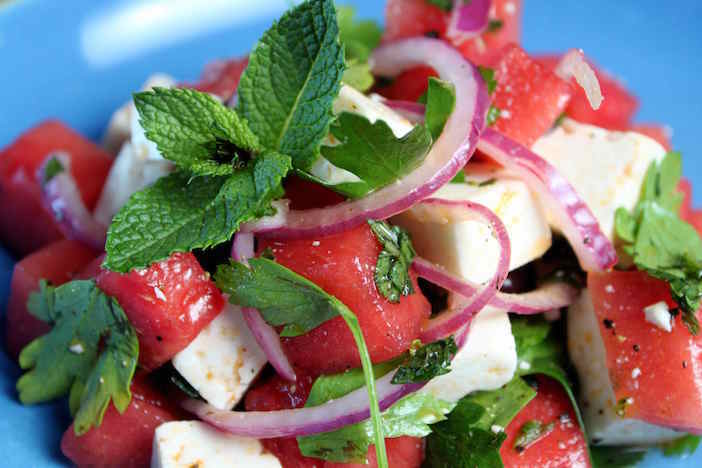 Ingredients
1 small red onion
4 limes
3 ¼ lb watermelon (sweet and ripe)
8 oz feta cheese
1 bunch fresh Italian parsley
1 bunch fresh mint (chopped)
¼ cup extra virgin olive oil
⅔ cup pitted black olives
black pepper
Instructions
Peel and halve the red onion and cut into very fine half-moons and put in a small bowl to steep with the lime juice, to bring out the transparent pinkness in the onions and diminish their rasp. Two limes' worth should do it, but you can find the fruits disappointingly dried up and barren when you cut them in half, in which case add more.
Remove the rind and pips from the watermelon, and cut into approximately 4cm / 1½ inch triangular chunks, if that makes sense (maths is not my strong point). Cut the feta into similar sized pieces and put them both into a large, wide shallow bowl. Tear off sprigs of parsley so that it is used like a salad leaf, rather than a garnish, and add to the bowl along with the chopped mint.
Tip the now glowingly puce onions, along with their pink juices over the salad in the bowl, add the oil and olives, then using your hands toss the salad very gently so that the feta and melon don't lose their shape. Add a good grinding of black pepper and taste to see whether the dressing needs more lime.
3) Peter Minaki's Feta Salad with Watermelon Vinaigrette

Ingredients
4 cups of cubed watermelon (or use a melon baller to make spheres)
1/3 cup sliced red onions
1/3 cup purslane
1½ cups of cubed Feta (make the cubes about half the size of the Feta)
For the Watermelon Vinaigrette
4-5 cubes of watermelon
¼ cup fresh mint leaves
1 tsp. of honey
squeeze of lemon juice
¼ cup extra-virgin olive oil
Instructions
Prepare your salad ingredients in a large serving bowl (or prep in a regular bowl if you're going to serve individually). To make the vinaigrette, add your cubes of watermelon, mint leaves, honey, lemon juice and olive oil and process until emulsified. Pour over your salad and gently toss with your hands. Serve family style in a large bowl or divide and serve in individual bowls.
4) Argiro Barbarigou's Watermelon Pie from Milos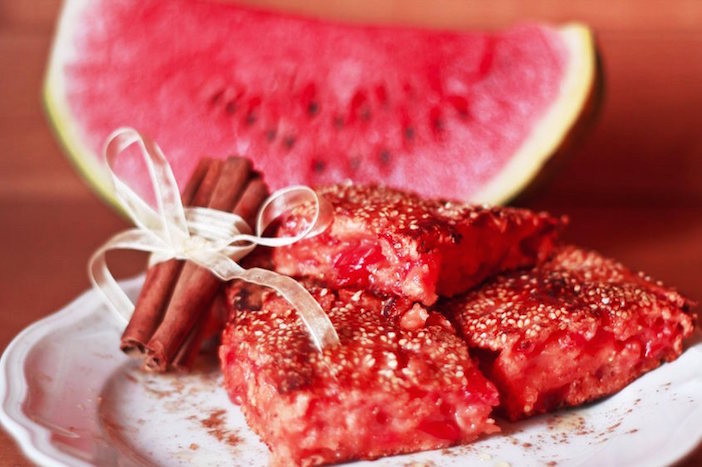 Argiro Barbarigou, one Greece's beloved chefs who hails from the Cycladic island of Paros, loves to share recipes from the islands of Greece. Barbarigou simultaneously preserves age-old traditions handed down from one generation to the next. This unique pie that uses watermelon as its base is well-known on the island of Milos.
Ingredients
1½ cups all-purpose flour
4 cups mashed watermelon, seeds removed
½ cup honey
½ cup white sugar
½ teaspoon salt
1 teaspoon ground cinnamon
½ cup sesame seeds
Instructions
Place the flour in a dry skillet over medium heat. Cook for a few minutes, stirring occasionally, until golden. Set aside to cool. Preheat the oven to 350 degrees F (175 degrees C). In a large bowl, stir together the watermelon, flour, honey, sugar, salt and cinnamon. Grease a 9 or 10 inch pie plate, and sprinkle half of the sesame seeds over the bottom. Pour the watermelon filling over the seeds, the filling should be about 1 inch thick. Sprinkle the remaining sesame seeds over the top. Bake for 40 to 50 minutes in the preheated oven, or until a knife inserted near the center comes out clean. Allow to cool completely before slicing. Refrigerate leftovers.
5) Sarcastic Cooking's Watermelon Kebabs with Greek Yogurt Sauce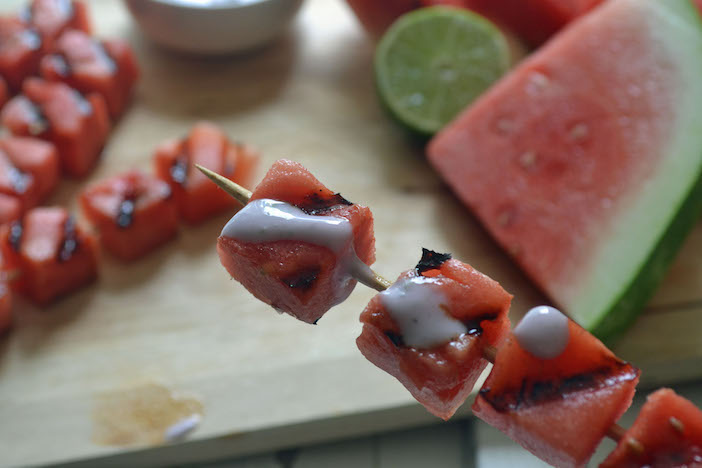 Ingredients
3 Cups Cubed Seedless Watermelon
1 Teaspoon Granulated Sugar
2 Tablespoons Nonfat Greek Blueberry Yogurt
2 Teaspoons Milk
2 Teaspoons Lime Zest
2 Teaspoons Powdered Sugar
Instructions
Note: Soak the wooden skewers in water overnight before grilling so the skewers don't burn. Place four or five cubes of watermelon on each skewer. Heat the grill to medium/high heat. Sprinkle two opposite sides of the watermelon cubes with sugar. Place watermelon kebabs on the grill, one of the sugared sides down. Grill for four minutes on each side. While the watermelon is grilling, mix together the yogurt, milk, lime zest, and powdered sugar in a small mixing bowl. Let the watermelon cool slightly before serving. Dip cubes in the yogurt sauce before enjoying.
6) Michael Psilakis' Grilled Watermelon and Yogurt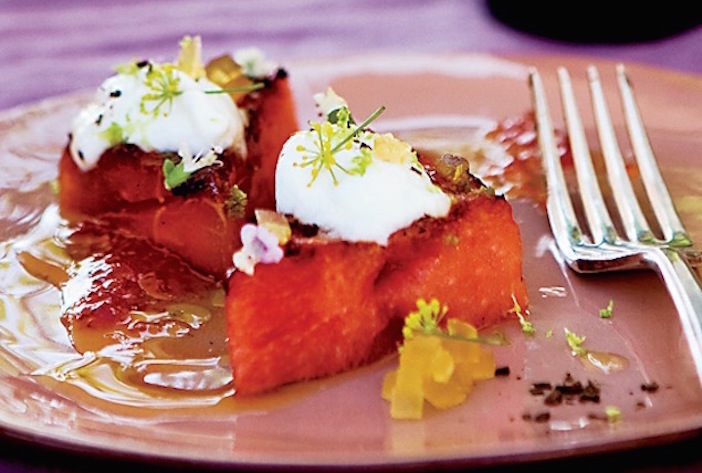 This is Michael Psilakis's modern take on the traditional Greek combination of watermelon and feta cheese. It features the creamy yogurt he grew up eating in New York's Long Island: "My mom made it at home all the time, and we'd snack on it with honey after school."
Ingredients
1 cup plain whole-milk Greek yogurt or Homemade Greek Yogurt
2 tablespoons freshly squeezed lemon juice
1 tablespoon white wine vinegar
1 teaspoon coarsely chopped thyme
1 tablespoon extra-virgin olive oil, plus more for drizzling
Salt and freshly ground black pepper
Twelve 3-inch-long triangles of seedless red watermelon, about 1 inch thick
¼ cup small mint leaves
Instructions
Light a grill. In a bowl, combine the yogurt with the lemon juice, vinegar, thyme and the 1 tablespoon of olive oil. Season with salt and pepper. Drizzle the watermelon triangles with olive oil and season with salt and pepper. Grill over high heat until nicely charred, about 1 minute per side; transfer to plates. Top the watermelon with the yogurt sauce and season with black pepper. Drizzle with olive oil, garnish with the mint and serve.
MAKE AHEAD: The yogurt sauce can be refrigerated overnight. Bring to room temperature before serving.
7) Michael Psilakis' Grilled Watermelon & Grilled Manouri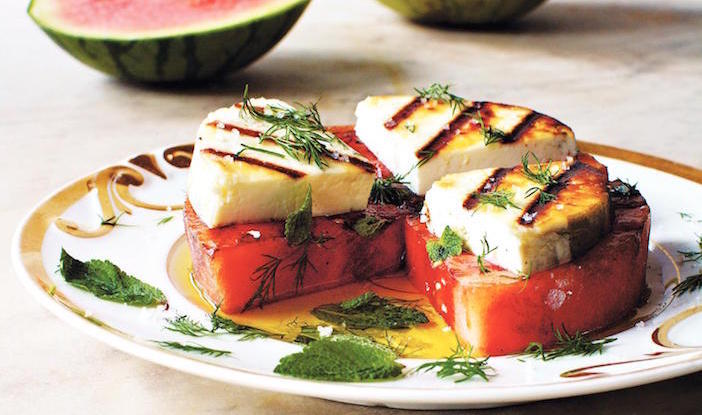 This dish can be prepared on the grill or in a very well seasoned, ridged cast-iron grill pan. Just make sure the cheese is very cold and very firm. Manouri is a unique, semisoft Greek cheese, but if you can't find it, substitute a block of good Greek feta.
Ingredients
12 ounces Manouri, very cold
1 ½ lbs. Seedless watermelon,
in two 1-inch-thick, center cut slices
20 each leaves of fresh mint
20 each picked sprigs dill
Sea salt
Extra-virgin olive oil
Kosher salt and cracked black pepper
Instructions
Preheat a charcoal or gas grill until hot. Cut the manouri into two 1-inch-thick circles. Trim the rind from the watermelon rounds and cut into large pie-shaped wedges, about 5 inches on the longer sides. Brush the watermelons and the manouri with a little olive oil and season with kosher salt and pepper. Grill the watermelon wedges and the manouri rounds just until slightly char-marked on both sides. Transfer to a platter and cut the manouri into wedges about the same size as the watermelon. Drizzle with a little more olive oil. Scatter with the mint leaves, dill sprigs, and a little sea salt. Grind a little pepper over the top. *For an extra bit of tanginess, scatter with a few drops of aged or reduced balsamic vinegar.
8) Cat Cora's Watermelon Gazpacho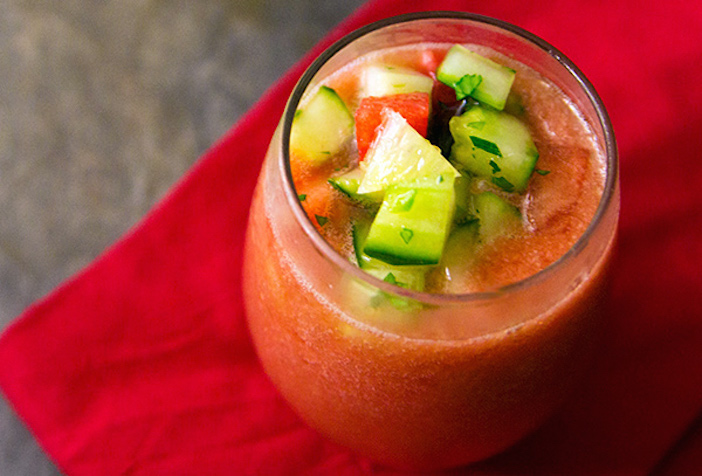 With temperatures soaring across the nation, there's nothing better to keep you cool and satisfied than a bowl of gazpacho. Originating in Spain, this cold summer soup keeps the house fresh and you refreshed. Cat Cora's version of gazpacho uses watermelon rather than tomatoes, giving it a sweeter spin than the traditional version. It also has a refreshingly Greek taste with the fresh herbs like mint that are prevalent in the cuisine of her grandparents. It's also incredibly light, there's no oil in it at all – and a fun appetizer for a summer barbecue or a nice, light lunch or dinner when served with bread.
Ingredients
4 cups of watermelon, peeled, seeded and chopped
1 cup of cucumber, peeled, seeded and small diced
1 red bell pepper, small diced
1 yellow bell pepper, small diced
1 jalapeno, small diced
3 hearts of celery, small diced
½ small red onion, small diced
¼ cup of fresh mint, finely chopped
¼ cup parsley, finely chopped
1 lime, halved and juiced
2 tablespoons red wine vinegar
¼ teaspoon salt
Greek yogurt
Instructions
Put the watermelon in a blender and puree until smooth. Add cucumber, bell peppers, jalapeno, celery, onions, lime juice, vinegar and herbs. Add melon liquid. Stir to combine, Cover with plastic wrap, and refrigerate until well chilled, at least 1 hour. Adjust seasoning. Serve cold with a dollop of Greek yogurt.
---
Is The Pappas Post worth $5 a month for all of the content you read? On any given month, we publish dozens of articles that educate, inform, entertain, inspire and enrich thousands who read The Pappas Post. I'm asking those who frequent the site to chip in and help keep the quality of our content high — and free. Click here and start your monthly or annual support today. If you choose to pay (a) $5/month or more or (b) $50/year or more then you will be able to browse our site completely ad-free!

Click here if you would like to subscribe to The Pappas Post Weekly News Update