Izmir, Turkey – The Greek Orthodox Church of Agios Voukolos (Aya Vukla in Turkish) in the city of Izmir has just celebrated its first liturgy after 92 years. Located in the Basmane district, a historically Greek and Armenian neighborhood, the newly restored church held a service open to the city and its community. The church is mentioned prominently in Giles Milton's Paradise Lost.
The liturgy was conducted by Archimandrite Kyrillos and Metropolitan of Diokleia Kallistos Ware. The event witnessed the coming together of several communities: the local Greek, Catholic, Turkish Muslim, and Orthodox Americans who were visiting. In total, around 200 people were in attendance.
The liturgy was followed by a sermon from Father Kyrillos, as well as Izmir Mayor Aziz Kocaoglu. He welcomed the community and stated it to be the beginning of a deep relationship and brotherhood which will prosper grow in the coming year through more liturgies and events.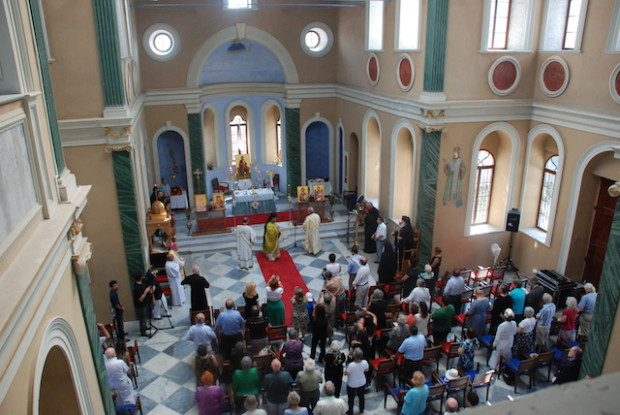 After the service, the community was entertained with a special musical performance of rembetiko in the church garden and refreshments.
According to Orthodox Christian historians, Saint Voukolos (Vukla) was the first Christian bishop of Smyrna, and was a student of Saint John the Evangelist. The church of Agios Voukolos is the only remaining original Greek Orthodox church left standing in downtown Izmir dating to the Ottoman Smyrna era around the 1860s.
The church was unaffected by the catastrophic fire which engulfed the city in 1922, and was restored in 2008 as a cultural center.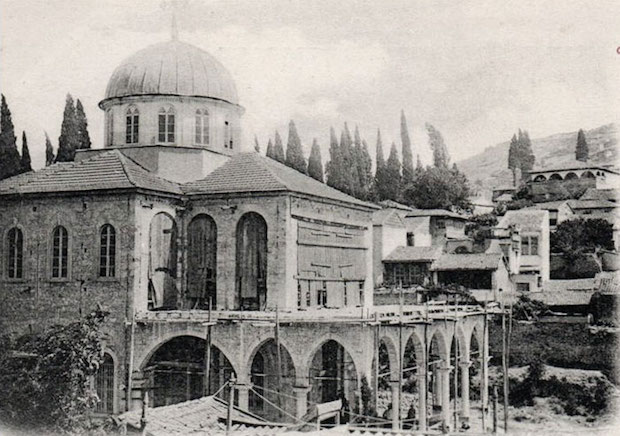 The black and white image predates the 1922 Smyrna fire. The original church included a dome, which collapsed over the years.
The city of Izmir is also home to the Agia Fotini Church, however, it is a converted Dutch Chapel given to the Orthodox community after 1923. The liturgy of Agios Voukolos is the first of its kind to be held in an actual Orthodox church since the city burned in September 1922.