Food and Wine Magazine recently named Nick Spanos' cheesecake amongst the ten best in America. Nick is a co-proprietor at Kiki's a 6-month-old popular Greek restaurant in the heart of Chinatown in New York City. The restaurant has been favorably featured in The New York Times and has quickly become a favorite hotspot amongst foodies and casual diners alike.
The Pappas Post caught up with Spanos to get the secrets behind his recipe, which includes two Greek products— NouNou condensed milk and Papadopoulou digestive biscuits, that may be hard to find outside the big Greek urban centers.
We've secured a shipment of the two Greek products— both imported from Greece— that make his cheesecake special, and are offering them for sale on our eShop, The Pappas Outpost. The box-set will give you enough NouNou and Papadopoulou Digestive biscuits for a single cheesecake. The box will also include the recipe– which he is only sharing with us, printed for you to follow along and make Kiki's award-winning cheesecake. Click here to order your Kiki's Cheesecake starter kit, which includes a copy of the printed secret recipe.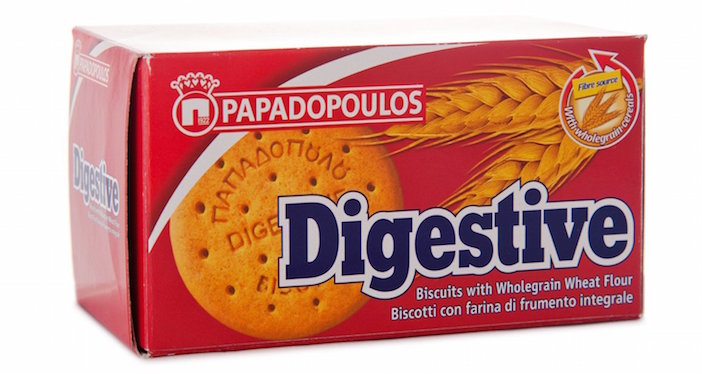 Spanos learned how to make his no-bake cheesecake while working at Bourazza restaurant on Mykonos, which he's adapted a bit to come up with his own creation.
Spanos insists on using Papadopoulos Digestive whole grain cookies mixed with butter and NouNou milk, which is also used by Greeks to lighten Frappe, a cold coffee drink.
"It is well-balanced, not sweet, and tastes better the next day," he says. "I crush the cookie by hand to get some bigger pieces in there for a richer bite, and of course, a whole lot of love."
Kiki's is at 130 Division Street, New York, NY but you can bring Kiki's cheesecake right into your kitchen with a little bit of preparation.