Following a proposal from Greek Prime Minister Kyriakos Mitsotakis, French President Emmanuel Macron agreed to send Greece a metope from the Parthenon for the country's upcoming bicentennial independence celebration in 2021.
The metope, currently on display in the Louvre Museum, will be exhibited at the Acropolis Museum in Athens, according to last Friday's report from the Athens News Agency.
The gesture is meant to mark the 200th anniversary of when Greece began its war of independence against the Ottoman Empire.
Greece will reciprocate the favor by sending France various bronze antiquities to be displayed in the Louvre for the first time.
The Acropolis' Parthenon temple originally featured 92 metopes — sets of square, carved panels portraying mythical battles —14 on the east and west sides and 32 on the others. Most of the originals were destroyed but the leftovers remain scattered — one in the Acropolis Museum, one in the Louvre and 14 in the British Museum.
France acquired the metope in question in 1788 from Ottoman authorities, who still controlled Greece. French diplomat Louis-Francois-Sebastien Fauvel made the acquisition for the French ambassador to Istanbul, the Comte de Choiseul-Gouffier, while the French vice-consul in Athens, Gaspari, led negotiations.
See the metope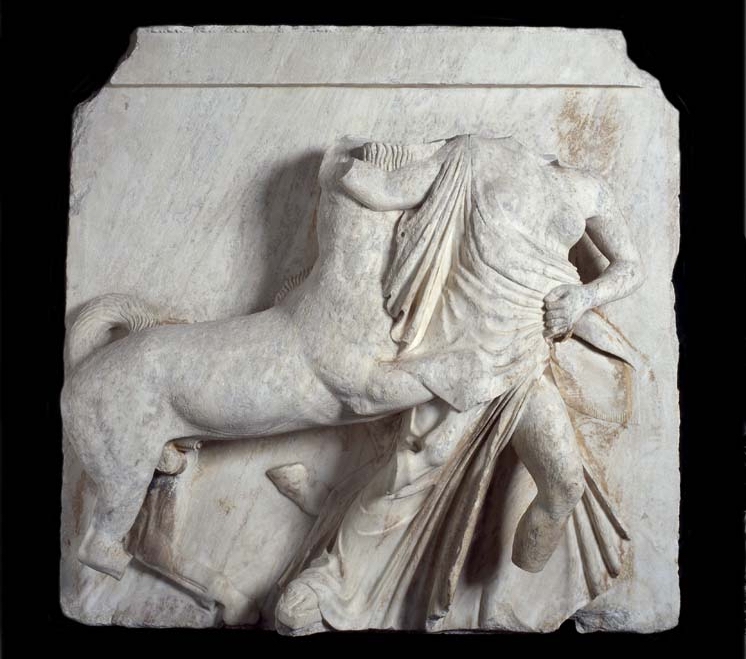 The metope depicts a scene of "centauromachy," battle between centaurs and the Lapiths, a people from the region of Thessalia. The scene represents the abduction of a Lapith woman by a centaur.
After its temporary exhibition in the Acropolis Museum, the metope will return to the Louvre.
The announcement adds to broader debates about the return of the Parthenon Marbles to Athens from foreign institutions, particularly the British Museum which has most of them. Lord Elgin took the marbles from the Parthenon in the early 1800s and in recent years the issue has provoked controversy.
In June 2018, Greek Australian Jim Mellas traveled to the British Museum to peacefully protest the infamous Elgin Marbles being on display there. A video he shared went viral on Facebook, garnering hundreds of thousands of views.
---
Is The Pappas Post worth $5 a month for all of the content you read? On any given month, we publish dozens of articles that educate, inform, entertain, inspire and enrich thousands who read The Pappas Post. I'm asking those who frequent the site to chip in and help keep the quality of our content high — and free. Click here and start your monthly or annual support today. If you choose to pay (a) $5/month or more or (b) $50/year or more then you will be able to browse our site completely ad-free!

Click here if you would like to subscribe to The Pappas Post Weekly News Update