Greeks and Greece Deserve to Compete Globally.
Polychronis Tzortzakis is a National Greek Cycling Champion who races semi-professionally for a team in France. He is one of the many young Greeks who proudly wave the blue and white Greek flag, representing his nation wherever he races— despite being forced to live in France in order to pursuit his athletic goals.
Tzortzakis, a native of Hania on the island of Crete, hopes to race in Richmond Virginia at the Elite Road Cycling World Championship taking place on September 20-27, 2015.
He wants to represent Greece— and wear the blue and white Greek flag on his shirt.
But like all sporting institutions in the nation, the Greek Cycling Federation has huge budget shortfalls due to cuts in support and they don't have the funds to send their National Champion to represent the country.
Polychronis reached out to me in a Facebook message— as have so many of Greece's elite athletes, struggling to compete and represent their nation in these trying economic times.
"I don't think I can win a medal but I will certainly race my best and hardest and gain a respectful result," wrote the humble 26-year-old. "It's important that the Greek flag is present on the race circuit at the World Championships. I really want to wear our flag and make our nation proud."
Tzortzakis needs a paltry sum and wants to travel at bare minimum without the excesses enjoyed by other "National Champions"— another example of his humility. He needs about €2000 to €3000 for economy class flights to Washington DC, transport and hotel accommodations in Richmond, a minimal food budget and other related expenses including excess baggage costs for his bikes.
As a result, I created the Greek Athletic Champions Fund on Indiegogo and have also added the first $100 to it. I believe that we need to put our money where our mouth is. I also believe that nobody can do everything– but everybody can do something.
I have personally arranged this fund to help Polychronis and other elite Greek athletes get the recognition they deserve and compete on the global stage— whatever that stage might be, be it cycling, or in an arena, or on a track field.
On his Facebook page, he quotes the famous Cretan writer Nikos Kazantzakis and uses the hashtag #ProudToBeGreek for his profile picture.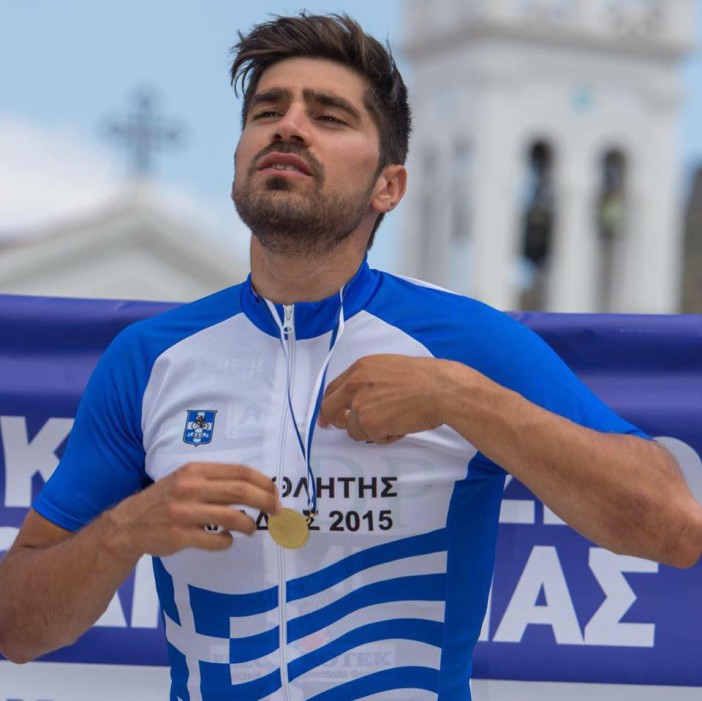 "In order to succeed , we must first believe that we can." Nikos Kazantzakis
True philanthropy is anonymous and should be altruistic at its core. This is why I haven't set up any "give this much and get this in return" kinds of perks. What you get– and what I believe is the real satisfaction– is the feeling that your money is helping a young, accomplished Greek achieve his goals, keep his/her athletic dreams alive, while simultaneously helping keep Greece and her flag on the international competition circuit.
I will personally monitor and report on all athletes we support with this fund in The Pappas Post, as well as keep donors updated with regular updates on The Pappas Post Facebook page, as well as on my own personal Facebook page.
I will create a committee of sports-lovers to continue to seek out other similar opportunities to help Greek champion athletes who wish to compete in international competitions and with their consensus, will support them accordingly and also follow up with reports and progress.
If you're not into donating funds, or believe your funds would be better-used assisting the poor, the hungry or other important philanthropic endeavors which are equally worthwhile– you have every right to think that. But if you do believe Polychronis and other elite Greek athletes deserve to compete, you can help by sharing this campaign on your social media page, your blog or sending to athletically-minded friends and family. Just click on this link and use the share buttons at the left of the page.