The Elysians, a multimedia platform that supports and promotes rising Greek designers and creatives, will host their first-ever creative pop-up event featuring dozens of new products in New York City between December 6-8.
A special opening will take place on December 5 from 6-8 PM, when the team will host a private holiday preview party at the COCO-MAT store on 49 Mercer St. The party is for press and invitation-only guests and will be held under the auspices of the Consulate General of Greece in New York.
Based on the concept of "Fashion is Art," the event will inaugurate The Elysians' series of weekend activities where Greek designers will commingle with Greek artists.
The Elysians said that they will donate 10% of net profits from the opening event to the #ChildrenOfGreece campaign of the Greek America Foundation, a New York-based non-profit which promotes, preserves and perpetuates Greek culture and ideals. The foundation's campaign supports various children's charities in Greece and has already distributed tens of thousands of dollars in aid.
The Elysians' December 6-8 event hours are 11 AM-7 PM on Friday and Saturday and 12-6 PM on Sunday. For more information about the event, click here. For more information about the featured designers, see the bottom of this article.
About The Elysians
The Elysians have launched a new multimedia platform for the U.S. market featuring exclusive hand-made, artisanal fashion pieces, jewelry and accessories from rising Greek designers. Starting with creative and conceptual pop-up showcase events across the USA and Canada, TheElysians.com will eventually evolve into a curated eCommerce site and international promotional platform for Greek creatives.
Elysians Co-founders Athina Vosinaki and Vicki Vasilopoulos — both documentary filmmakers specializing in arts and culture — said they want to foster an increased demand for Greek designed products to bring forth a fresh new image and vision. Both women called themselves "passionate supporters" of "slow fashion," and said they remain committed to seeking "exceptional, inspired and handmade" designs in pure and sustainable materials.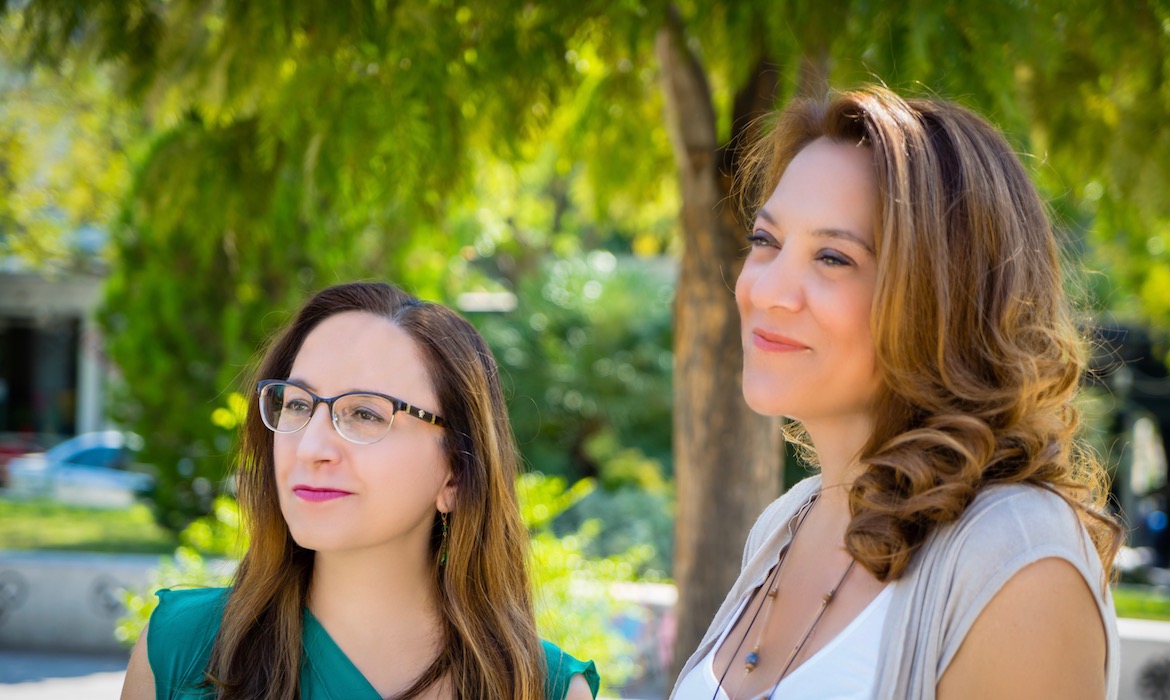 Vosinaki is based in Athens and Vasilopoulos in New York City. The latter was a former men's fashion editor at DNR (now part of Women's Wear Daily).
"When we started meeting with these creators, we absorbed their optimism, positive vibes and joy," Vasilopoulos said. "It enhanced our belief that all that passion and creativity needs a path for expression and connection with like-minded souls — even in the midst of an economic crisis!"
Vosinaki added: "For us, the ultimate style is knowing that the hands which made these pieces of art are joyful hands, and that's why we will continually feature the stories behind the labels!"
About the Designers
Amaris Mykonian Art Stories
Conceptual artist Marie Gyparaki creates abstract drawings in vibrant color compositions and kaleidoscopic patterns which transform her vibrant fashion designs. Visit their website.
Magnadi
Silk scarves produced with Greek-sourced silk are printed with beautiful Hellenic heritage motifs. Visit their website.
Myrto Arvaniti
Handcrafted handbags and kimonos with creative details that evoke the Greek landscape. Visit their Facebook page.
Loom %
Hand-loomed handbags, scarves, and home accessories inspired by traditional Greek costumes. Visit their website.
Dots. Art For All
Jewelry conveying messages and wishes written in Braille (the language of the blind), Sign Language (the language of the deaf), a unique and innovative idea in the field of art and fashion. Visit their website.
Thiki
Designer Nadia Synetou creates home accessories with a minimal and contemporary design esthetic inspired by the Greek lucky eye symbol (mati). Visit her website.
Klotho
A sustainable brand from Crete by Alexandra Theohari that features hand-embroidered women's clothing. Visit their website.
Colour Greece
Two architects have created truly inspired and vibrant coloring book travel guides, as well as coloring books on Greek folklore and art. Visit their website.
Holy Wabbit
Hand-painted T-shirts featuring irreverent interpretations of ancient Greek Gods and mythology. Visit their Facebook page.
See previews of their products
---
Is The Pappas Post worth $5 a month for all of the content you read? On any given month, we publish dozens of articles that educate, inform, entertain, inspire and enrich thousands who read The Pappas Post. I'm asking those who frequent the site to chip in and help keep the quality of our content high — and free. Click here and start your monthly or annual support today. If you choose to pay (a) $5/month or more or (b) $50/year or more then you will be able to browse our site completely ad-free!

Click here if you would like to subscribe to The Pappas Post Weekly News Update