One of the greatest Greek American success stories of the so-called Millennial Generation is unfolding before our eyes. Sophia Amoruso, who went from making subway sandwiches and shoplifting to meetings with venture funds wanting to invest hundreds of millions in her company Nasty Gal, is currently on a nationwide media tour to promote her new book #GirlBoss
The book is selling like hot cakes and has already appeared on numerous "top" lists like Amazon and Barnes and Noble. In it, she tells her amazing story that has culminated in the wild success of Nasty Gal, a company estimated to be worth $300 million with more than a half million customers in 60 countries.
Get to know more of what makes Sophia tick, with some Greek-inspired tidbits from her life, including her connection to the Greek Orthodox Church in her own words and the entrepreneurial streak running in her veins.
Get the book here!
#SophiaTheGreek
In her new book #GirlBoss, she describes herself as she sees herself. "I'm telling my story to remind you that the straight and narrow is not the only path to success. As you'll see in the rest of the book, I didn't earn many accolades growing up. I've been a drop out, a nomad, a thief, a shitty student, and a lazy employee. I was always in trouble as a kid. From punching my best friend in the stomach when she dropped my Play-Doh (I was four) to getting ratted out for lighting hairspray on fire at a family gathering (guilty), I was regularly a bad example. As a teen, I was angst on wheels, and as an adult, I'm essentially a young, half-Greek Larry David in heels— incapable of hiding my discomfort, dissatisfaction, or doubt, inescapably myself and often honest to a fault."
#SophiaTheEntrepreneur
Amoruso has had an entrepreneurial streak since she was a child. Growing up in her Greek-American family helped. "I've never seen someone work for a salary," Amoruso told Forbes Magazine in an interview once. She comes from a family of business owners and entrepreneurs. One grandfather ran a piano shop, the other ran a motel. Her dad sold mortgage loans. Her mom was a real estate agent. No one she knew worked a 9-to-5, punch a time clock kind of job.
#OnOrthodoxChristianity
Sophia is also a photographer and one of her favorite shoots took place at a Russian Orthodox monastery in Northern California. Some of these photos hang proudly in her office in Los Angeles. She wrote the following statement for an exhibition about her relationship with the Greek Orthodox Church and her early childhood memories of growing up in the Church.
"My interest in the aesthetics of the Orthodox Church began long before I first picked up a camera. As a child attending a church service that was done almost entirely in Greek, I had to find something that made sense to me, something at least to entertain me during the long services my family attended each Sunday. I found the icons, the ritual, the voices blending with the wonderfully fragrant incense, and tinged with the taste of sweet Greek wine at Communion. It was somehow mystical, peculiar, and psychedelic all at once. It was truly divine.
These memories of church from my childhood are what have driven me to document the lives of those involved in the church. For the time being, I have chosen the Russian Orthodox Church. The Russian church is even more unchanged than the Greek, having no seating in the Church, nearly three-hour liturgies, no choral accompaniment (i.e. organs) and maintaining that women keep their heads covered in Church. These are all things that are no longer stand as rules in the contemporary Greek Church. The timelessness of ritual and religion has always fascinated me, and Orthodoxy has always represented that to me.
Christianity, in all its popularity, has become somehow taboo—a tired subject, and a source of endless controversy. Many have moved on to eastern religions, and new-age spiritual practices that encompass a more diverse array of lifestyles. Documenting the "exotic" has become a leitmotif in modern photography—religious types from across the world dressed in unfamiliar garb, living lives of poverty and devotion."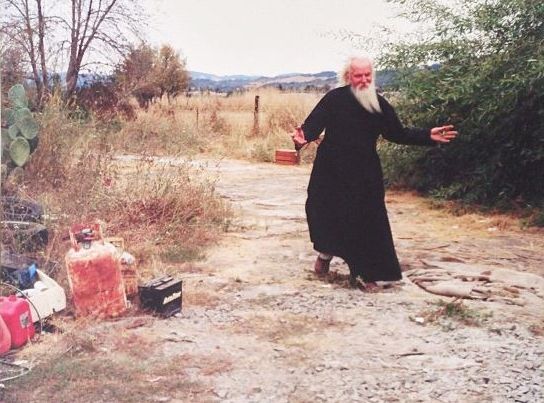 #Sophia@TheGabbyAwards
In 2013 Sophia won the Business and Entrepreneurship Award at the Gabby Awards in Hollywood, the Greek America Foundation's biennial celebration that honors Greek Americans in various fields. After the event, she wrote "You have renewed a pride of being Greek for me that I didn't know was possible. I look forward to being a part of your mission for a long time to come."
She was all the rage on the red carpet as Getty's photographers snapped her in her vintage Alexander McQueen gown.
Watch her receive her award:
[youtube id="QQa9hoAr1qo" width="600″ height="350″]