Born October 13, 1934 in Hania, on the island of Crete, Nana Mouskouri is probably the most famous Greek in the world.
She ranks continuously in "Top 10" lists of the world's top female singers with an estimated 300 million record sales over her career spanning more than a half a century.
She has recorded in dozens of languages, including French, German, Hebrew, Mandarin Chinese and Turkish ' in addition to her native Greek.
In 1962, she met Quincy Jones, who persuaded her to travel to New York City to record an album of American jazz titled The Girl from Greece Sings.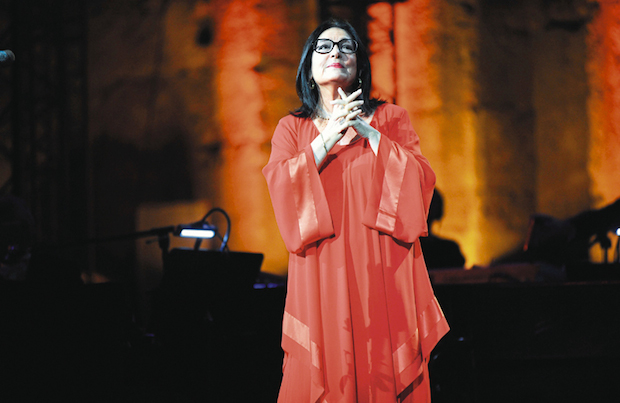 In 1963, she left Greece to live in Paris, her permanent home for many years now.
In 1965, she recorded her second English-language album to be released in the United States, entitled Nana Sings. American singer Harry Belafonte heard and liked the album. Belafonte brought Mouskouri on tour with him through 1966.
They teamed for a duo album entitled An Evening With Belafonte/Mouskouri. During this tour, Belafonte suggested that Mouskouri remove her signature black-rimmed glasses when on stage.
She was so unhappy with the request that she wanted to quit the show after only two days. Finally, Belafonte relented and respected her wish to perform while wearing glasses.
In the interim, she achieved super-stardom in France, England and elsewhere with numerous releases in those countries.
In 1979, Mouskouri released another English-language album named Roses and Sunshine. This album consisted largely of folk and country material and included songs from Neil Young, Dolly Parton, Bob Dylan and John Denver.
Always true to her Greek roots, Mouskouri, despite her international success, has often returned to her beloved Greece and has recorded with some of the country's top singers and composers, including the smash hit CD featuring songs by Manos Hadjidakis and its equally successful follow up sequel album. Mouskouri's 1991 English album, Only Love: The Best of Nana Mouskouri, became her best-selling release in the US.
She spent much of the 1990s touring the globe. Among her early 1990s albums were spiritual music, Gospel (1990), the multilingual, Mediterranean-themed Côté Sud, Côté Coeur (1992), and Falling in Love Again: Great Songs From the Movies which featured two duets with Harry Belafonte.
In 1993, Mouskouri recorded the album Hollywood. Produced by Michel Legrand it was a collection of famous songs from films, and served not only as a tribute to the world of cinema, but also as a personal reference to childhood memories of sitting with her father in his projection room in Crete.
In 2005 she announced her plans to retire. From 2005 until 2008, she conducted a farewell concert tour of Europe, Australia, New Zealand, Asia, South America, the United States and Canada.
On July 23 and 24, 2008, Mouskouri gave her two final 'Farewell Concert' performances at the ancient Herodes Atticus Theatre, in Athens, Greece, before a packed stadium, including Greece's Prime Minister and Athens mayor, plus the mayors of Berlin, Paris and Luxembourg, along with fans from around the world and thousands of her Athenian admirers.
But in 2018, Mouskouri came out of retirement for her latest world tour celebrating the release of her 134th studio album "Forever Young." The record consists of cover songs by artists such as Leonard Cohen, Bryan Adams, Bob Dylan and Amy Winehouse.
Her tour included various locations in Europe and North America.
---
Is The Pappas Post worth $5 a month for all of the content you read? On any given month, we publish dozens of articles that educate, inform, entertain, inspire and enrich thousands who read The Pappas Post. I'm asking those who frequent the site to chip in and help keep the quality of our content high — and free. Click here and start your monthly or annual support today. If you choose to pay (a) $5/month or more or (b) $50/year or more then you will be able to browse our site completely ad-free!

Click here if you would like to subscribe to The Pappas Post Weekly News Update