For more than a century the hot dog has been a staple of American fast food culture, but this summer one Houston restaurant is putting a big fat Greek twist on this red, white and blue tradition.
JCI Grill is celebrating 95 years in business with a nod to its Greek heritage, offering the limited edition "gyro dog" with seared gyro meat, sliced red onions, tomatoes, feta cheese, and a tzatziki sauce variation all for $6.99. For another $3, the restaurant's also offering a side dish of "gyro bites", essentially Greek mini-empanadas stuffed with ground gyro meat, cheese and onion — perfect for dipping in the tzatziki sauce.
The restaurant's history traces back to 1923 when brothers James and Tom Papadakis immigrated from the Cretan town Kastelli and founded James Coney Island, known for the past five years as JCI Grill.
The fourth oldest eatery of its kind in the Houston area, JCI opened at a time when more Americans were starting to eat out and foods such as hot dogs, hamburgers, ice cream and pies were becoming iconically American.
Although the Papadakis brothers made their restaurant debut during this peak of "Americanization", there's one simple variable that keeps the origins of JCI's namesake "coney" dog Greek: the chili sauce. In an interview with Houston Press, JCI President Darrin Straughan said that "It's not chili," but more of a "a meat sauce."
Despite adding a selection of gourmet hot dogs like the BBQ Slaw Dog and New York Dog to its menu over the years, the grill has still maintained its classic Greek-style coneys from the original menu.
As a general matter of fact, coneys didn't actually get their start in Coney Island in New York, either (although that is where German immigrants began selling sausages inside of rolls); believe it or not, they began in Detroit, Michigan where Greek immigrants Constantine "Gus" and Bill Keros opened American Coney Island in 1917, shortly after which Bill opened his own place, Lafayette Coney Island, due to a dispute.
Only six years later, likely inspired by the success of Michigan's Greek hot dog stands, the Papadakis brothers would make their own coney shop debut at 110 Walker in Houston.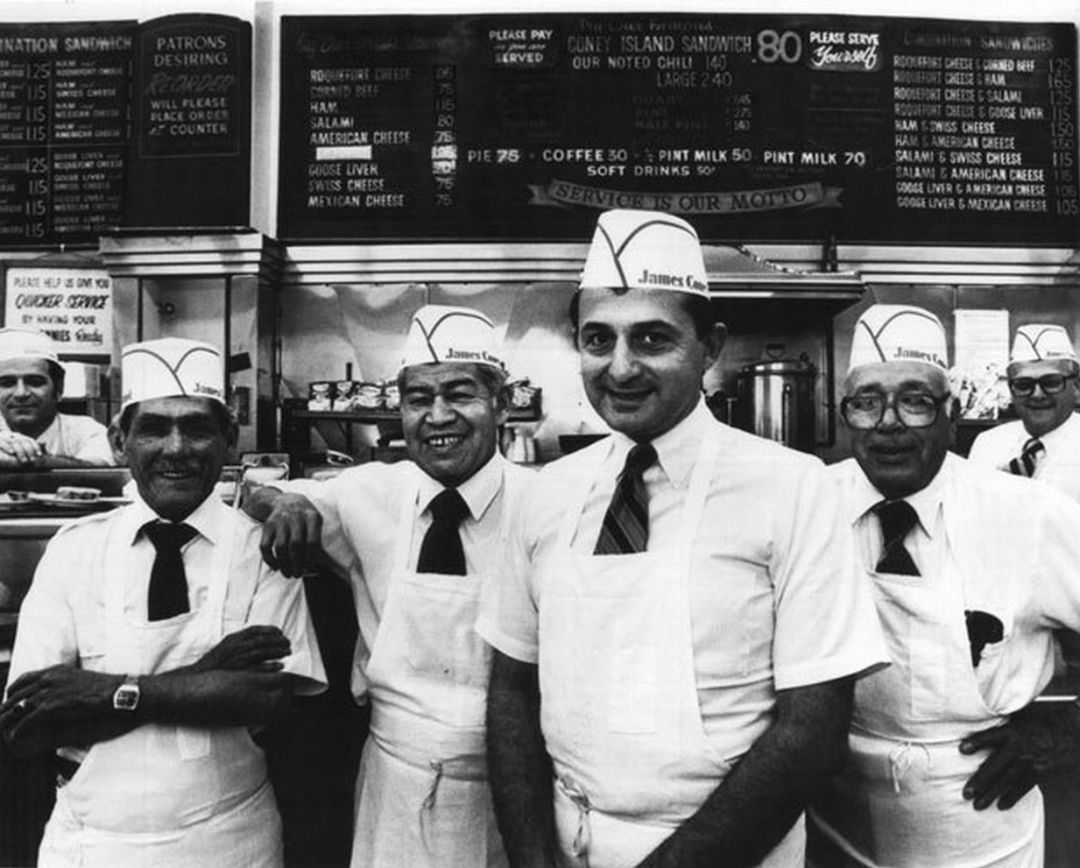 The restaurant's opening also came during a peak era of Greek immigration in the area, as the Papadakis are one of the many other Greek families that own places nearby: the Christie family of Christie's Seafood, the Pappas family, the Massas family, the Bibas family of One's A Meal, the Mickelis family of Cleburne Cafeteria, Demeris family of Demeris Barbecue, the Hrisinis family of Mykonos Island Restaurant, and the Fetokakis family of Niko Nikos.
It's uncertain how JCI will celebrate in just five years when it turns 100, but this summer in addition to the "gyro dog" they are offering a "665 Dog Years" promotion featuring 95-cent coneys — one cent per year of business — on the third Thursday of every month from May to September (May 17, June 21, July 19, August 16, and September 20).
The 95th anniversary offer pays homage to a time when locals used to regularly enjoy nickel coneys at the store's original 110 Walker location.
*Written by Darden Livesay
*****
Since you're here… I have a small favor to ask.
More and more people than ever before are reading The Pappas Post and despite increasing costs to maintain the site and provide you with the quality content that you deserve, I will never "force" you to pay for our website or add a paywall. I believe in the democracy of the internet and want to keep this site and its enriching content free for everyone. But at the same time I'm asking those who frequent the site to chip in and help keep it both high quality— and free. We've implemented a "free-will" annual subscription for those who want to support our efforts. I guess it's fair to call it a philotimo subscription… because you don't have to do it but it's really the right thing to do if you love the site and the content we publish. So if you like The Pappas Post and want to help, please consider becoming a "philotimo subscriber". Click here to subscribe. If you'd rather make a one time donation, we will gladly accept any amount, with appreciation. Click here to donate any amount.