Following shocking acts of vandalism on the walls of their church, members of a New England Greek Orthodox community remain troubled and searching for answers.
For more than a century, Saint George Greek Orthodox Church has been a local fixture in the city of Lynn, Massachusetts.
But following Sunday services, parishioners were taken aback when they discovered anti-religious graffiti on the front of the church.
The graffiti included an upside-down cross defacing an icon of the The Virgin Mary (pictured above), as well as an "A" symbol above the numbers "666" — which symbolize the antichrist — defacing an icon of Saint George, the church's namesake.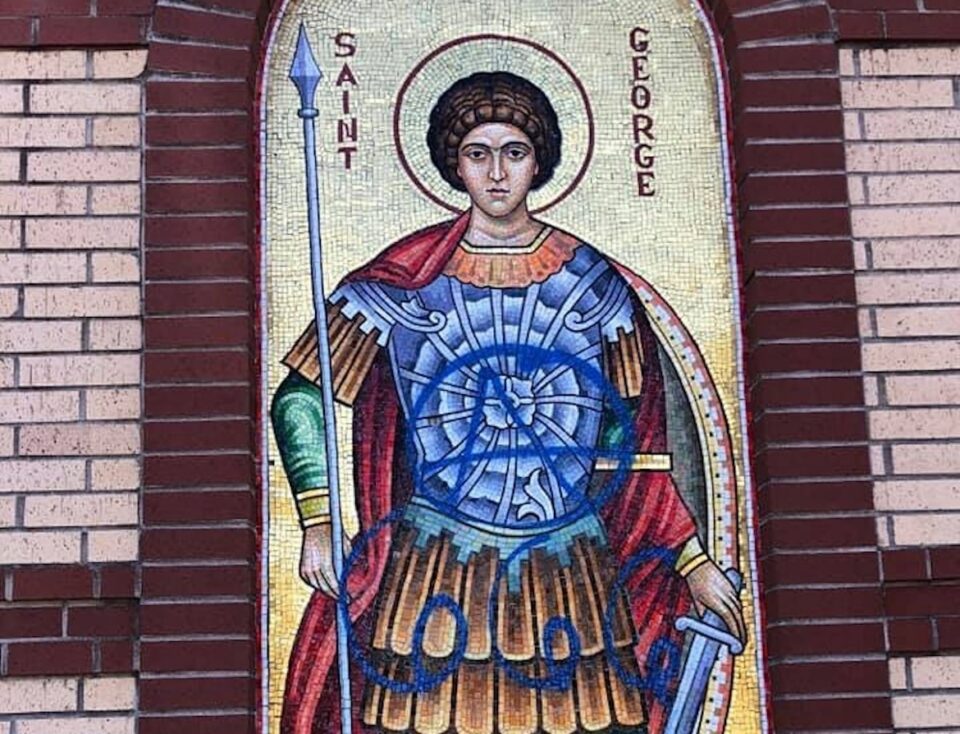 In an interview with local news affiliate Boston 25, Parish Council President Arthur Argeros said the attack is a direct hit to parishioners Greek Orthodox faith.
"Somebody has got a sick mind to think this is okay," Argeros said. "The A symbol, which means anarchy, and one of them had the devil, which is three sixes."
Argeros told reporters that the church is by and large beloved in the community and has never been targeted with such negative attacks.
"Lynn's a tough town, but [there are] a lot of good people there and a lot of Greek people," he said. "The church has been there over 100 years."
The two vandalized icons have protective coatings which allowed parishioners to clean most of the graffiti without causing damage. But questions about the perpetrators, who they were and what their motive was still remain.
Police continue to investigate the situation and the local municipality sent a professional power washer to remove the remaining graffiti from the brick facade.
City of Lynn Councilor-at-Large Brian Field posted the following statement on Facebook in response to the vandalism.
See the video
---
Is The Pappas Post worth $5 a month for all of the content you read? On any given month, we publish dozens of articles that educate, inform, entertain, inspire and enrich thousands who read The Pappas Post. I'm asking those who frequent the site to chip in and help keep the quality of our content high — and free. Click here and start your monthly or annual support today. If you choose to pay (a) $5/month or more or (b) $50/year or more then you will be able to browse our site completely ad-free!

Click here if you would like to subscribe to The Pappas Post Weekly News Update