Not technically a triathlon, the 2018 Santorini Experience will have two of the three components, though– and the stunning scenery and natural environment will surely make it an experience of a lifetime.
Runners and swimmers from throughout the world are expected to converge on the tiny, volcanic Greek island on October 5-7, 2018 for the 4th Santorini Experience, a combination swimming-running competition.
There are three different running routes and lengths for different skill levels. With unique backdrops of Santorini's world-famous caldera, runners will pass through the villages of Imerovigli, Firostefani and Oia in 5, 10 and 15 kilometer routes.
The running routes were designed by the former marathon runner and record holder, Nikos Polias.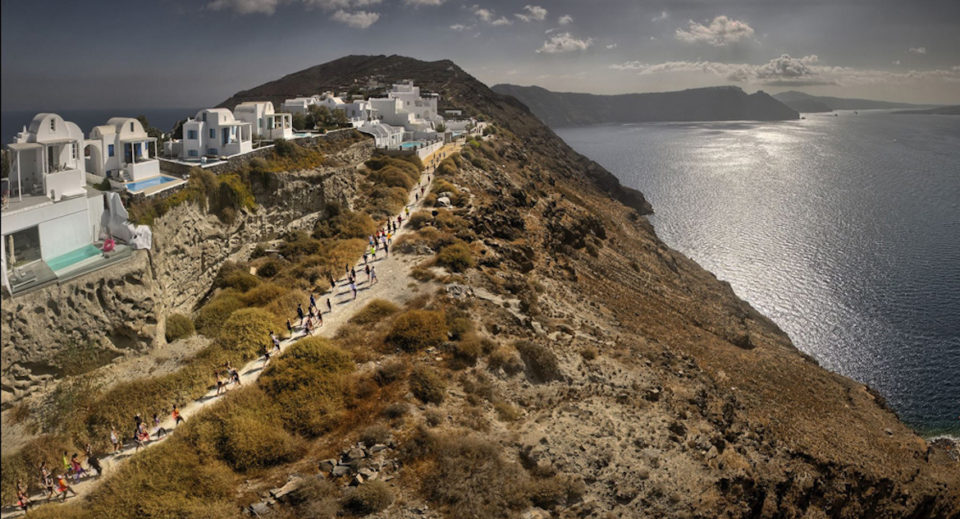 Open water swimming takes place on Sunday, October 7 and includes a 1.5 mile (2.4 kilometer) race from the volcano in the center of Santorini's stunning natural, circular harbor to the old port of Fira.
The swimming route will include lifeguards and safety buoys, with a full staff of support and patrols.
In addition to swimming and running, other activities are being planned including a 1 kilometer race and Tae Kwon Do.
Last year, athletes from 40 different countries participated.
For registration and details visit here.
Swimming @ Santorini Experience: Photo by Elias Lefas
Running @ Santorini Experience: Photo by Loukas Hapsis
*****
Since you're here… I have a small favor to ask.
More and more people than ever before are reading The Pappas Post and despite increasing costs to maintain the site and provide you with the quality content that you deserve, I will never "force" you to pay for our website or add a paywall. I believe in the democracy of the internet and want to keep this site and its enriching content free for everyone. But at the same time I'm asking those who frequent the site to chip in and help keep it both high quality— and free. We've implemented a "free-will" annual subscription for those who want to support our efforts. I guess it's fair to call it a philotimo subscription… because you don't have to do it but it's really the right thing to do if you love the site and the content we publish. So if you like The Pappas Post and want to help, please consider becoming a "philotimo subscriber". Click here to subscribe. If you'd rather make a one time donation, we will gladly accept any amount, with appreciation. Click here to donate any amount.