Nikos Kazantzakis was Greece's most prolific writer and remains in history as one of the most famous contemporary Greeks worldwide.
Kazantzakis published dozens of novels, poems, plays and short stories and his works have been translated into practically every written language on the planet. His most famous work is, by far, "Zorba the Greek," which was turned into a film in 1964.
In honor of the Greek writer's birthday, we compiled a list of 13 fascinating facts about his life — and death.
1. Kazantzakis dabbled in communism, atheism and numerous radical ideologies, making him one of the most controversial literary figures of the 20th century and the subject of much criticism.
2. He was born a citizen of the Ottoman Empire on February 18, 1883, while Crete was still under Turkish rule.
3. Kazantzakis' most famous novel, Zorba the Greek (Originally called 'The Life and Times of Alexis Zorbas') was about a real-life friend of his named Yorgis Zorbas, who taught him how to love life and not fear death. Kazantzakis wrote the novel in 1941 after he learned of his friend's death because he wanted to keep his memory and life lessons alive.
4. At a 1999 auction, a first edition (1946) signed copy of "Zorba the Greek" was estimated to get £250 but sold for £4,250 ($6,035). It was the first time in 35 years that a copy of the original Greek first edition had surfaced. In 2005 an inscribed first French (1947) edition made £900 in a Sotheby's sale and that same year a copy of the 1953 first U.S. edition, once owned by the novelist Bernard Malamud, brought $360 at Christie's New York.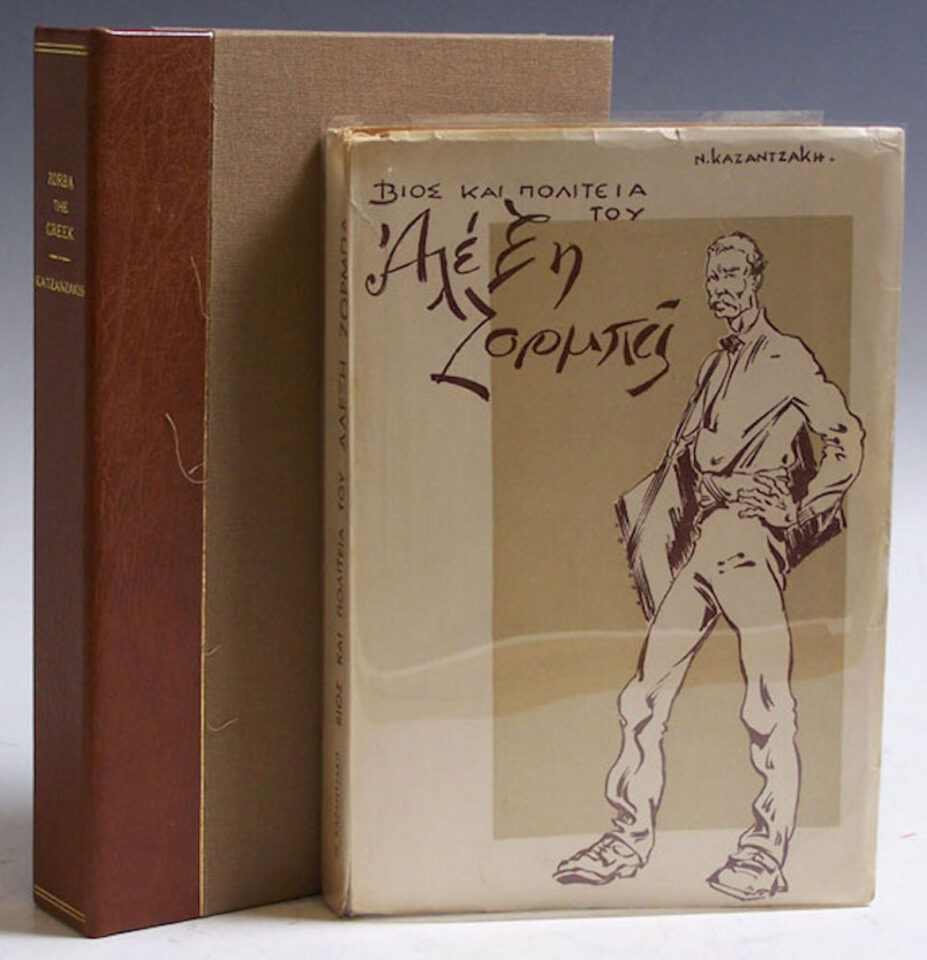 5. Kazantzakis' book "The Last Temptation of Christ" was one of the most controversial books of all time, often appearing on "banned books" lists and even receiving official condemnation from both the Roman Catholic and Greek Orthodox churches. The incident prompted one 1950s writer to remark that it was the first time since 1054 that the two churches had agreed on anything.
6. In 1954, the Pope placed Kazantzakis' book on the Roman Catholic Index of Forbidden Books. In response, Kazantzakis telegraphed the Vatican a phrase from Christian apologist Tertullian: "Ad tuum, Domine, tribunal appello" (I lodge my appeal at your tribunal, Lord), basically telling the Catholic church that God will be his final judge and not a "worldly" institution such as the church.
7. Controversy followed more than three decades later when Martin Scorsese made the book into a film in 1988. Widespread protest from Christian fundamentalists in the United States spread. The film was banned outright in more than a dozen nations around the world, including Turkey, Mexico, Chile, Argentina, the Philippines and Singapore. Christian demonstrators in Paris torched a cinema that wouldn't give in to protestors to cancel the premier.
8. In 1957, he lost the Nobel Prize for Literature to Albert Camus by one vote. Camus later said that Kazantzakis deserved the honor "a hundred times more" than himself. In total Kazantzakis was nominated in nine different years.
Three Academy Awards and Eight Nominations
9. Kazantzakis' literature has resulted in three Academy Awards and eight nominations. The film version of Zorba the Greek by director Michael Cacoyiannis got seven nominations and won three awards in 1964. Martin Scorsese was nominated for Best Director for his adaptation of The Last Temptation of Christ in 1988.
Dozens of Translations
10. Captain Michalis is Kazantzakis' second most widely known and published novel after Zorba. Published in 1953, the book tells the story of the 1889 Cretan rebellion against the Turks. The book was published under the title "Freedom or Death" in the United Kingdom and in subsequent English editions. It has also been translated and published into almost 3 dozen languages — including Turkish.
11. Kazantzakis' literary work was condemned by many in the Greek Orthodox Church and a movement was undertaken to excommunicate him that reached Ecumenical Patriarch Athenagoras, who rejected the proposal. Kazantzakis issued the following response to the clergy and bishops who sought to excommunicate him:
"You gave me a curse, Holy fathers, I give you a blessing: may your conscience be as clear as mine and may you be as moral and religious as I."

Nikos Kazantzakis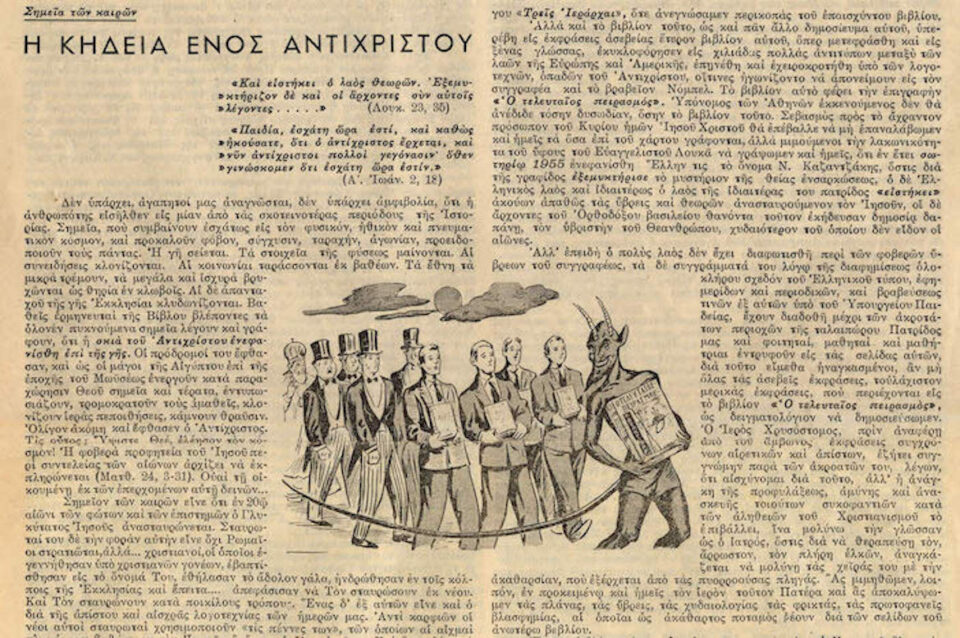 12. Although Kazantzakis was never excommunicated, he remained a controversial figure for his spiritual and political views. The Orthodox Church ruled out his burial in a cemetery and thus he was buried inside the rampart walls surrounding Heraklion, Crete, the place of his birth. Kazantzakis' epitaph has become one of the most famous phrases in Greek history. Etched in stone, it reads: "I hope for nothing. I fear nothing. I am free."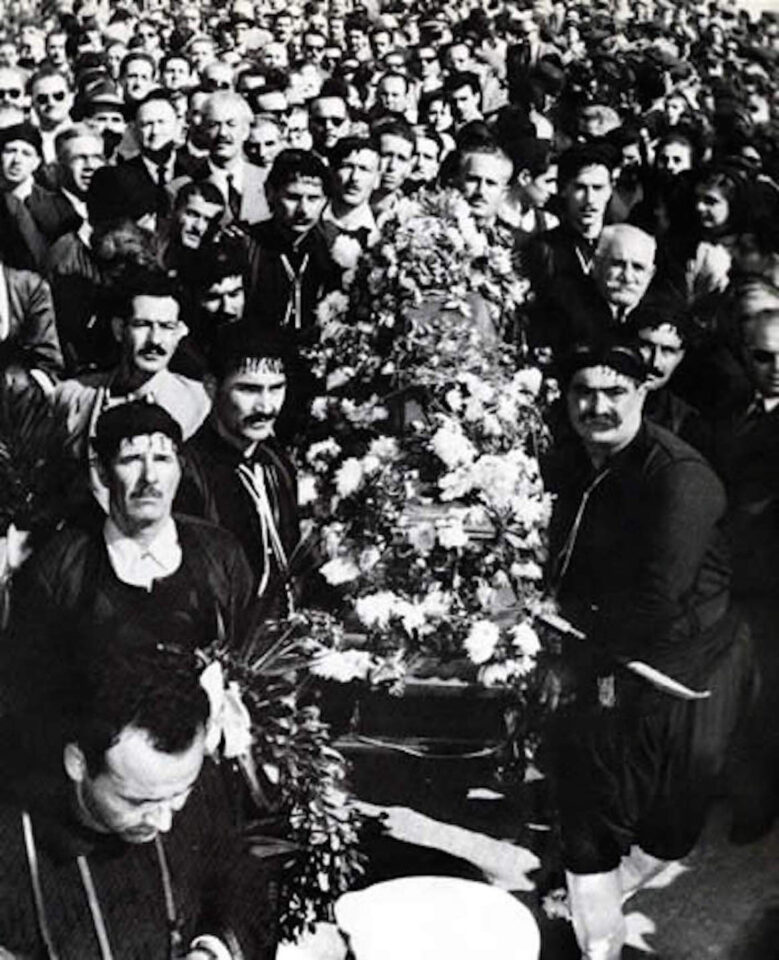 13. Kazantzakis died in Breisgau, Germany on October 26, 1957 and when his body arrived in Athens, the Greek Orthodox Church refused to let it lie in state. Officials transferred the writer's body to Heraklion and placed it on display at St. Minas Cathedral before holding a funeral and massive procession on November 5, 1956.
---
---
Is The Pappas Post worth $5 a month for all of the content you read? On any given month, we publish dozens of articles that educate, inform, entertain, inspire and enrich thousands who read The Pappas Post. I'm asking those who frequent the site to chip in and help keep the quality of our content high — and free. Click here and start your monthly or annual support today. If you choose to pay (a) $5/month or more or (b) $50/year or more then you will be able to browse our site completely ad-free!

Click here if you would like to subscribe to The Pappas Post Weekly News Update