Read Part 3 of my series here.
It's never a good sign when the head of archives where you're researching greets you upon arrival with the news that nothing exists in their records about the incident you're attempting to find details about. Well, that's how my day at Auschwitz archives department started. I had just traveled 5,000 miles to not only see the place where the story of my film took place, but to gather as much information as possible about the topic.
But I was in good hands.
My guide does this for a living. He is the "CSI" version of investigators for historical research and ancestral searching and has helped hundreds of people from throughout the world who have come to Poland in search of their family roots.
World War II was tragic for so many families— especially in Poland where hundreds of thousands of Polish Jews and non-Jews alike were displaced, sent to camps and spread throughout Nazi-occupied Europe. Family homes were confiscated, entire neighborhoods were uprooted and people fled the persecution— thousands to America. Piotr has helped a lot of these people find their roots.
Piotr Malarek was referred to me by a network of friends and colleagues, thanks to Elaine, a friend in Pittsburgh who knew I was researching the topic. One introduction led to another and eventually, my entire 5-day trip to Krakow was planned.
Piotr helps families look for records, homes and re-connect with their ancestral heritage. He is also an expert on the Holocaust and WWII-era Poland and conducts research assistance and tours through his company Krakow Tours.
As a Polish native and semi-fluent in German, he was able to scan through hundreds of pages of archives at Auschwitz, in search of some kind of evidence of the prisoners I was there searching for— who are the main topic of my short film Eleftheromania. We spent hours looking through books, incoming prisoner forms, lists, testimonies. The majority of what was left (the retreating Nazis tried to burn as much evidence of their crimes as possible) had to do with those unlucky Greeks from Thessaloniki. There were pages and pages of individual intake forms for incoming prisoners— all from Thessaloniki.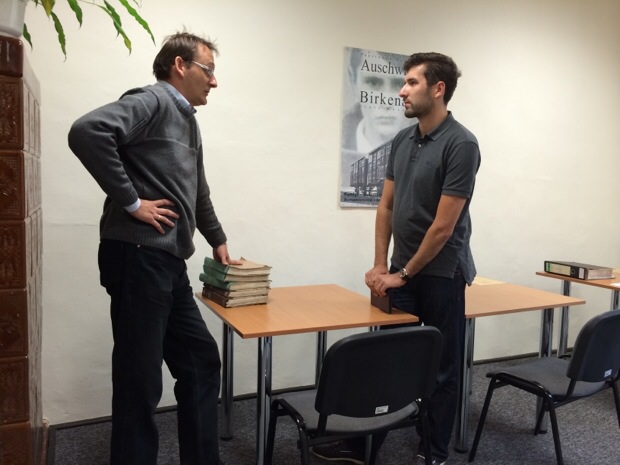 I knew that the Eleftheromania prisoners were from Athens and the Greek island of Kerkyra. I had read a handful of written survivor testimonies that mentioned the subject of the film and had found some scattered records mentioning the incident. But nothing more. This is why I planned a trip to Auschwitz— not only to see the place, but to get as much information as possible about tees brave Greek prisoners.
The pages and pages of records we reviewed in search of clues were telling. The Germans kept meticulous records for all incoming prisoners. Their names, address, date of arrest, date of transport and so on. Each intake form was signed by the prisoner him/herself. All of the Greeks from Thessaloniki signed their names in their native Greek script. They signed their own death warrants. It was strange looking at all of these records… Average people going about their business, rounded up and arrested one day just because they were Jewish. They lived on streets in Thessaloniki that I recognized— Analipseos Street, Mega Alexandrou Avenue, and so on.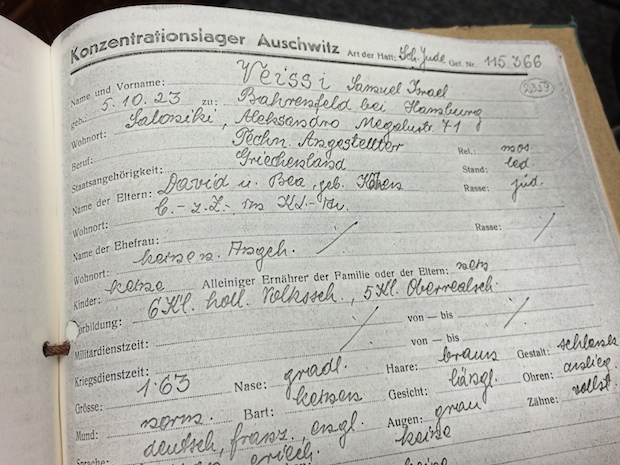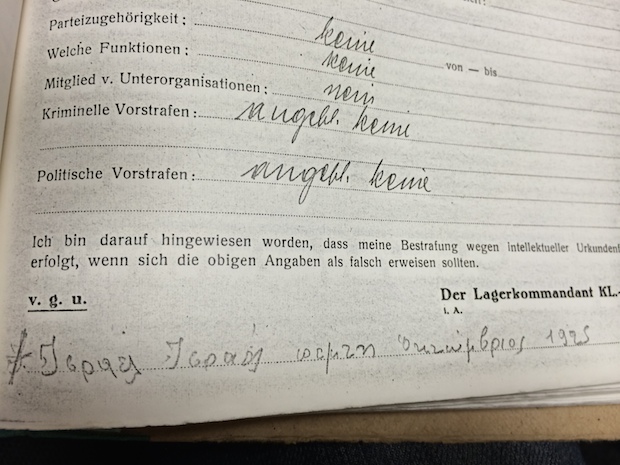 When we were almost ready to call it a day, Piotr emerged with a lead. He was reviewing testimonies from a German prisoner that was transcribed in Polish and we struck gold.
Otto Wolken, a Jewish physician from Vienna was deported to Auschwitz and managed to survive because he was a physician whose skills were in demand by the Germans. Dr. Wolken worked in various sections of the camp including the hospital and the quarantine section. He remained there until the camp was liberated in early 1945. Dr. Wolken stayed at Auschwitz for a few weeks immediately after liberation during which time he wrote down a chronicle of what he had witnessed for use in later war crimes trials.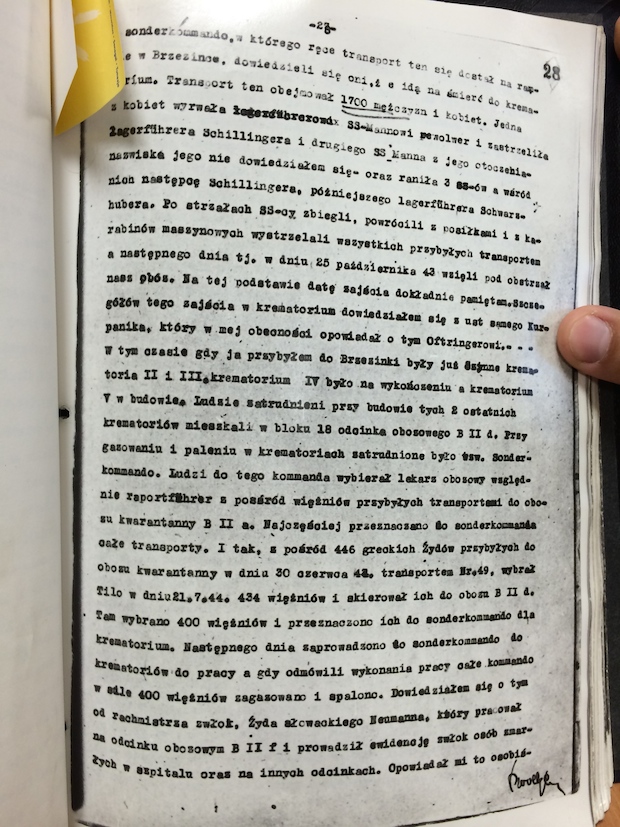 He was the first witness to testify at the International Military Tribunal in Nuremberg and testified for two full hours about prisoner daily life and German atrocities in Auschwitz-Birkenau.
Wolken's testimony revealed the story of the Greek prisoners who are the subject of my film. It was as if the clouds above my research had disappeared and there was light. Thank's to Piotr's insistence and hard work, I found exactly what I was looking for. One thing led to another and we eventually found a document from the Quarantine section of the camp that mentioned specific details about "my prisoners" including the barracks they were living in when they first arrived.
We then headed back to the Birkenau camp and started analyzing maps. We walked, and walked— and eventually found the Barrack #8— the exact barrack where the 400 Greek prisoners lived for three horrible weeks before being murdered by the Nazis. It was an emotional experience. Not only was my story corroborated, but I saw exact locations and walked the same paths they would have walked over 70 years ago before making history.