We are grateful for Chef Matt Katakis sharing a special "off the menu" treat that he does not serve at one of Astoria's most popular barbecue joints, Butcher Bar.
Who serves this special dish? Only his mother in her own kitchen.
Owner both of Butcher Bar and the nearby Pita Pan, Katakis knows meat like few do, and we turned to him for a pork dish that our readers can try around the holidays.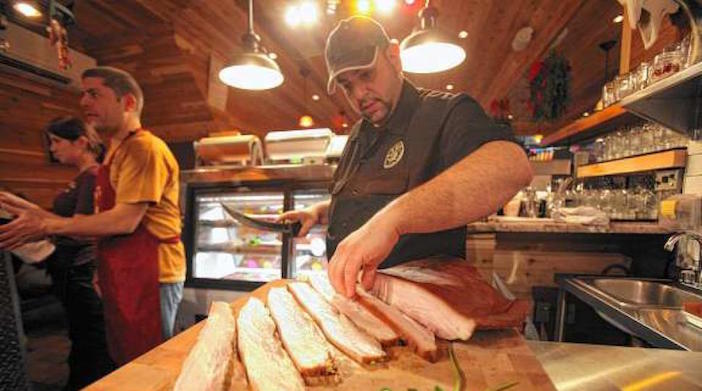 Instead of copying and pasting something out of Butcher Bar's cooking handbook, Matt turned to family folklore and history by sharing his grandmother's dish from Crete, which has made its way to Astoria, New York.
---
In Katakis' Words
"One of my favorite dishes that I love to cook at home is pork with celery avgolemono.
The first time I tasted this dish was at my grandparents' house in Maleme, Crete. My yiayia would make this dish for a holiday or special occasion like one of my many cousins' name days. My mom would also cook it for dinner or family gatherings. It's a hearty dish, simple to prepare and is great for a cold winter night.
This dish is one of the most unusual traditional dishes in Crete's menu and also possibly one of the smelliest! The reason is the celery. Not the standard celery you might pick up at the local market but one that grows wild. Cretan celery grows wild and has a spicier taste, and a more pungent aroma than the standard "pascal" celery found here in the local markets. You'll either love it or hate it.
It looks a lot like large-leafed parsley. It's dark green, very leafy and has a thick stem. When preparing this dish it's necessary to boil the celery first (the first boil) and the aroma it gives off is far from appetizing. If you've boiled cabbage or cauliflower, you might understand since they share this aromatic trait.
The celery stalk or base consists of a hard thick white root which is edible and even tastier than the stalks and leaves. Greek celery is often added to soups; it's an absolute must in "fasolada." It is usually sold in small bunches as a herb, but is also available in the tall shrub-like form.
In Crete, the "Pascal" variety is often sold in the imported produce section of the market (grown in Holland), and is referred to as σέλερι (pronounced 'celery'), but the Greek variety is always called σέλινο (pronounced 'selino').
The meat and celery are cooked separately, eventually being combined in an egg-and-lemon sauce "avgolemono."
The meat is always cooked well through, first braised and then boiled long and hard til it's practically falling off the bone, the way Cretans usually like their meat.
Celery needs a long cooking time to become tender enough to eat without that stalky woody taste that tough vegetables can have. It is boiled until it softened, but still crisp.
The combination of heavy pork meat with the pungent "selino" herb is definitely an acquired taste. The smell brings back great memories and I guess that's why I love it so much!"
*Since we can't get the wild "selino" here in the states, feel free to substitute what you find at your local farmer's market for a great taste, or use another of your favorite leafy greens like kale!
---
Ingredients
2.5 pounds of celery washed well and chopped.
1.5 pounds of a pasture raised pork butt, trimmed of excessive fat, and cut into small chunks.
1 cup of a Cretan olive oil or similar extra virgin verity (Buy your Greek extra virgin olive oil here)
½ cup of Cretan white wine.
2 large onions chopped small.
½ cup of fresh squeezed lemon juice.
2 free range eggs.
Salt and pepper
Instructions
Bring a large pot of water to a boil. Add the chopped celery. Add a pinch of salt and a pinch of pepper, a table spoon of the olive oil. Continue to boil it for approximately 4-6 minutes till it is soft and tender. The stalks may still be crispy, but the celery must be soft enough to be edible. Remove it and strain it.
In another pot pour in the oil and saute the onions till golden brown over high heat. Then add the pork chunks and sear them till their brown. Season with salt and pepper, and add just enough water to cover the meat. Place the lid on the pot and let the meat simmer away.
Add the celery in after the first 15 minutes of boiling to allow the flavors to blend. Keep the boil going until the meat is soft approximately 45 minutes or to your liking.
*Keep an eye on the water level and replenish it as needed to stop the meat from sticking to the bottom.
While this is happening, beat the eggs and lemon juice and a splash of cold water together in a bowl, to form a frothy yellow well blended liquid, the "avgolemono." When the meat is done remove it from the heat. Take a ladle and fill it partially with the broth of the meat stock and add some of the egg and lemon mix and stir it in well.
You need to be quick in your movements here, because the egg will "cook"' if the hot liquid is poured onto it. Continue to do this until enough meat stock has been blended into the egg and lemon mixture to make a well-blended soup-like liquid. Carefully pour this onto the meat and celery, and shake the pot to make sure it distributes evenly. Allow the flavors to blend a little before serving. Enjoy!
---
Is The Pappas Post worth $5 a month for all of the content you read? On any given month, we publish dozens of articles that educate, inform, entertain, inspire and enrich thousands who read The Pappas Post. I'm asking those who frequent the site to chip in and help keep the quality of our content high — and free. Click here and start your monthly or annual support today. If you choose to pay (a) $5/month or more or (b) $50/year or more then you will be able to browse our site completely ad-free!

Click here if you would like to subscribe to The Pappas Post Weekly News Update