Revithia sto fourno, baked chickpeas, is something everyone MUST make at least once — it's just that good.
Using only five of the most ordinary of ingredients, this positively perfect, authentic and rustic peasant dish is a cinch to make for the modern home cook.
Two big time-savers include subbing in canned chickpeas (good quality, of course) for dried and making your caramelized onions up to 4 days ahead. Fresh chopped rosemary, olive oil and salt/pepper round out your shopping list for this one so seriously, give it a try – you will not be disappointed. I promise!
Of course, when you have the time, it's always good to start with dried beans and boil your own so I've included the boiling directions below.
As I mentioned above though, it's absolutely acceptable to substitute canned chickpeas here. Either way you go, remember to reserve either 2 cups of boiling liquid or 2 cups of the canning liquid to use in the recipe. It helps give a really nice, extra creaminess to the revithia.
And caramelizing the onions is easy to do especially with the oven method shared here. It's honestly just a matter of setting aside the time to peel and slice the onions.
The amount written may seem like more than you need but the thing is the onions really shrink down to a fraction of their original volume. Their sensational sugary, golden brown goodness infuses right into your chickpeas while they're baking so they're a KEY ingredient here. Just jump right in, start with one onion and they'll just fly. You'll be finished in no time!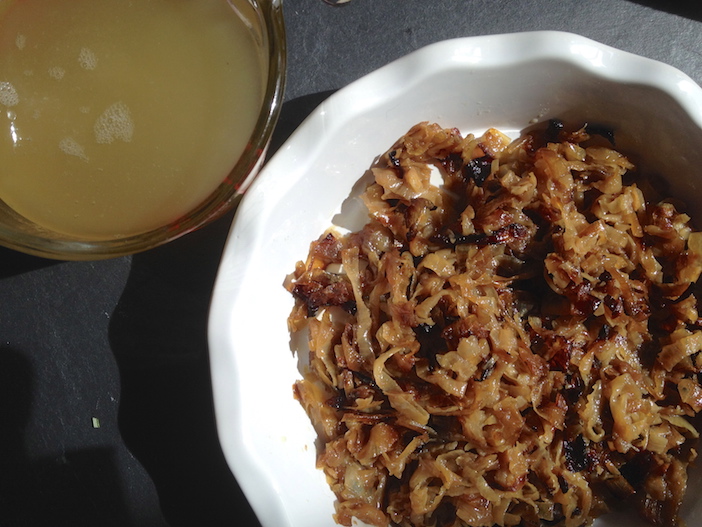 I often make extra caramelized onions with this revithia recipe to keep for other uses such as eating all by themselves or topping sandwiches and salads. These little gems are the sweetest of savory sweet treats and you'll find endless ways to enjoy them.
Also, if you have your own preferred way of caramelizing onions, feel free to go ahead with it – a good friend swears by her slow cooker method! This is just mine but there are so many different ways out there, go with what you know.
You can make the onions up to 4 days ahead and keep covered in the fridge until you're ready to bake.
A cast iron pan is a great option for revithia or, of course, the more traditional clay pot if you're lucky enough to have one in your kitchen. The cast iron just heats every bean through to creamy perfection and I swear, it bakes the flavors of the the onions and rosemary right into each pea!
Truth be told, this is a flexible recipe in terms of bakeware, as I've used a regular old 9×13 cake pan many times with great results.
Ingredients
1 pound dried chickpeas (soaked and boiled until tender) or 4, 15 oz. cans
1/2 cup olive oil
2 cups reserved boiling liquid from chickpeas or liquid from can
1 tbsp fresh chopped rosemary
2 tsp salt
2 tsp fresh ground black pepper
2 ½ cups caramelized onions **see below**
Using canned chickpeas?  Skip the next paragraph!
Boil soaked chickpeas for 1 hour under tender. RESERVE 2 cups boiling liquid before draining. You can do this up to 3 days ahead and keep both cooked chickpeas and reserve liquid covered in the refrigerator.
When ready to bake
Layer bottom of casserole dish with caramelized onions and crushed rosemary, salt, pepper. Layer cooked chickpeas on top. Add reserved boiling liquid and oil. Stir gently to just combine. Try to leave onions on the bottom.
Cook for 2 hours loosely covered in 400 degree oven and then uncovered for additional 1/2 hour (total cooking time – 2 1/2 hrs)
Caramelized onions
4 pounds sweet white onions
1/2 cup olive oil
1/4 cup orange juice
1 tsp salt
1 tbsp brandy
Combine sliced onions, orange juice, olive oil and salt. Cook onions in baking pan at 400 degrees, covered tightly, for 1 hour. Uncover, stir and continue to cook with lid half off for another 2 hours. Stir halfway through. At end of 3 hours, stir onions and add a tbsp of brandy to deglaze the pan. You can store cooled onions covered in the refrigerator for up to 4 days.
About the author
Kiki Vagianos is The Greek Vegan! Kiki lives and cooks in Boston. She spends her free time collecting, testing and posting favorite traditional Greek recipes at The Greek Vegan website. She loves sharing these simple and delicious authentic dishes and helping to bring them back into kitchens throughout the Greek diaspora. Kali Orexi!
---
Is The Pappas Post worth $5 a month for all of the content you read? On any given month, we publish dozens of articles that educate, inform, entertain, inspire and enrich thousands who read The Pappas Post. I'm asking those who frequent the site to chip in and help keep the quality of our content high — and free. Click here and start your monthly or annual support today. If you choose to pay (a) $5/month or more or (b) $50/year or more then you will be able to browse our site completely ad-free!

Click here if you would like to subscribe to The Pappas Post Weekly News Update