Following a brief trip to Athens, U.S. Secretary of State John Kerry shuttled to Cyprus where he met with leaders on both sides of the divided island that has been illegally occupied by Turkish soldiers for forty years. Kerry's official remarks to the press follow:
Well, good evening, everybody. Let me begin by saying how very pleased I am to be here in Cyprus. I have closely followed the challenges on this island for literally decades, 28-plus years in the United States Senate while on the Foreign Relations Committee, and you couldn't help but be engaged in the challenge of Cyprus. And it has been a priority for me and for President Obama – for President Obama before, but for me since I became Secretary of State.
The United States is focused on this and has been focused on this at the highest levels from Assistant Secretary Toria Nuland's extensive engagement, her trips here, to Vice President Biden's visit last year, to my many meetings with the leaders of both communities in New York in September and elsewhere, and to a number of continued phone calls encouraging progress in the process of trying to bring about peace.
In recent months, it has become clear that the ground really is shifting and tangible progress is being made. And I am more convinced than ever that a resolution to the longstanding division of Cyprus is within reach and with it the many benefits of unity for all the people of the island. It doesn't mean it will happen automatically. It's difficult, but it can be done.
My meetings today really reinforced that conviction. I met with President Anastasiades to discuss cooperation on regional threats but also the prospects for settlement. And separately, I met with Mr. Akinci, who shared his views on the settlement process. And this evening I will have dinner with both leaders along with my friend Espen Barth Eide, who has worked diligently on behalf of the United Nations to support this process.
I've been impressed already today by both Nicos and Mustafa, who are working really hard for peace and making the tough and creative compromises that this moment demands. They absolutely deserve our support and the support of all Cypriots. Both leaders underscored something that we strongly believe in the United States: Not only will a just and comprehensive and lasting solution for Cyprus have an enormously positive impact on the island, it will lift up the entire region. A lasting settlement will bring opportunities for economic growth and development all across the island. It will attract foreign investment. And with a lasting settlement to this decades-long conflict, Cyprus could also become a regional energy and commercial hub.
A united Cyprus will stand as a beacon of hope in a tumultuous part of the world at a time when people need that beacon. It will be a model for other places in search of a peaceful, multiethnic future. All you have to do is look in any direction from here and you can appreciate how much the world could use an island of peace, harmony, and prosperity in the Mediterranean right now.
That is why the international community has a responsibility to help support a settlement. It is not a burden that Cypriots should or even could shoulder alone. As I made clear in my meetings today, the United States is strongly supportive of the UN-facilitated, Cypriot-led settlement process to reunify Cyprus as a bi-zonal, bi-communal federation. And I can assure you that the United States will do our part to ensure that it is implemented, including through technical and financial assistance.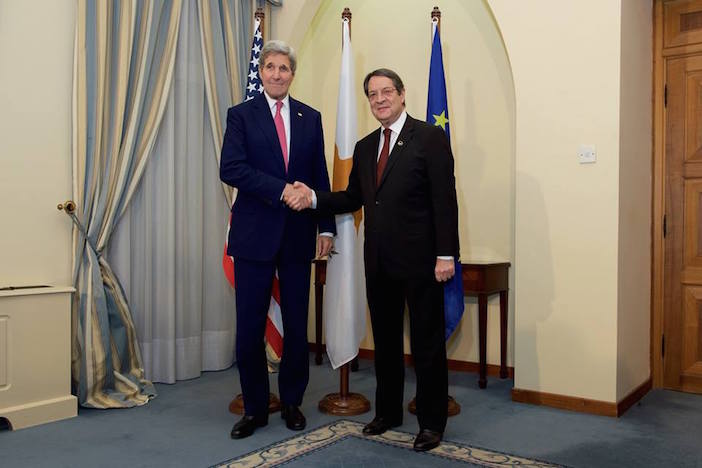 Believe me, I do fully understand how difficult it is for the people of Cyprus to put the differences of the past aside. I have met Cypriots of all ages and walks of life who have spent much of their lives in the shadow of tragic division. Yes, we must respect the past, but our focus must be on what we can change, not be prisoners of the past. Our focus needs to be on the future.
And today I have witnessed that desire for change firsthand and I have seen a real passion for peace. I just came from a youth basketball practice game, scrimmage, not far from here, and the group was called PeacePlayers – young Greek Cypriots and Turkish Cypriots shooting hoops together. The fact is that no one has more to gain from a lasting settlement than the young people of this island. And with peace, someday that very group of kids may be building businesses together, opening joint NGOs, or even leading this island together.
So my message today is very simple: The United States is committed and will remain committed to Cyprus and to its people. And we will continue to support its leaders as they make the most of this moment, as they work towards a settlement and pursue a better future for the island. We believe this is Cyprus's moment and we're confident that it can be. Thank you.