Only weeks before the departure of the Nazis from Greece, yet another brutal massacre took place in a small village, as 146 civilians in Hortiatis outside of Thessaloniki were rounded up and brutally shot and burned alive.
Dozens of children and entire families were among the victims, 51 of whom were under 18 while 128 were women and children.
More than 300 houses and shops were destroyed and pillaged on that day in what the Nazis claimed was retaliation for a single German soldier killed by Greek rebels in the mountains; however, research after the events has revealed that the Germans had planned to destroy the village regardless, using the soldier's death as an excuse.
Video: Hortiatis Massacre from a documentary on ET3
The Germans were helped by a team of "Souberites," Greek Nazi collaborators who wore German uniforms and aided them in their murderous campaigns, including the village of Hortiati.
This video clip discusses the Greek collaborators who took part in the campaign.
Based on numerous survivor accounts that were recorded and passed down, about 20 Nazi trucks under the command of Friedrich (Fritz) Schubert encircled the village, ordering all villagers into the central square.
The Nazis, together with Greek collaborators, began burning homes and pillaging shops. Many accounts of rape were also recorded during the events.
Villagers were assembled into numerous buildings — such as the home of Evangelos Daboudis and the bakery of Stefanos Gouramanis — and burned alive.
According to accounts, a Nazi soldier played joyful music on his violin while the massacre was taking place.
Special thanks to our reader SG from Horitatis, who offered information about these events and helped us gather materials to share with our readers, thus preserving the memory of those sacrificed.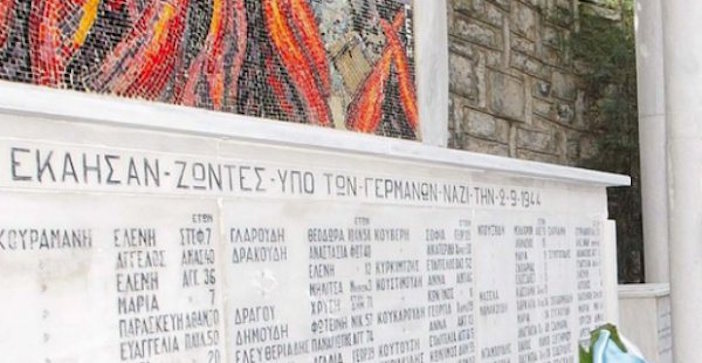 ---
Is The Pappas Post worth $5 a month for all of the content you read? On any given month, we publish dozens of articles that educate, inform, entertain, inspire and enrich thousands who read The Pappas Post. I'm asking those who frequent the site to chip in and help keep the quality of our content high — and free. Click here and start your monthly or annual support today. If you choose to pay (a) $5/month or more or (b) $50/year or more then you will be able to browse our site completely ad-free!

Click here if you would like to subscribe to The Pappas Post Weekly News Update