Tatiana and Nicholas Hadjisava Kaufman, co-founders of a Beverly Hills-based multimedia company and Web3 agency, are spearheading a collaboration with a legendary graffiti artist to benefit a charitable organization in Athens, Greece.
The siblings' company, together with Urban Outfitters Europe, are supporting the launch of a limited edition NFT artwork by artist André Saraiva to commemorate the 50th anniversary of Smiley, a leading lifestyle brand that forged a relationship with generations of musical and cultural movements.
To honor this milestone, Urban Outfitters Europe has released 500 limited edition NFTs (non-fungible tokens) as part of the Smiley Anniversary campaign. An NFT is a financial security consisting of digital data stored in a blockchain, a form of distributed ledger. The ownership of an NFT is recorded in the blockchain, and can be transferred by the owner, allowing NFTs to be sold and traded.
Not only are these collectible works of art, but these 500 limited edition NFTs also act as "utility tokens" that will unlock prizes and rewards for select NFT ticket holders.
This collaboration comes with multi-level creativity, as Urban Outfitters and Smiley have enlisted Tatiana and Nicholas' company, North & Touth Entertainment Group, which specializes in film, television, new media, sports, branded content and Blockchain technology. 
Smiley has also sought the creative eye of Sarah Andelman, co-founder of the world-renowned Parisian concept store Colette, to curate 50 halo partnerships.
As part of the halo partnerships, Smiley enlisted the famous graffiti artist André Saraiva to reimagine the iconic Smiley logo.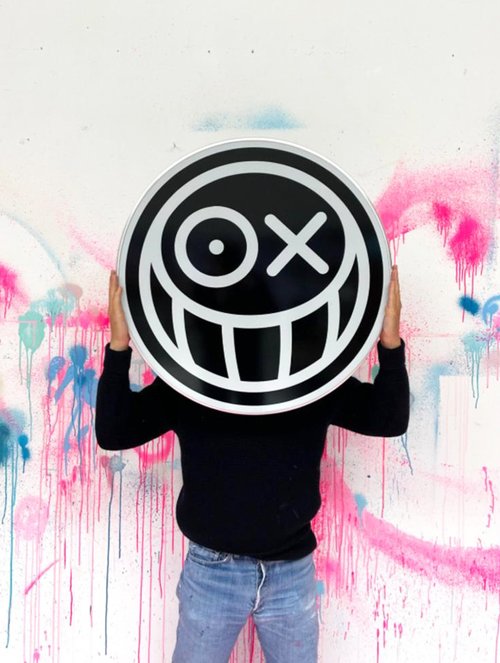 Active in the early Parisian graffiti movement, Saraiva became widely recognized for his cartoonish characters and alter ego Mr. A, which became his signature design and an iconic character in the international fashion and art scene.
For the 50th anniversary, Saraiva has created a set of signature artwork, creating a truly limited-edition set of NFT designs.
The customized design sees Saraiva play with the anniversary campaign elements along with his own established graffiti art style. The artist brings together his famous Mr. A alter ego and combines it with 50 years of Smiley message to create a true celebration of two iconic subcultures.
The public mint of André Saraiva 500-piece NFT collection dropped on April 15. The 500 limited edition NFTs are available and being sold exclusively on OMGDrops, a platform founded by Los Angeles-based entrepreneur Jon Vlachogiannis.
Consumers will have access to purchase these rare NFTs using crypto currency Ethereum (ETH), priced at 0.2ETH, the equivalent of approximately $506.90 USD / €467 EURO / £393.65 GBP.
This new release also includes a philanthropic angle, as all Urban Outfitters profits will benefit Free Movement Skateboarding, an Athens-based charitable organization that empowers local and migrant youth through skateboarding.
It was only natural that the proceeds benefit an organization based in the Greek capital, the same place where North & Touth co-founders Tatiana and Nicholas were raised.
"We're very moved and inspired by the work that Free Movement Skateboarding does and are extremely honored and excited to be supporting a cause based in Athens," the siblings told The Pappas Post. "We truly hope this NFT project can bring further attention to spotlight the important work that they are doing and help make a difference."
Born in New York City, the producer duo's passion for storytelling and media, combined with their many interests and multicultural background, offers a unique recipe for producing content with global and commercial appeal.
"We're in media and enjoy connections with talented artists, athletes and entertainers," the siblings said. "We were excited to explore ways in which we could bridge our many connections in entertainment, sports and the arts with the Web3 space — and have been doing just that."
In summer 2021, Tatiana, Nicholas and Vlachogiannis organized a crypto and NFT conference in Athens which was the first-ever NFT-ticketed event in Europe. The events covered topics including cryptocurrencies, NFTs, smart contracts, Metaverse, workshops and hackathons.
Featured speakers flew in from the U.S. and around the world and participants competed in a "Hackathon" where teams could compete to win €2500 in awards and vacations to Santorini.
"Through this event, we discovered that there is a huge appetite in Greece for blockchain technology, Cryptocurrency and NFTs," Tatiana and Nicholas said. "Not to mention extremely talented builders, and of course entrepreneurship and innovation."
In addition to the limited edition NFT artwork by Saraiva, Urban Outfitters will sell a variety of Smiley Collectors' Editions as homeware and fashion pieces online and in-stores, including collaborations with iets frans…, Champion, By Samii Ryan, Crocs, Havaianas, Market, Eastpak, THE SKATEROOM, Sunnylife and Yellowpop.
All Smiley products are now available on Urban Outfitters with the André Saraiva NFT also available here.
How can you buy an NFT & support the initiative?
You'll need a MetaMask wallet and you'll need to add Ethereum (crypto currency) to your wallet.
Step 1: Download and set up your MetaMask, click here to get started.
Step 2: Buy some Ethereum (ETH) from a Crypto exchange, add it to your MetaMask wallet.
Step 3: Purchase your NFT from OMGDrops and for more info visit MetaMask FAQs.
---
Is The Pappas Post worth $5 a month for all of the content you read? On any given month, we publish dozens of articles that educate, inform, entertain, inspire and enrich thousands who read The Pappas Post. I'm asking those who frequent the site to chip in and help keep the quality of our content high — and free. Click here and start your monthly or annual support today. If you choose to pay (a) $5/month or more or (b) $50/year or more then you will be able to browse our site completely ad-free!

Click here if you would like to subscribe to The Pappas Post Weekly News Update