A cultural organization on the island of Skiathos has been leading a local campaign in an effort to curb pebble-stealing at one of the island's most popular tourist beaches, an offense which now earns fines ranging from €400 to €1000.
"Take pictures, not pebbles-save Lalaria beach," reads a campaign poster created by the Cultural Association "Skiathos," whose members said the ongoing removal of the small rocks from the picturesque Lalaria Beach is changing its topography.
"The rounded white pebbles we call "lalaria"(from the ancient [Greek] word 'las' = stone) are created only in that specific area, which is accessible only by the sea," Thodoris Tzoumas told the Athenian-Macedonian News Agency. "In recent years, we have undertaken, in cooperation with the Port Authority of Skiathos, an information campaign for the protection of the beach."
According to a statement from the cultural organization, evidence shows that the beach's unique landscape has changed immensely over the past 10 years, making its conservation all but necessary to at least prevent further degradation.
In 2014, the "Skiathos" association proposed special measures to the island's port authority, which responded to the issue of pebble-stealing by imposing hefty fines of €400 to €1000.
Additionally, in order to draw more attention to the problem, members from the island's cultural organization placed a "take pictures, not pebbles" information both on the beach and on all tourist boats operating nearby.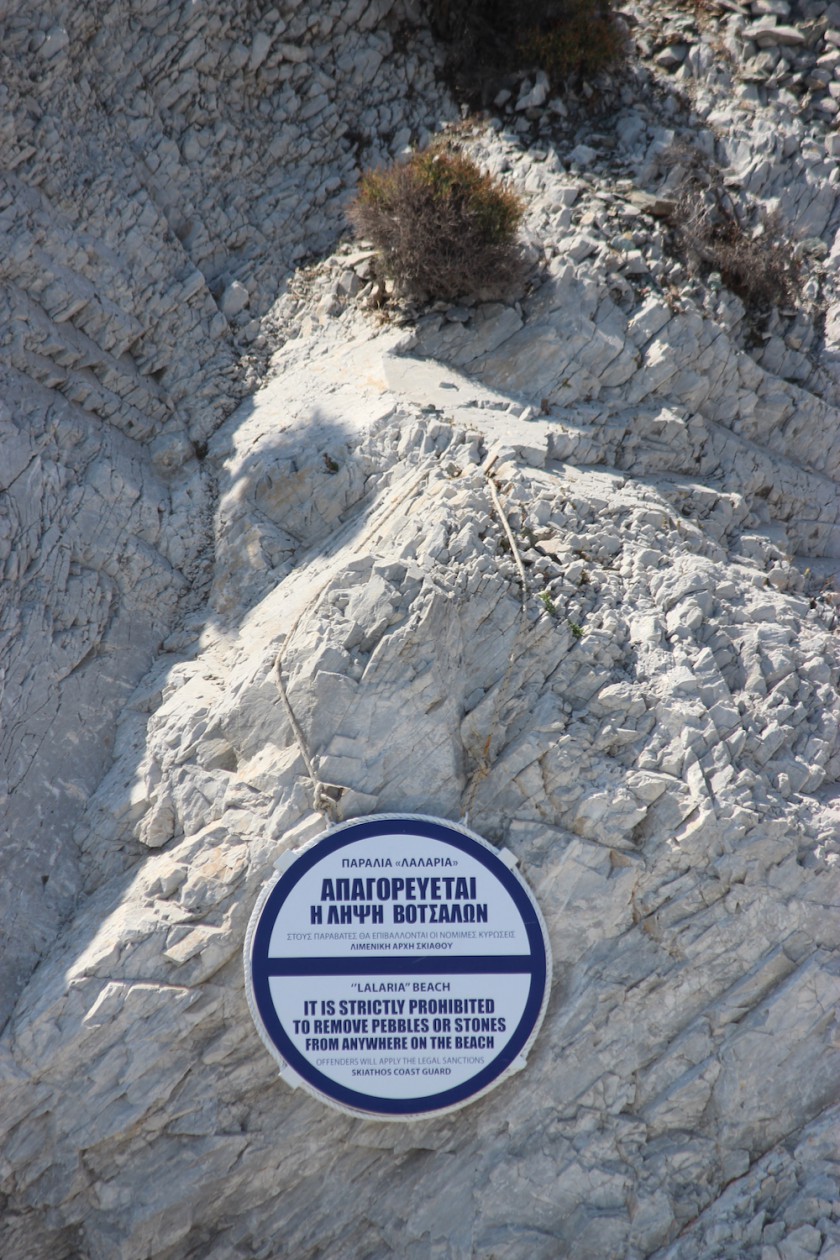 *****
Since you're here… I have a small favor to ask.
More and more people than ever before are reading The Pappas Post and despite increasing costs to maintain the site and provide you with the quality content that you deserve, I will never "force" you to pay for our website or add a paywall. I believe in the democracy of the internet and want to keep this site and its enriching content free for everyone. But at the same time I'm asking those who frequent the site to chip in and help keep it both high quality— and free. We've implemented a "free-will" annual subscription for those who want to support our efforts. I guess it's fair to call it a philotimo subscription… because you don't have to do it but it's really the right thing to do if you love the site and the content we publish. So if you like The Pappas Post and want to help, please consider becoming a "philotimo subscriber". Click here to subscribe. If you'd rather make a one time donation, we will gladly accept any amount, with appreciation. Click here to donate any amount.