"I am by myself every day but I am never alone." — Martin, a homeless man in New York City supported by Greek Orthodox Christians who operate a monthly food and clothing distribution called "Last Night's Soup Run."
Something special happened the other night in New York City. In fact, it happens every month, when a group of Greek Orthodox Christians leave their comfort zones in the suburbs and converge on the streets of America's largest city to share compassion, love, food and supplies to help those down on their luck get through the night.
Despina Kartson and her dedicated team from Holy Trinity Greek Orthodox Church in New Rochelle, New York — about 45 minutes north of Manhattan — visit the city monthly. During the distribution event called "Last Night's Soup Run," the team shares food, toiletries and other supplies that help people roughing it in the streets.
Like every month, volunteers set up tables, organized meals into stations and began spreading the word around Penn Station, where many of the city's homeless congregate, that free, hot food was available.
"Within seconds of entering Penn Station and after giving out the first meal, we were surrounded by people asking for food," Despina said in a Facebook post. "They were grateful, thanked us and wished us a Happy Easter."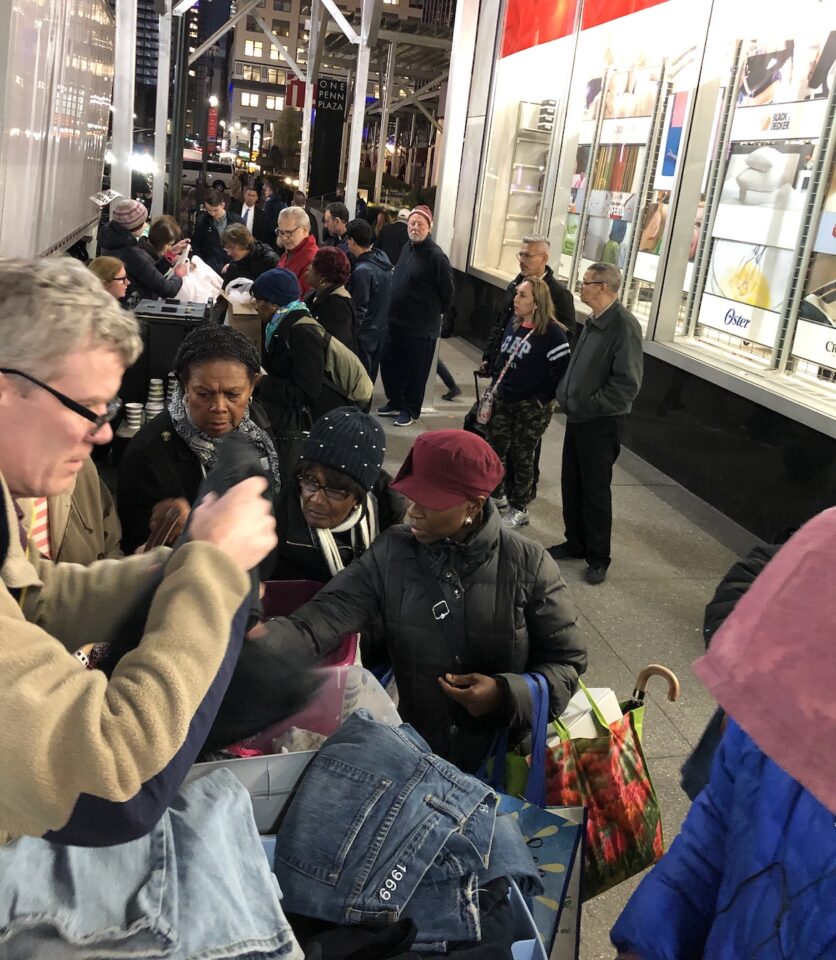 It was Easter weekend for most of America but for this group of Greek Orthodox Christians, it was just another night of offering love, compassion, some meals and a few toiletries so less fortunate people could have a full belly.
Although this happens every month, Despina and her team of Holy Trinity Church volunteers are touched by different stories and experiences every time.
Sitting on the floor, off to the side in a crowded area of the station and surrounded by bags of empty bottles and cans, we spotted Martin. We approached him and offered a meal and a toiletry kit. Martin was so happy to see us – he stood up, began organizing his few belongings and some of the bottles that had spilled out of his bags. We talked with him for a long time and were touched by his dignity, spirituality and the gentleness of his soul. As we were leaving, he asked us to pray with him, held our hands and led us in a beautiful prayer. Martin's words will ring in our ears for a long time: "I am by myself every day but I am never alone."

Despina Kartson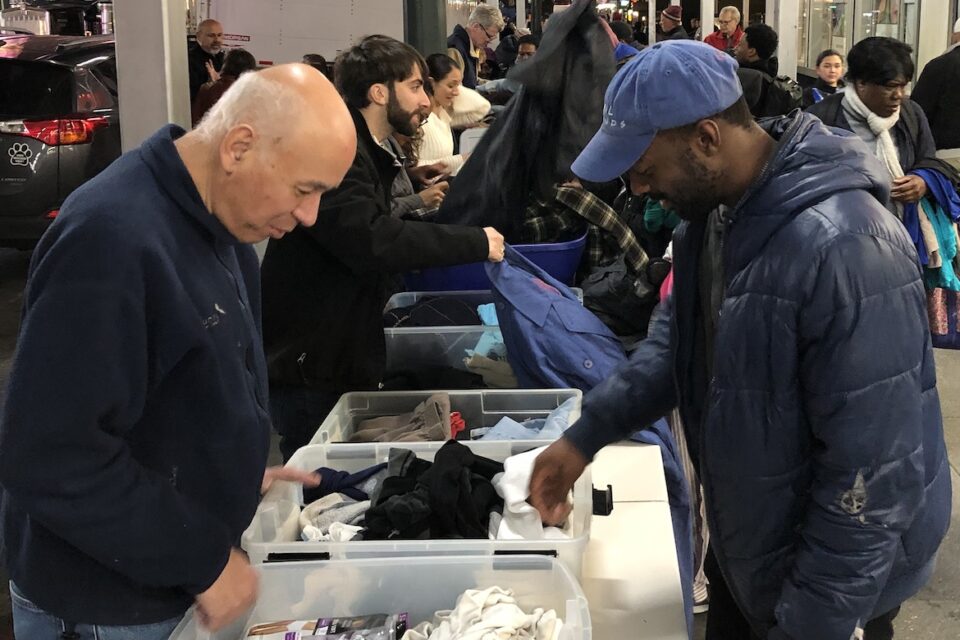 The Holy Trinity Church Philoptochos Society runs the monthly food and supplies distribution, which has now grown to include people from other communities in the area.
Kartson created a non-profit organization appropriately called Philoxenia, the Greek word for love of the stranger and a pillar ideal of the group's Orthodox Christian faith, Greek heritage and American tradition.
The organization's website chronicles the group's monthly soup runs while sharing financial and other information, including sales of Kartson's book Last Night's Soup Run: Feeding the Hungry and the Homeless. All proceeds from the book's sales benefit Philoxenia and help feed and clothe more people.
The book is a memoir full of stories about the often-overlooked homeless population and tells a tale of compassion and love. Buying the book directly supports the mission of the organization. Get your copy here.
Through these monthly Soup Runs over the last 10 years, the group has served more than 10,000 meals to their guests on 33rd Street. In these pages, you will learn about real people with real challenges. These individuals have taught Kartson so much, and she's privileged to pass their stories and lessons on to you. They are just like the rest of us, but they're often unseen — passed over and lonely.
For years, via e-mails to the volunteers and supporters, Kartson has summarized the highlights of their Soup Runs. These first-person accounts offer a glimpse into the lives of those struggling every day with poverty and hunger. She has compiled those e-mails and accompanying comments from members of the outreach into Last Night's Soup Run to inspire others to help the hungry and homeless. Whether it's sharing one meal or starting your own Soup Run (which Kartson's book will help you do), you can pass on this tradition of compassion, dignity, and love. Kartson's hope is that the compassionate among us continue to love them and feed them until none who walk among us are hungry or homeless.
By purchasing this book, you are helping the very people you're reading about: All proceeds go to Philoxenia, a nonprofit founded by Kartson, which provides funding for organizations that feed the hungry and care for the homeless.
---
---
Is The Pappas Post worth $5 a month for all of the content you read? On any given month, we publish dozens of articles that educate, inform, entertain, inspire and enrich thousands who read The Pappas Post. I'm asking those who frequent the site to chip in and help keep the quality of our content high — and free. Click here and start your monthly or annual support today. If you choose to pay (a) $5/month or more or (b) $50/year or more then you will be able to browse our site completely ad-free!

Click here if you would like to subscribe to The Pappas Post Weekly News Update