Ibrahim Bayzed's story is one that can only be described as "coming full circle."
He fled Syria in 2012 during a mass exodus of opponents of Syrian dictator Assad's regime and headed to Egypt to complete his studies in international trade and logistics management. Upon completion of his studies he went to Turkey to work and save money for his eventual journey to Europe.
He worked in a clothing factory in Istanbul for a year, saving enough money to pay smugglers to take him to Greece. He, together with other Syrian families departed Turkey and landed on the tiny island of Tilos, where locals welcomed them, fed them and offered dry clothes and a place to rest, before taking the ferry to Athens.
On Tilos— a tiny island of a few hundred residents who have created a welcome center supported by the mayor and many local volunteers and residents, Ibrahim and the other refugees were treated with dignity and compassion, according to Elena Pissa, one of the locals who assists with the coordination of refugees there.
Ibrahim eventually left and settled in Athens, staying for a year and trying numerous times to get to Germany via the Balkan route, unsuccessfully. He eventually made his way to Germany where he got a job and established himself with German residency.
In early November, Ibrahim Bayzed decided it was time to give back— returning to Greece to offer his support to arriving refugees and help the Greek people who were dealing with the crisis on a daily basis. He traveled to Leros island and volunteered, assisting Greek police with the registration of refugees, the distribution of food and clothes.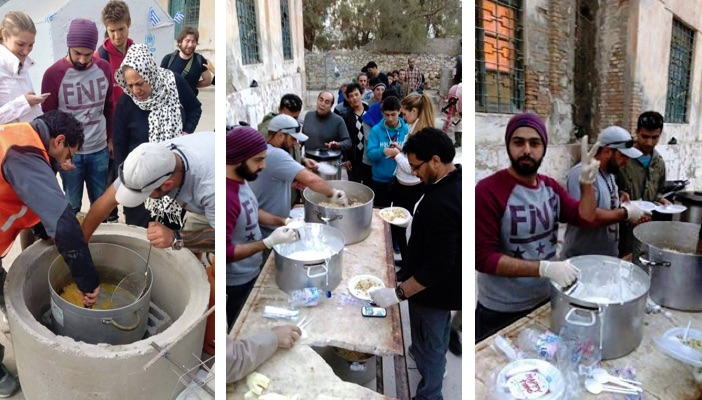 "I saw this as my duty," he told the Pappas Post in an exclusive interview, adding that "I already know the risks these people face and the difficulties they face trying to cross into Europe. I also felt it my duty to help the Greek people who are doing everything they can to help my people. What I experienced on Tilos was pure humanity and I want to share some of this with the Greek people who continue to help."