Greek prime minister Alexis Tsipras took an official visit to Israel for the first time and held high level meetings with his Israeli counterpart Benjamin Netanyahu, announcing a three-way Greek-Israeli-Cypriot meeting in January to discuss regional energy cooperation.
"One of the main issues in our discussions today was the opportunities arising in the fields of energy in the Eastern Mediterranean," Tsipras said. "We are examining ways to cooperate in research, drilling and the transportation of gas from Israel to Europe… and for these steps to be put into practice, not just to remain an exercise on paper."
Israel has been examining ways to export its gas and one of the options it has considered is to build a pipeline to Cyprus, from where it will then be transported to Greece, creating an energy triangle in the region.
Tsipras also visited the Yad Vashem Holocaust Memorial Museum and left a wreath to the memory of the 6 million Jews killed during the Holocaust.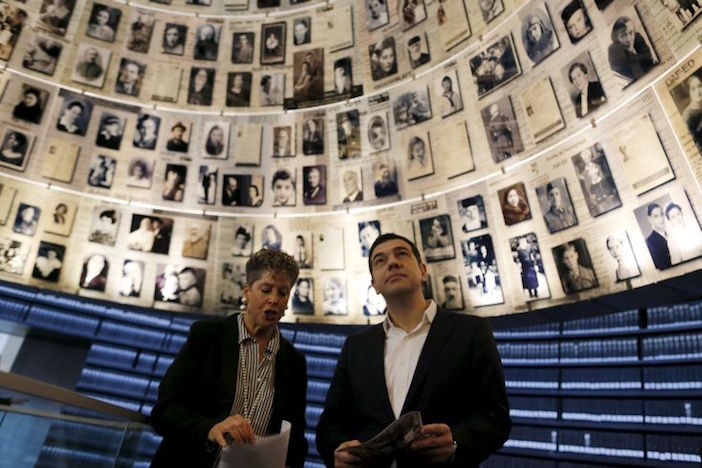 Tsipras also met with Israeli opposition leader Isaac Herzog and plans to meet with Palestinian Authority President Mahmoud Abbas on Thursday.
Netanyahu praised Tsipras for the tough steps he is taking to get Greece back on track and said he believes in Greece during a press conference, adding that he will encourage Israeli businessmen to invest in Greece.
Many observers followed the meetings with interest, given Tsipras' Syriza party's often unfriendly stance against Israel and frequent support of Palestinian positions.
But Tsipras appeared to let go of past anti-Israel elements in his party, which included Syriza officials involved in organizing anti-Israeli demonstrations in Athens during Tel Aviv's operation against Hamas last summer, and at least one of its leaders, Thodoris Dritsas, participating in one of the flotillas to Gaza.