New York City Council Speaker Corey Johnson conceded Wednesday that he underestimated the opposition his proposed ban of fur apparel sales in the world's fashion capital would get.
Johnson said he is now planning to re-work his original bill which would have called for an all-out ban on the production and sale of fur in the city. His new language that he will propose will give fur manufacturers more time to adjust.
"Maybe I should have thought more about this before I introduced it because I didn't realize the amount of pushback there would be," Johnson told reporters at City Hall. "I really just did it because I felt like it was the right thing to do in my heart."
What was in the Speaker's heart, however, would have definitely impacted thousands of people's livelihoods, including thousands of Greek Americans who are majority owners of the city's fur business.
After introducing the legislation in March, Johnson came under fire from local fur industry workers fearing for their jobs, including an organized movement of Greek business owners who have been in the fur business for generations.
The Greek businesses were joined by black and Jewish faith leaders who argued that the ban discriminates against their heritage.
Many activists gave Johnson impassioned testimony about how such a ban would impact their lives and livelihoods during a Council hearing two weeks ago that coincided with a vocal protest by people from the city's fur industry.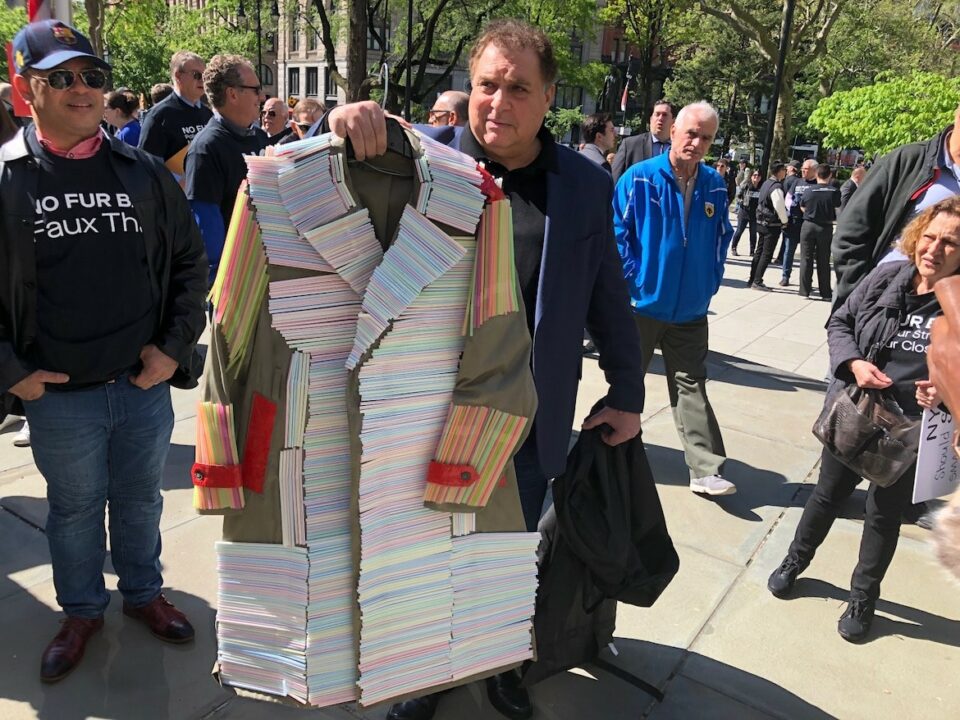 Second generation furrier Nick Pologeorgis brought a coat made of more than 5,000 plastic straws, comparing it to the toxic materials used to create faux fur apparel and arguing that fur remains the more sustainable option.
Gregory Pappas from The Pappas Post spoke was at the rally reporting via his personal Facebook page.
The bill already includes a carve-out allowing fur to be sold for religious customers.
But Johnson, who represents the Garment Industry, said he's "open" to redrafting the legislation to also set aside a "phase-in period" allowing fur-industry workers more time to adjust and also offering them job training "to help them move towards more ethical manufacturing of products."
"I was actually moved by some of the furriers and their testimony," he said in an interview with The New York Post. "This has been their entire life, and this is all they know … I would want to do it in a way that kept them in mind because, while we are trying to be less cruel towards animals, we also want to do this in a more humane way to the workers as well."
---
Is The Pappas Post worth $5 a month for all of the content you read? On any given month, we publish dozens of articles that educate, inform, entertain, inspire and enrich thousands who read The Pappas Post. I'm asking those who frequent the site to chip in and help keep the quality of our content high — and free. Click here and start your monthly or annual support today. If you choose to pay (a) $5/month or more or (b) $50/year or more then you will be able to browse our site completely ad-free!

Click here if you would like to subscribe to The Pappas Post Weekly News Update