It took them twenty years but they finally did it. Longtime couple Maria Menounos and Kevin Undergaro transformed their wedding into a live television spectacle as Fox Television aired the official ceremony officiated by Steve Harvey.
While the couple was exchanging their vows, Menounos– known for her successful career as a television host on E! Entertainment Channel– thanked Undergaro for his "ypomoni," which means patience.
Menounos survived brain surgery this year to remove a tumor, something that both brought up during the telecast.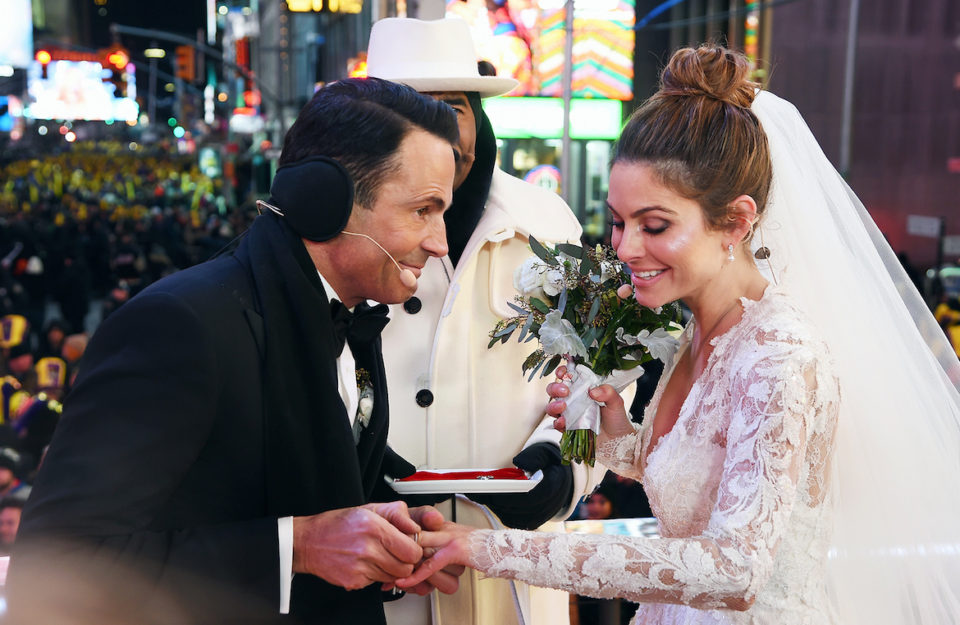 Harvey — who was hosting this year's New Year's Eve coverage on Fox along with Menounos — officially became ordained, "as of about 48 hours ago courtesy of the internet," he joked moments before officiating the brief ceremony.
Watch the wedding from Fox TV here:
*****
Since you're here… I have a small favor to ask.
More and more people than ever before are reading The Pappas Post and despite increasing costs to maintain the site and provide you with the quality content that you deserve, I will never "force" you to pay for our website or add a paywall. I believe in the democracy of the internet and want to keep this site and its enriching content free for everyone. But at the same time I'm asking those who frequent the site to chip in and help keep it both high quality— and free. We've implemented a "free-will" annual subscription for those who want to support our efforts. I guess it's fair to call it a philotimo subscription… because you don't have to do it but it's really the right thing to do if you love the site and the content we publish. So if you like The Pappas Post and want to help, please consider becoming a "philotimo subscriber".Click here to subscribe. If you'd rather make a one time donation, we will gladly accept any amount, with appreciation. Click here to donate any amount.