The European Union's anti-fraud watchdog is investigating the potential misuse of EU funds meant to provide food for refugees in Greece.
The announcement comes after the newspaper Fileleftheros published a stinging report, complete with pages of evidence, accusing Greece's Defense Minister and junior coalition head Panos Kammenos for diverting hundreds of millions of euros intended to feed refugees into the pockets of close business associates.
When the story first ran in the Greek daily newspaper, Kammenos attacked the journalists and accused them of defamation, a charge that carries immediate jail time according to Greek law.
The journalists turned themselves in to authorities pending a trial, as is the case with Greek law, but were released from jail.
A spokesperson for the European Anti-Fraud Agency (OLAF) didn't confirm that the newspaper report is what prompted the investigation, despite the timing.
According to the Fileleftheros article, businesspeople close to Kammenos received hundreds of millions of the EU funding through contracts for matters like catering and plumbing at refugee camps.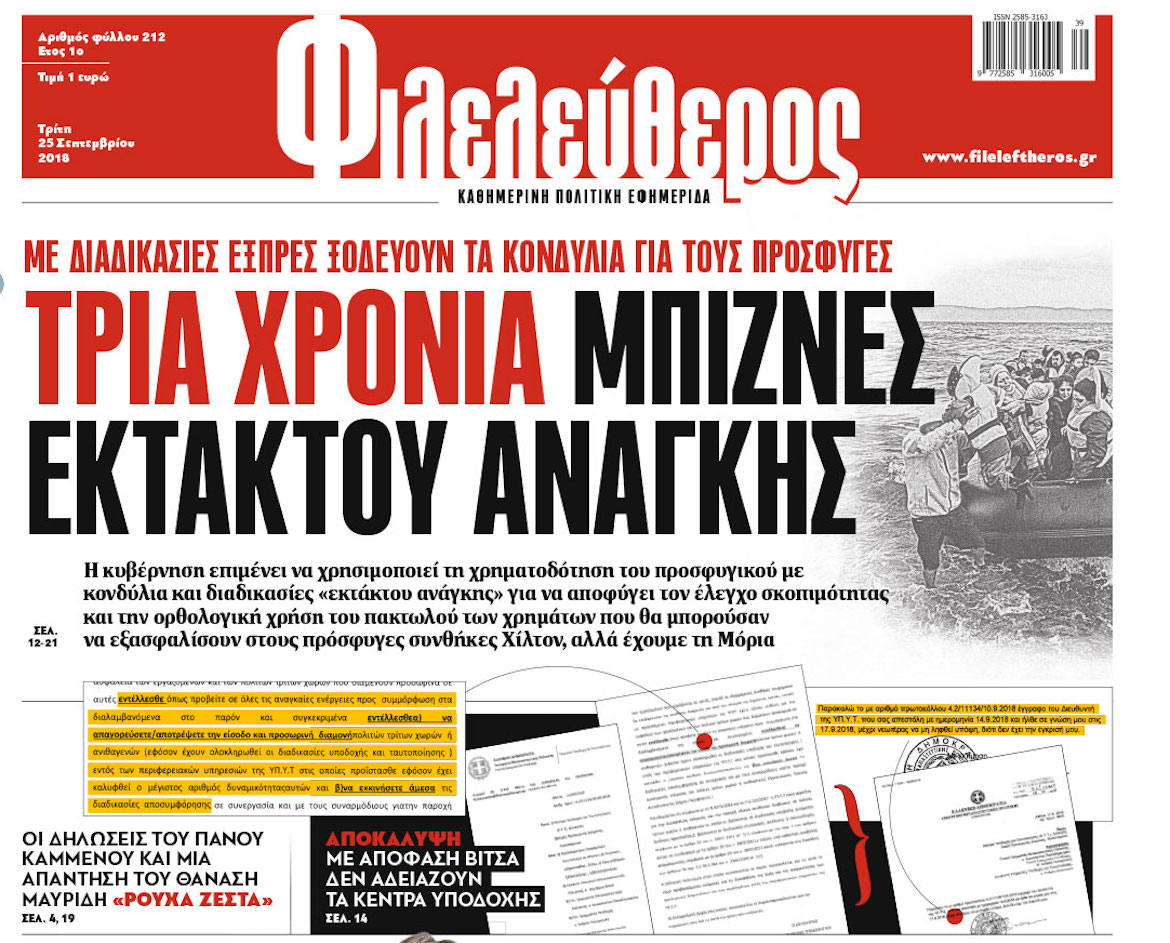 The newspaper said businesses routinely overcharged for such contracts and often did not participate in competitive tenders.
Kammenos attacked the journalists for defamation while the journalists stood by their reports, according to an interview with the Associated Press.
"Not only do we stand by our reporting, but we will continue to expand it," the paper's editor-in-chief, Panayiotis Lampsias, told The Associated Press. "Other papers are taking it up, the investigation, as well."
"It's a battle for free expression," Fileleftheros publisher Thanassis Mavridis told reporters after their release. "We managed to sleep last night. I wanted to ask Messrs. Kammenos, (Prime Minister Alexis) Tsipras and (Media Minister Nikos) Pappas how well they slept last night. This is a question that will haunt them for years."
These are not the first accusations or allegations of financial mishandling of funds for refugee services that were sent by the European Union.
In March of 2017, an organization called SolidarityNow submitted a petition to the European Parliament requesting that it investigates the connection between European Union funding in Greece and the dismal reception conditions for refugees.
"The EU has allocated over €1 billion to Greece to help the country bring its asylum system into compliance with its human rights obligations; however, despite substantial funding, the country has failed to establish reception conditions that comply with these obligations," the petition claimed.
*****
Since you're here… I have a small favor to ask.
More and more people than ever before are reading The Pappas Post and despite increasing costs to maintain the site and provide you with the quality content that you deserve, I will never "force" you to pay for our website or add a paywall. I believe in the democracy of the internet and want to keep this site and its enriching content free for everyone. But at the same time I'm asking those who frequent the site to chip in and help keep it both high quality— and free. We've implemented a "free-will" annual subscription for those who want to support our efforts. I guess it's fair to call it a philotimo subscription… because you don't have to do it but it's really the right thing to do if you love the site and the content we publish. So if you like The Pappas Post and want to help, please consider becoming a "philotimo subscriber". Click here to subscribe. If you'd rather make a one time donation, we will gladly accept any amount, with appreciation. Click here to donate any amount.