What started as a three-week journey of two brothers across the United States in search of how America eats its dogs is now the most well-known hot dog chain in Chicago— and we thought that a story in National Hot Dog Day just had to have a Greek connection. Of course, we found one.
In 1993 brothers George and Manolis Alpogianis embarked on a three-week trip from coast to coast, in search of the best, classic American hot dog recipes to introduce at their popular Navy Pier hot dog stand— America's Dog.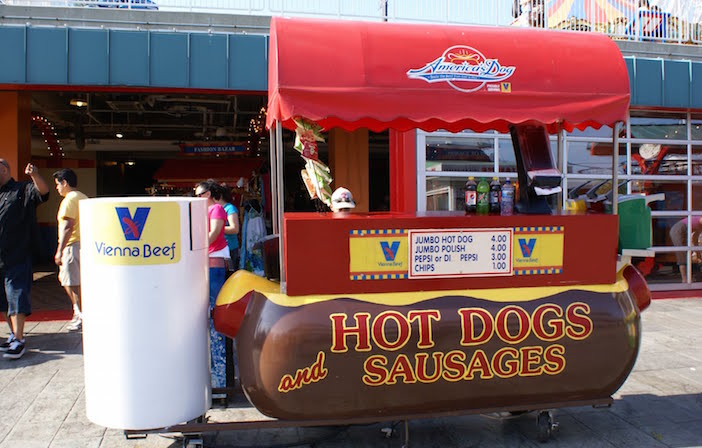 Manolis, 33 at the time of the adventure, cooked up the road trip to burn off some steam after he obtained his degree in business psychology from the University of Illinois.
The brothers started due west west to Denver and down to New Mexico, Arizona, up through California, back down to Nevada and through the South. They ate hot dogs along the way, sampling local specialities like hot dogs with salsa in Santa Fe and wieners with alfalfa sprouts, bell peppers, cucumbers and brown mustard in California.
Two years after their first trip, they decided to travel east of Chicago.
That's where George fell in love with the Baltimore Dog. "It's different," he said. "It's deep-fried. With [melted] Cheddar cheese and grilled onions."
Manolis is partial to the Charleston (S.C.) Dog, with chili, onions, coleslaw and mustard. "Coleslaw on top of a hot dog?" he asked. "It adds a crunch to it. It's awesome." George added, "Our mother used to put coleslaw on our hamburgers when we were kids."
Speaking of their parents— and their childhood, the Alpogianis brothers were raised in Chicago's tight-knit Greek community on the Northside. The restaurant business runs in the Alpogianis family's veins. Gus, now in his eighties and still very active in the family's crown jewel— Kappy's Restaurant & Pancake House in Morton Grove, was flipping burgers at family-run establishments immediately upon returning from active service in the Korean War in 1953.
The family has owned or has been involved in numerous Chicago culinary institution over the decades including the Nino Panino Sandwich Shop in Union Station, Tavern Inn and the world famous Palace Grill— still in operation and now run by a cousin.
America's Dog currently has expanded to numerous locations throughout Chicago including O'Hare International Airport's Terminal C where millions of travelers annually pass the familiar America's Dog logo. Mary, a reader from Boston who takes numerous cross-country flights often intentionally selects layover flights in Chicago just so she can grab a hot dog from America's Dog.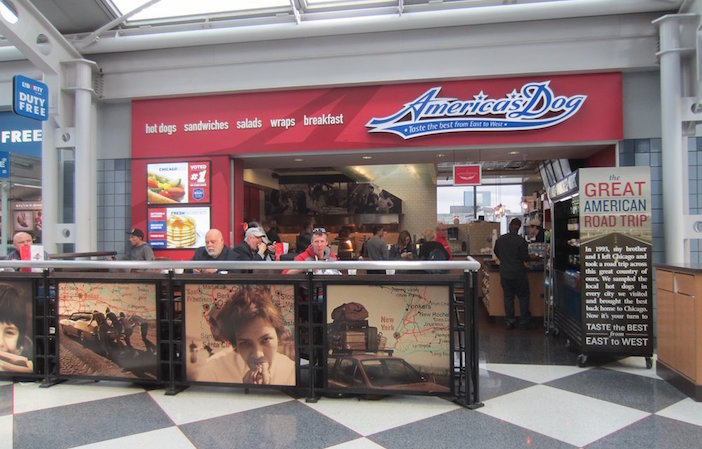 "I don't get to Baltimore very often but I can have that amazingly, sinfully good deep-fried Baltimore dog while connecting at O'Hare. I know people who select their lay-overs based on the business class lounges in certain airports. I select mine based on the hot dogs," she told The Pappas Post in an email.
The chain and the brand is expanding by leaps and bounds thanks to Manoli's entrepreneurial skills and knack for the media. And plans are well under way to take America's Dog national, with keen interest by a growing list of investor's who see the potential of a unique hot dog chain that profiles a diverse array of all all-American classics.
Manoli is a regular fixture in Chicago media, often rubbing shoulders with Windy City elites like Oprah Winfrey, Nate Berkus and the city's most famous celebrity chef, Art Smith. He even convinced Smith, who cooks regularly for the Obamas and Lady Gaga, to design a gourmet hot dog that was on sale at America's Dog locations throughout the city.
But despite the success— Manoli stays humble and true to his roots, giving the full credit to his mother Evangeline, and dad Gus— who gather the family every Sunday at their Chicago house for a traditional Greek meal.
"We've never missed a Sunday dinner, Manoli told The Pappas Post in an interview. "Our whole, extended Greek family is there, and mom and dad are always imparting their traditions on us and and reminding us how important it is to maintain them and most importantly, reminding us never to forget where we've come from. When you're having dinner with Oprah Winfrey at RL in Chicago, these lessons from home really help keep you humble and hard-working."
It's very easy to get caught up in success, but staying humble and giving back to their community are lessons that the Alpogianis brothers live by.
MANOLI'S GREEK DOG
There's currently no Greek-inspired hot dog on the menu at America's Dog, but Manoli shared what he'd create. Thankfully, he didn't cop out and say add a bit of tzatziki and feta cheese and opa, we have a Greek dog. No, Manoli really thought this one through.
First, start with a toasted sesame seed bun and add a char-grilled lamb sausage.
Save the lamb drippings from the sausage and mix them with olive oil and garlic to spread on the bun for toasting.
Shave some red onions, then add chopped Kalamata olives, chopped tomatoes, fresh oregano and a bit of garlic-style relish on top.