A few weeks ago I met one of the founders of Salty Bag— an innovative company that takes used sails from Greek sailboats and transforms them into stylish and useful bags of all shapes and sizes. The bag I bought came with a story in the form of a booklet that shared the sail's story, where it had traveled throughout the Aegean and Ionian islands and how the purchase of the bag supported local artisans since they were all handmade in a village in Corfu.
I connected with the sustainable message of this company and the founders' desire to create something new out of something old.
In the similar spirit I came across a new Greek company called LoveGreece that sells stylish logo t-shirts carrying the LoveGreece message.
A daring redesign of the tacky tourist t-shirt that captures— with a simple and sophisticated logo and design— a wonderful identity and message and steps away from outdated Greek stereotypes, to re-invent the image of Greece with elegance and simplicity.
These shirts have no busts of Socrates or classical columns on them.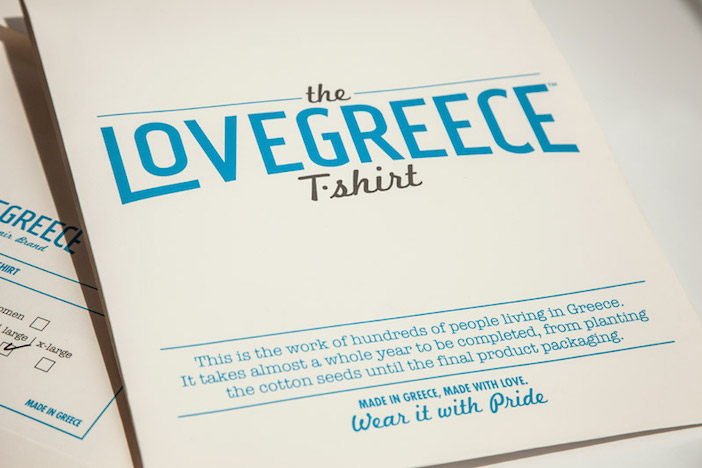 The company supports Greek agriculture and manufacture by using only the finest quality of Greek cotton. What's better is that every stage of production takes place in Greece, heeling Greeks get back to work— no "Made in China" garbage here.
Even the packaging remind the consumer that they're not only getting a t-shirt with their purchase, but they are supporting the people of Greece. "This is the work of hundreds of people living in Greece. It takes almost a whole year to be completed, from planting the cotton seeds until the final product packaging."
Congrats to George Hatzizahariou and everyone at the LoveGreece the Souvenir Brand for this fresh and innovative concept.
Your t-shirts encourage the wearer to "wear it with pride." I certainly will.