War was raging in Europe and the Nazi Germans had just invaded Greece. Meanwhile, in the United States, Ziegfeld Girl was the hottest film on movie screens from coast to coast and the film's star, Judy Garland, was the nation's sweetheart.
Simultaneously, a feverish effort was under way to raise funds and awareness for the people of Greece by the newly established Greek War Relief Association.
On April 21, 1941, two of the nation's most high-profile women met at one of the association's publicity events in New York City and captured national media attention.
First Lady Eleanor Roosevelt met Judy Garland both to support Greek relief efforts and inspect a model of an air raid shelter.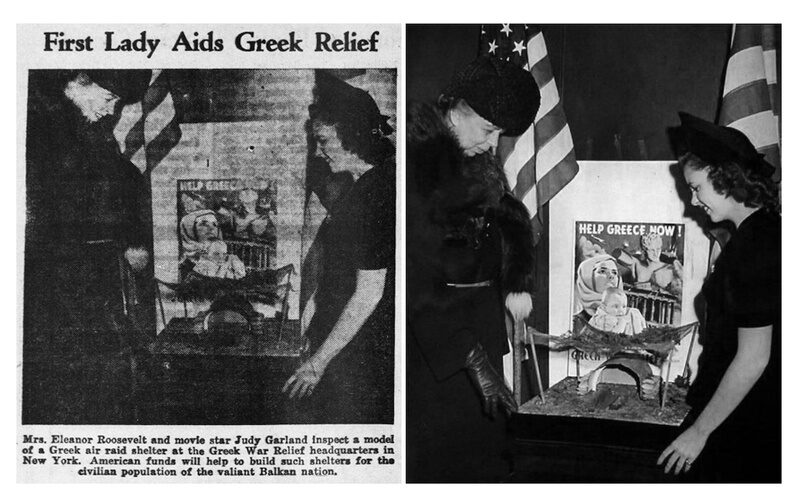 "Roosevelt and movie star Judy Garland inspect a model of a Greek air raid shelter at the Greek War Relief headquarters in New York. American funds will help build such shelters for the civilian population of the valiant Balkan nation." – The New York Times, April 22, 1941
Both Roosevelt and Garland were well-known for their support of Greece during World War II.
The American first lady advocated on behalf of European refugees who wanted to come to the U.S and Garland lent her name to numerous Greek fundraising causes, including a massive event at Radio City Music Hall in March 1941 where she encouraged Americans to provide support.
---
Is The Pappas Post worth $5 a month for all of the content you read? On any given month, we publish dozens of articles that educate, inform, entertain, inspire and enrich thousands who read The Pappas Post. I'm asking those who frequent the site to chip in and help keep the quality of our content high — and free. Click here and start your monthly or annual support today. If you choose to pay (a) $5/month or more or (b) $50/year or more then you will be able to browse our site completely ad-free!

Click here if you would like to subscribe to The Pappas Post Weekly News Update