Ultramarathonman Dean Karnazes returned to his roots to participate in the Olympic Torch relay, giving him an emotional connection to the land of his grandparents and also to his own connection to running.
Karnazes was part of the running delegation that saw the torch carried through Greece after the flame was lit in Ancient Olympia, before heading to PyeongChang, South Korea for the Winter Olympics.
"This was my second experiences carrying the Olympic Torch. The first was in San Francisco for the 2008 Summer Games; this time was in Ancient Delphi, Greece for the 2018 Winter Games. We have some unique historical sites in California, but there is something deeply profound and powerful about running past an outdoor gymnasium that is 3,000-years old. Greece is the birthplace of the Olympics and this historical narrative is permanently engraved upon history. Carrying the Olympic Flame through San Francisco was an emotional moment; carrying the Olympic Flame through Greece melted my soul."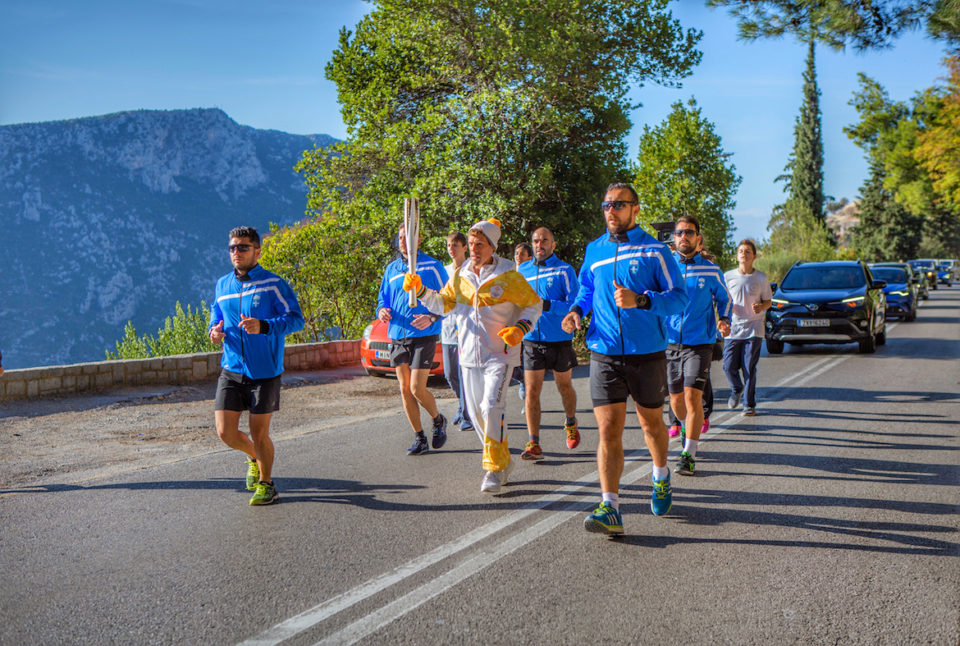 Constantine "Dean" Karnazes was named by TIME magazine as one of the, "Top 100 Most Influential People in the World." He is globally recognized for pushing his body and mind to inconceivable limits.
He's run across Death Valley in the middle of summer and he's run a marathon to the South Pole. He once completed the seemingly impossible by running 50 marathons, in all of the 50 United States, in 50 consecutive days.
Karnazes has raced and competed on all 7 continents of earth, twice. But Greece remains close to his heart, always.
"I am deeply honored to be returning to my ancestral homeland to carry the Olympic Torch," he said. "The Olympic Games were born in Greece. This is where it all began."
Karnazes is the author of the NY Times bestseller, Ultramarathon Man: Confessions of an All-Night Runner and The Road to Sparta: Reliving the Ancient Battle and Epic Run that Inspired the World's Greatest Footrace.
*****
Since you're here… I have a small favor to ask.
More and more people than ever before are reading The Pappas Post and despite increasing costs to maintain the site and provide you with the quality content that you deserve, I will never "force" you to pay for our website or add a paywall.
I believe in the democracy of the internet and want to keep this site and its enriching content free for everyone.
But at the same time I'm asking those who frequent the site to chip in and help keep it both high quality— and free.
We've implemented a "free-will" annual subscription for those who want to support our efforts. I guess it's fair to call it a philotimo subscription… because you don't have to do it but it's really the right thing to do if you love the site and the content we publish.
So if you like The Pappas Post and want to help, please consider becoming a "philotimo subscriber". Click here to subscribe.
If you'd rather make a one time donation, we will gladly accept any amount, with appreciation. Click here to donate any amount.