Our flight tracking system has alerted us to a seat sale announced by Delta Airlines (and its SkyTeam partners like Alitalia, which connects through Italy and KLM which connects through Amsterdam) on flights from various North American gateway cities to Athens for Summer 2018 travel.
We have set a random two-week period in July 2018. You can set your own dates and departure city in the search field below.
Round trip flights from JFK to Athens on Delta's non-stop flight came in under $1000 for July travel. (Click image to search for your flight)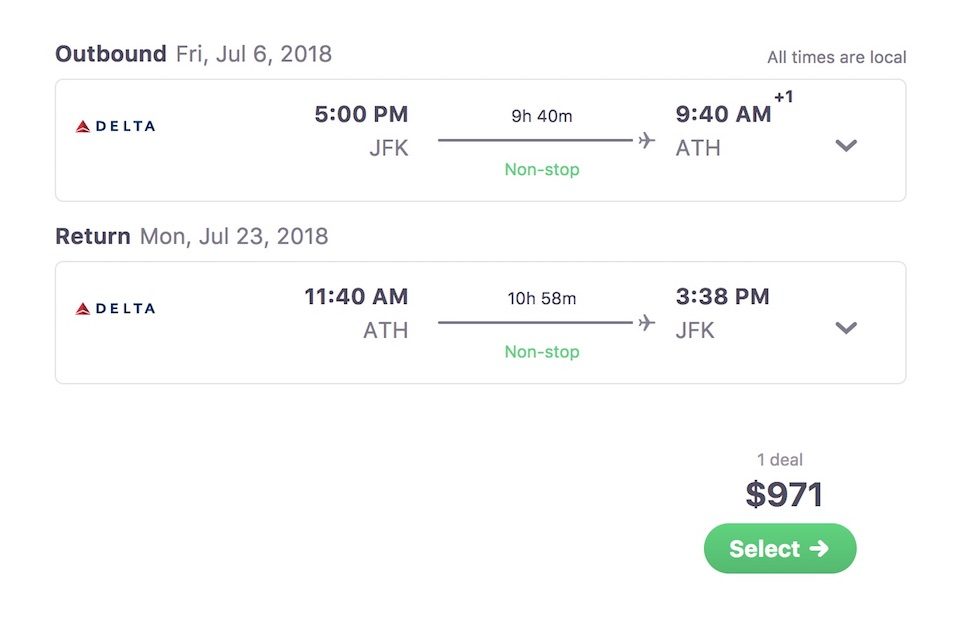 Round trip flights from Chicago to Athens on Delta's partner KLM have come in at $649. (Click image to search for your flight)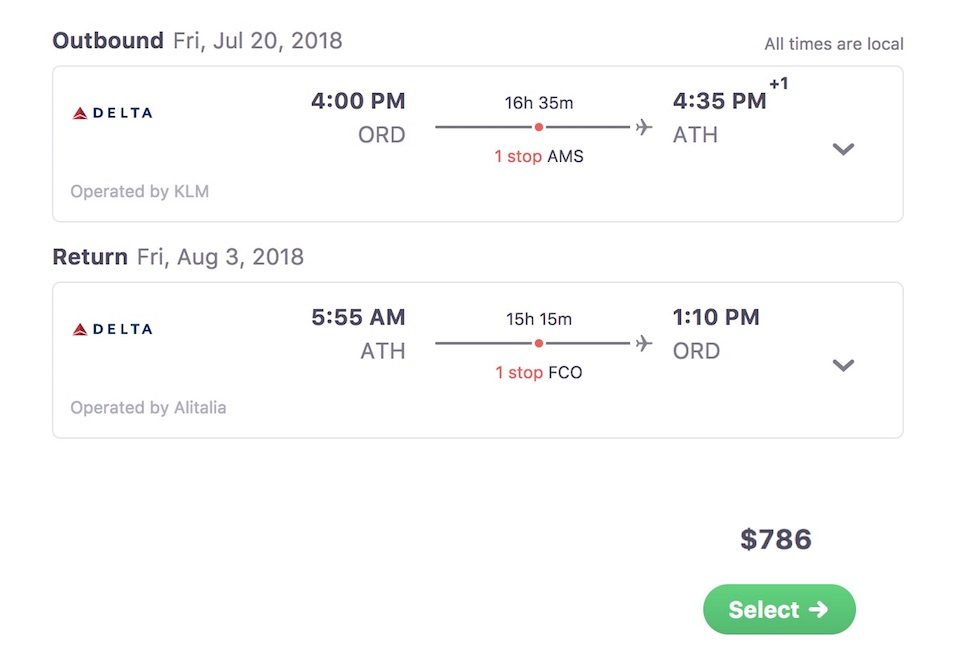 *It is important to remember that flights that we show here may not be available at the time you search. We have an alert set and get notified the moment these cheap fares pop up. The best policy when searching for flights is to book immediately when you find the desired date and price because if you wait seconds, the fare may sell out. There are millions of people throughout the world searching at the very same time as you and when the sale fares sell out, they're gone.
Set your own alerts on your mobile phone
The best way to get the cheapest flights to Athens? Why, use technology, of course. And on the market today, nothing beats the Skyscanner app. Skyscanner works for you 24/7 to scan hundreds of airline sites and find what you're looking for based on date and trip duration criteria you select.
After you install the app on your Apple or Android phone, you set an alert for your desired departure city, followed by your arrival city. You select your dates and set the alert.
Periodically you'll get updates on your phone when low fares are available.
We've downloaded the app and have set alerts— prices for Fall travel to the Greek capital recently popped up at $349 round trip. Of course, airfares can change on a moment's notice sometimes as airlines use algorithms and crazy computer metrics to lower and raise fares daily.
Check your desired departure dates below and remember to book if you find what you're looking for. Seats are selling fast and might not be available the next time you search.