She may be best known for creating Carrie Bradshaw's iconic look on Sex and the City, or her stunning costumes in Devil Wears Prada— but Patricia Field, an icon in the fashion world, should also be known for never forgetting where she came from.
A $10,000 gift to the earthquake victims of last year's devastating quake on the island of Lesvos hit close to Patricia's heart— and ancestral home.
As the granddaughter of Greek immigrants from the island's Plomari region— not too far from Vrisa, where the earthquake hit, Field felt she needed to give back and made a donation to relief efforts organized by the American Hellenic Council, which raised a total of $15,000 for victims.
On the set of Sex and the City (top) and Devil Wears Prada (below)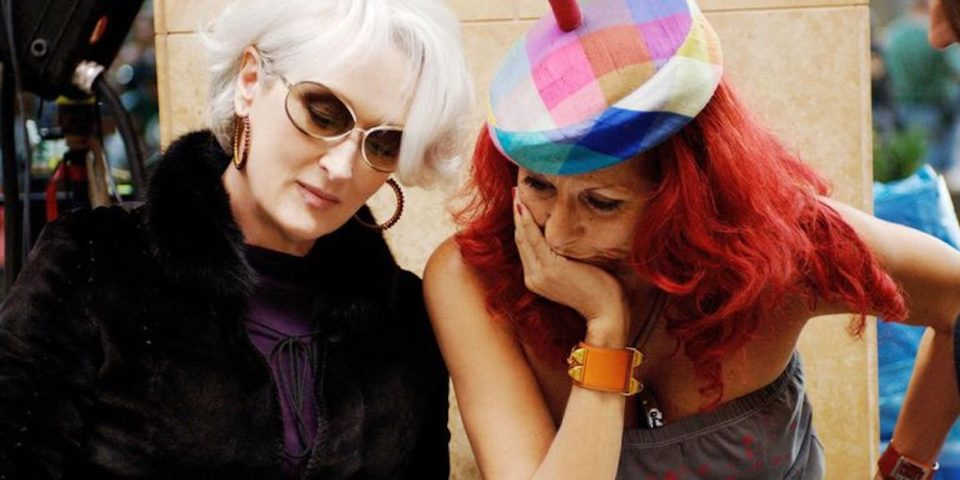 Last week, the representatives of the council headed to Lesvos to meet with the region's representatives and pass out funds, in equal installments, to those families who lost their homes in the June 2017 earthquake.
Field is no stranger to Greek affairs. In addition to her support of this initiative, she's also been a staple guest at the Greek America Foundation's Gabby Awards, most recently at Carnegie Hall, where she introduced her longtime friend Anna Vissi.
At the 2011 Gabby Awards at Ellis Island she recounted stories of her own grandparents and their struggles to make it in New York City.
*****
Since you're here… I have a small favor to ask.
More and more people than ever before are reading The Pappas Post and despite increasing costs to maintain the site and provide you with the quality content that you deserve, I will never "force" you to pay for our website or add a paywall. I believe in the democracy of the internet and want to keep this site and its enriching content free for everyone. But at the same time I'm asking those who frequent the site to chip in and help keep it both high quality— and free. We've implemented a "free-will" annual subscription for those who want to support our efforts. I guess it's fair to call it a philotimo subscription… because you don't have to do it but it's really the right thing to do if you love the site and the content we publish. So if you like The Pappas Post and want to help, please consider becoming a "philotimo subscriber". Click here to subscribe. If you'd rather make a one time donation, we will gladly accept any amount, with appreciation. Click here to donate any amount.