A new Greek-themed short film inspired by the director's Asia Minor roots is telling a personal story of loss, separation anxiety and longing for one's lost homeland.
The narrative centers around a young Greek woman who recalls significant events that took place in three different stages of her life when she lived in Turkey. Her recollections stem from feelings of separation and loss on account of leaving the place where she grew up.
The woman's flashbacks occur as she glides through still photographs and live action; sounds and silence; black and white and color; spoken word and voiceover; and the present, past and future.
"Shared Balcony" was written and directed by New Hampshire native Fay Efrosini Lellios, who told The Pappas Post that she received inspiration from the story of her own parents — immigrants who left their homelands for the the United States decades ago.
Lellios said she conceptualized the film according to her father's 1960s photographs of Constantinople and her mother's words as they were leaving Turkey.
"I wanted to make a film centered around the deep feeling of separation and loss one has while departing a homeland permanently — and the eventual but difficult acceptance of this separation as one moves through life," she said. "[My parents] have been my strength my entire life. Their journeys are so long, detailed and rich."
Her mother Eleutheria Karayianni Lellios was ethnic Greek Orthodox Christian but born and raised in Constantinople, while her father Haralambos Lellios was ethnic Albanian Orthodox and attended school there.
Lellios had numerous family members who settled in Greece due to the societal tensions and persecution they faced in Turkey. Both of her parents lived through the infamous "Septemvriana" events of 1955 — the worst anti-Greek riots in history — and thereafter relocated to New Hampshire, USA.
The LA-based filmmaker said her team is pushing for "Shared Balcony" to qualify for the Academy Awards in the Live Action Short Film category. In order for films to be eligible for Oscar consideration they must fulfill a particular array of requirements, which include screening for seven consecutive days in a qualified LA or New York City theater.
"We feel 'Shared Balcony' is very worthy of Oscar consideration and a nomination and so we started our Oscar-qualifying quite early to guarantee our submission would be ready on time," Lellios said. "It would be the greatest honor for our film to be nominated."
"Shared Balcony" made its Oscar-qualifying theatrical run at the Laemmle Royal Theater in LA from September 6-12.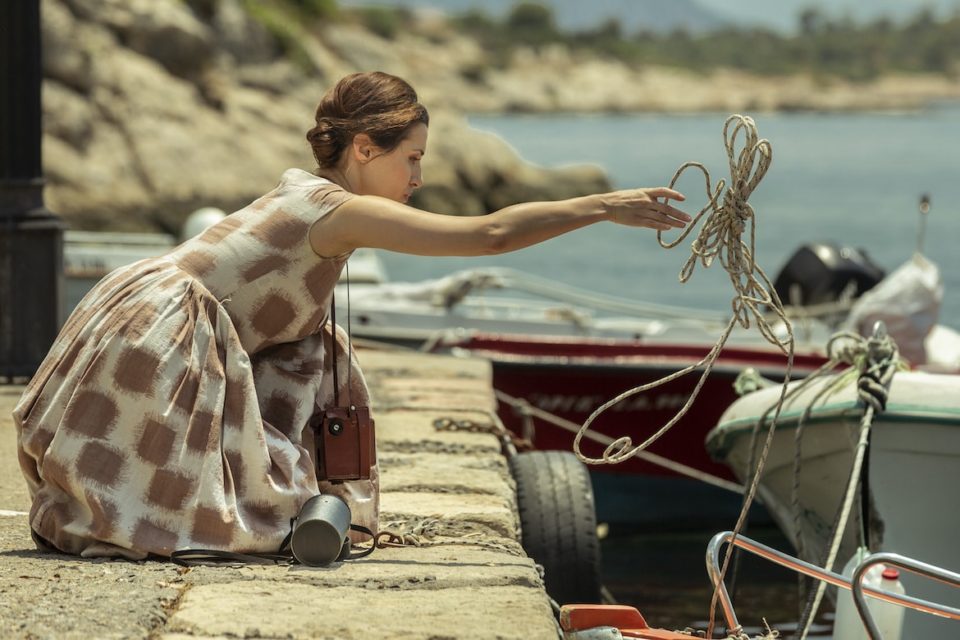 "This film has been pure joy from the get-go," Lellios said. "We have literally just started its journey with this Oscar run that the Laemmle has supported so much."
The movie features Greek and Turkish dialogue with English subtitles, and its cast include names such as Marianna Polychronidi, Georgia Zoi, Dimitra Banti and Ioannis Tsoumarakis (Durrells, 4th season).
Lellios, a dual US-Greek citizen, shot the entire film in the village of Thisvi in central Greece — marking the first time a movie had ever been shot there. She said this aspect of filming was critical, as it fulfilled her desire to honor the "beautiful country" of her heritage.
"[The film is] showing different areas of Greece not that known" she said. "And of course, [we are] working with extraordinary Greek talent in front of and behind the camera."
Lellios added that she is especially grateful for her "extraordinary" Athens-based producer Antigoni Gavriatopoulou.
"The work and dedication of Antigoni is beyond what one hopes for in a producer," she said. "Although we live in Athens and Los Angeles — thousands of miles apart — Antigoni and I have had many similar life experiences and we wanted to bring one of those to the screen: the theme of immigration and homeland."
---
Is The Pappas Post worth $5 a month for all of the content you read? On any given month, we publish dozens of articles that educate, inform, entertain, inspire and enrich thousands who read The Pappas Post. I'm asking those who frequent the site to chip in and help keep the quality of our content high — and free. Click here and start your monthly or annual support today. If you choose to pay (a) $5/month or more or (b) $50/year or more then you will be able to browse our site completely ad-free!

Click here if you would like to subscribe to The Pappas Post Weekly News Update