Do you believe in the healing power of seawater?
As seafarers, the ancient Greeks believed seawater, and specifically, sea salt could heal all. Hippocrates encouraged hot seawater baths to help heal ailments. 
Now, let's sea what the sea salt craze is all about.
What is Greek sea salt and why use it over table salt?
Most salts are heavily processed and come from mines and flats all over the world.
However, Greek sea salt is different since it comes from the sea. Greeks harvest salt at certain times during the year when saltwater evaporates off the coasts. 
Additionally, Greek sea salt retains its minerals, including potassium, magnesium, and calcium, since it's less processed. These minerals make it taste much better than regular table salt – it should have a clean and fresh taste. Sea salt also has a brown or yellow appearance due to its mineral content.
Just do a quick taste test by putting different types of salt on your fingers, and you'll notice the difference! Specialty shops even sell some sea salts blended with Greek herbs.
Why your body needs Greek sea salt
Helps your nervous system
Your body's cells need to get enough sodium and potassium so that they can send electrical currents throughout the body. 
This is how your muscles contract and your nerve cells communicate!
Relieves muscle cramps
Did you know that sodium, potassium, calcium, and magnesium are all electrolytes? 
That's why these minerals are commonly found in sports drinks. Greek sea salt can help provide sodium as well as other essential minerals when added to foods.
Helps your body absorb nutrients
Sea salt contains naturally occurring chloride, which then supports stomach acid production. It also helps nutrients be digested and absorbed in the body properly. [2]
Helps regulate blood pressure
A study that compared the use of natural sea salt versus regular salt found that sea salt use was associated with less hypertension (high blood pressure). [1] 
Perhaps salt isn't terrible for blood pressure after all.
Treats skin conditions
This was the most popular use of sea salt by the ancient Greeks! Greek sea salt is believed to help psoriasis and other skin conditions.
Disclaimer: Consume salt in moderation. One teaspoon of salt or sea salt contains 2,300 milligrams of sodium.
Health authorities recommend consuming less than 2,300 milligrams of sodium (salt) per day (and less than 1,500 milligrams for anyone with high blood pressure). Compare that number to the average American who consumes over 3,400 milligrams of sodium in a day. 
From a sodium perspective, sea salt contributes just as much sodium to your diet as table salt does.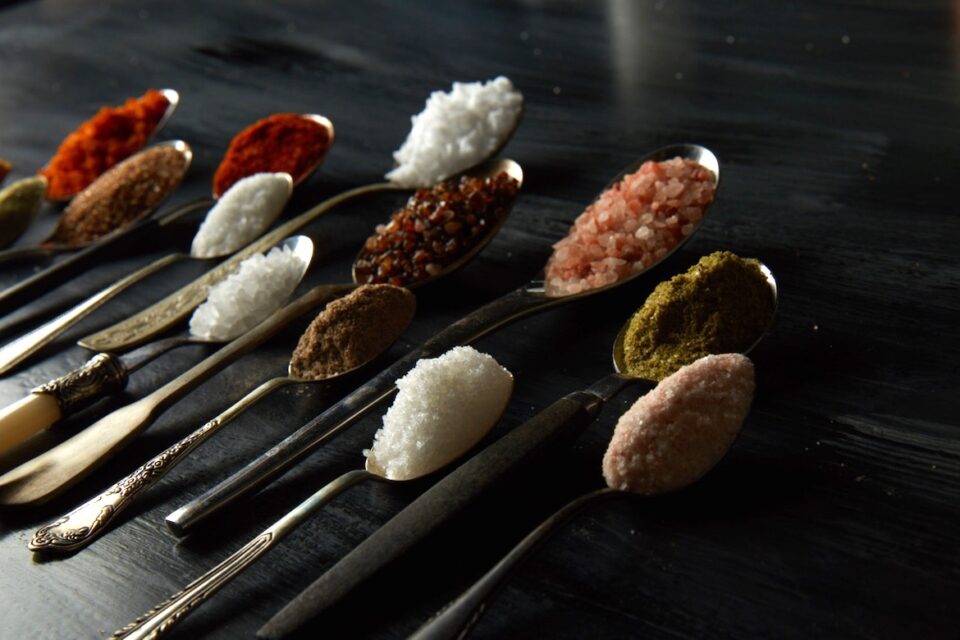 How to use Greek sea salt  
You can use it anywhere you'd normally use table salt:
Anywhere that a recipe calls for table salt, use Greek sea salt instead
Add it to your meals during and after cooking for enhanced flavor
Make an at-home mix of Greek sea salt and herbs to season chicken, fish, and vegetables
Just remember that a little pinch goes a long way when it comes to sea salt! Its stronger flavor means that you generally don't have to use as much of it.
The bottom line
Greek sea salt is superior to table salt due to its enhanced mineral content and taste. It can be a healthy and tasty addition to many foods when used in moderation. Try substituting it anywhere where you'd use salt!
Some of the healthiest and purest Greek sea salt is available for purchase from Olive Grove Market.
---

Click here to shop olivegrovemarket.com
---
References
Lee BH, Yang AR, Kim MY, McCurdy S, Boisvert WA. Natural sea salt consumption confers protection against hypertension and kidney damage in Dahl salt-sensitive rats. Food Nutr Res. 2016 Dec 20;61(1):1264713. doi: 10.1080/16546628.2017.1264713. Erratum in: Food Nutr Res. 2017 Mar 20;61(1):1300375. 
---
About the author
Chrissy Arsenault, MBA, RDN, LD, is a registered dietitian nutritionist and licensed dietitian based in Indianapolis. She obtained her bachelor of science in nutritional science at Cornell University and her MBA at Indiana University Kelley School of Business. She is the founder and CEO of a nutrition communications firm called Pink Pamplemousse LLC, where she creates engaging nutrition and wellness content for clients. She has also coached clients on various health conditions including heart disease, obesity, digestive issues and diabetes over the last seven years. Visit Chrissy's website.
---
Is The Pappas Post worth $5 a month for all of the content you read? On any given month, we publish dozens of articles that educate, inform, entertain, inspire and enrich thousands who read The Pappas Post. I'm asking those who frequent the site to chip in and help keep the quality of our content high — and free. Click here and start your monthly or annual support today. If you choose to pay (a) $5/month or more or (b) $50/year or more then you will be able to browse our site completely ad-free!

Click here if you would like to subscribe to The Pappas Post Weekly News Update