Hellenic Relief Foundation Inc. is a non profit (501 c-3) organization formed in New York in January of 2012 with a mission to provide support for the people in Greece, suffering during the present economic crisis and also addressing needs in health and nutrition. Hellenic Relief Foundation is continuing its efforts, transferring contributions received in the United States into food and other essential items to disadvantaged families in Greece. To this date $275,000 have been remitted to various food vendors who in turn supplied food that has supported about 17,000 families.
In May: HRF distributed 460 food packages to families in Athens, Piraeus, Kalyvia, Spetses, as well as to various organizations in need. The Athens delivery took place on May 15th; Phil Vogis (Vogiatzoglou) of the Board of Directors, and Frank Fotis-AHEPA Supreme Governor of New England -were at this distribution. Mr. Fotis stated that it was his first time attending a food donation program and expressed his satisfaction with the operation, and with how HRF safeguards the dignity of those who are in a situation of need though no fault of their own. Mr. Vogis was also present at the Thessaloniki distribution on May 22nd where 100 parcels were provided to underprivileged families.
In June: Athens-June 24th marked the first delivery of 415 parcels from the new warehouse rented by HRF's volunteers in Greece who have formed the association 'Hellenic Volunteer Support,' (Ελληνική Εθελοντική Συμπαράσταση.) Stelios Taketzis, member of the Board of Directors, was on location to thank all the volunteers, lead by Ms. Maria Siourdi, for their tireless efforts in vetting the recipients, packaging, and distributing all items. This delivery was also supported by young volunteers who work for the Greek branch of the market research company RESEARCH NOW.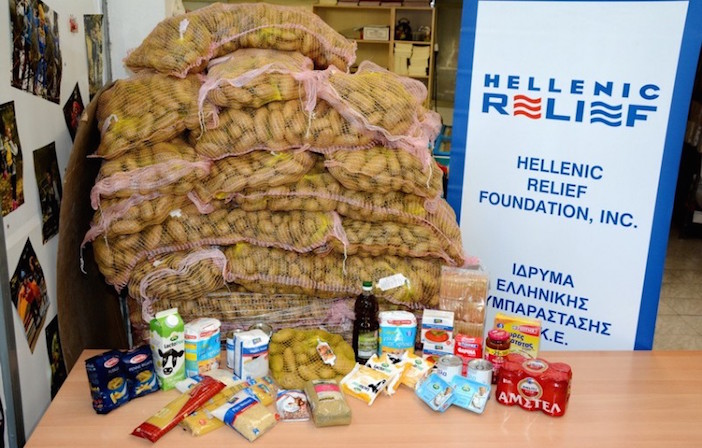 In July: A benefit concert titled 'Anthology of Greek song' was held on July 4th. The concert was a cooperation of HRF with the Greek Orthodox Communities of the Transfiguration of Christ of Mattituck- which hosted the concert in its courtyard- and the Church of Ss. Anargyroi, Taxiarchis, and Gerasimos of Greenport, and the Hellenic American Taxpayer and Civic Association of the Southhold Township in New York. Approximately 300 families celebrated July 4th with Grigoris Maninakis, Eleni Andreou, Elena Toumaras, and the Mikrokosmos ensemble.
In the month of July, 360 parcels were distributed along with clothing, and diapers that were collected and sent from the States. The additional items of clothing and diapers were secured through the efforts of the community of Archangel Michael Greek Orthodox Church of Port Washington, and other friends of HRF. Mr. Kostas Zachariades along with protopresbyter Fr. Dennis Strounzas, and Ms. Suzanne Kavounides of the PTA spearheaded the clothing collection. Mr. Zachariades was in Athens, and assisted with the July 17th distribution, which included 400 Kilos of flour donated by Agios Georgios Flour Mills, and butter from ARLA Foods.
In August: On August 13th 360 families in Athens and vicinity received food packages. Prokopis Zervas, member of the Board of Directors, was at this distribution and spoke to many recipients. He congratulated and thanked the volunteers who despite August being the heart of vacation season, were on hand to properly package, and allot the food parcels. For this distribution and for all others, it is standard procedure for families to be notified of delivery, and for them to sign for all packages.