The locals called this place Golgotha, a hill overlooking the village of Agia, outside of Hania, where the Nazi Germans brought prisoners and rebels — those fighting against the Germans during the occupation years of 1941-45.
The Germans set up a pole where, one by one, villagers were brought to this spot and shot by a firing squad. The hill was "conveniently" located next to the local prisons, which were also used by the Nazis to hold those accused of being rebels or aiding the Allied soldiers as they fled the island during the Battle of Crete in 1941.
On August 29, 1944, 25 Cretan freedom fighters were executed at Golgotha by Nazi soldiers. The names of those killed were as follows:
Dimitrios Kokkinomagoulas
Giorgos Vardakis
Costas Foudoulakis
Vasileios Salmanis
Spyros Vardakis
Elias Vamvarkaris
Konstantinos Manolizakis
Markos Lampridis
Stavros Panagiotakis
Ioannis Avronidakis
Emmanuel Lourandakis
Konstantinos Marketakis 
Roussos Koundouros 
Eleftherios Skalidis 
Nikolaos Stefanakis
Stylianos Tekakis
Dimosthenis Pimblis
Ioannis Georgilas
Giorgos Hadjioziannakis
Antonios Vayidomarkakis
Emmanouil Kontopirakis
Michail Koshilakis
Epomenidis Vassiliadis 
Nikolaos Foufoudakis
Athanasios Frangiadakis
Today, there's a memorial with the original pole upon which men, women and even children were assassinated.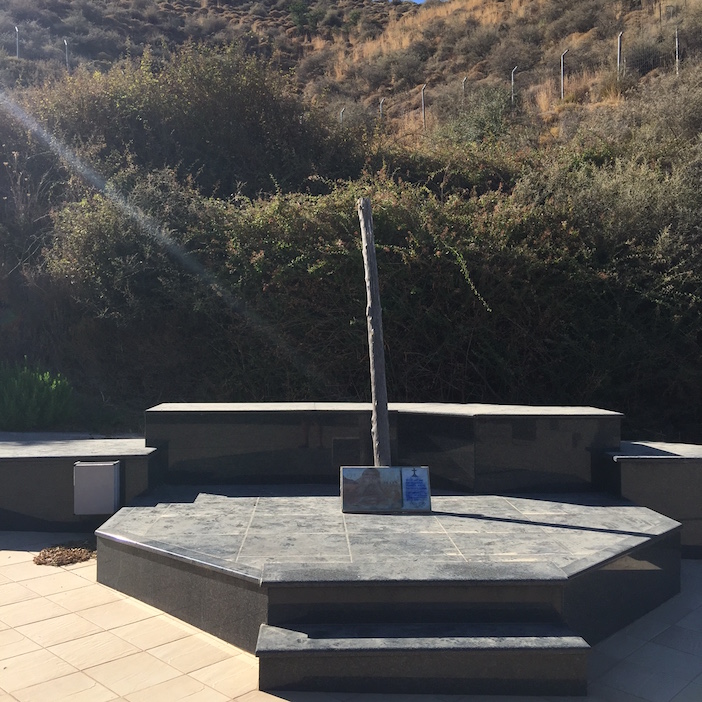 I saw the sign while driving back from a visit to a friend's winery and I was intrigued by the Biblical reference to Golgotha, the place where Jesus was crucified.
The analogy of a savior dying for mankind, with freedom fighters dying to keep their homeland free from tyranny for future generations was evident.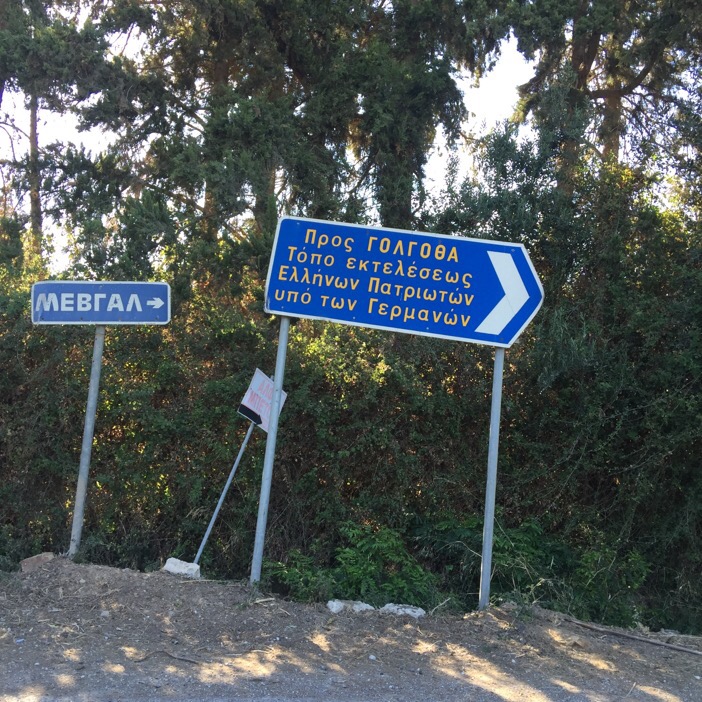 ---
Is The Pappas Post worth $5 a month for all of the content you read? On any given month, we publish dozens of articles that educate, inform, entertain, inspire and enrich thousands who read The Pappas Post. I'm asking those who frequent the site to chip in and help keep the quality of our content high — and free. Click here and start your monthly or annual support today. If you choose to pay (a) $5/month or more or (b) $50/year or more then you will be able to browse our site completely ad-free!

Click here if you would like to subscribe to The Pappas Post Weekly News Update