For more than three decades, the annual Greek Independence Day celebration at The White House has attracted hundreds of community leaders from around the United States.
Organized by Washington D.C. lobbyists Mike and Andrew Manatos, the reception (which includes Greek food) continues a decades-long tradition of U.S. presidents opening the White House to Greek Americans.
"The Irish American community (one in eight Americans) and we (one in 250 Americans) are the only ethnic groups that are able to secure an annual event with the president of the United States," Manatos said.
Prior to the first celebration in 1986 hosted by President Ronald Reagan, Greek Orthodox archbishops and community delegations visited the White House to meet with the president.
The first such meeting took place in 1924 when newly-elected AHEPA leaders met with President Calvin Coolidge.
See our photo compilation highlighting more than 90 years of Greek American visits at the White House.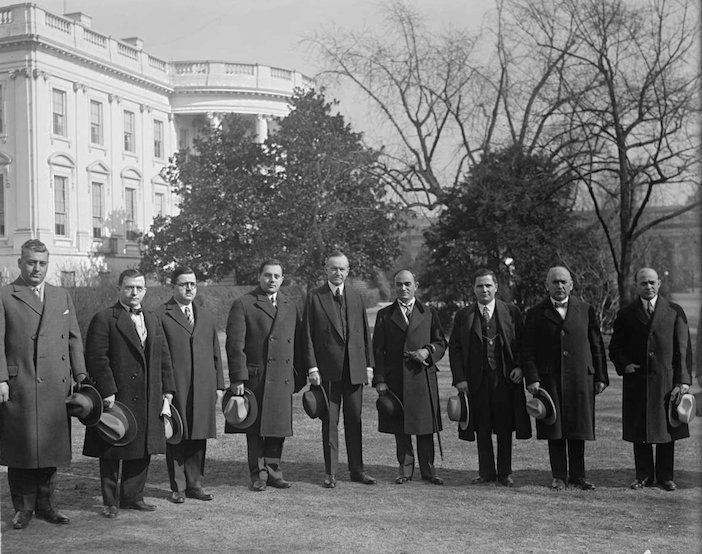 Representatives of the American Hellenic Educational Progressive Association (AHEPA) visited the White House to meet President Calvin Coolidge on February 3, 1929. Their visit marked the first time a Greek organization in America had a sitting meeting with a U.S. President.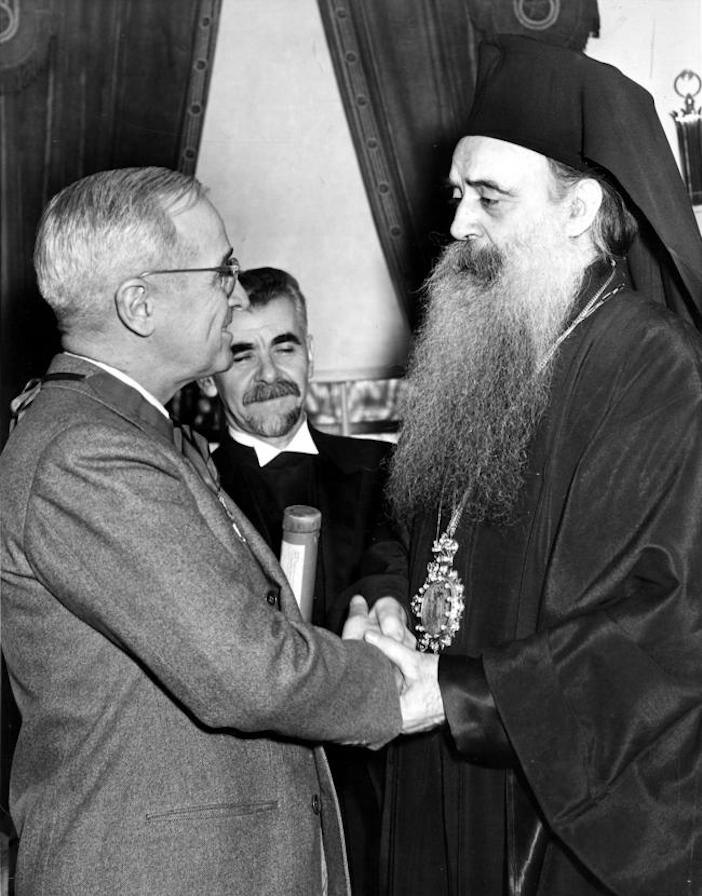 President Harry Truman and Archbishop Athenagoras in 1947.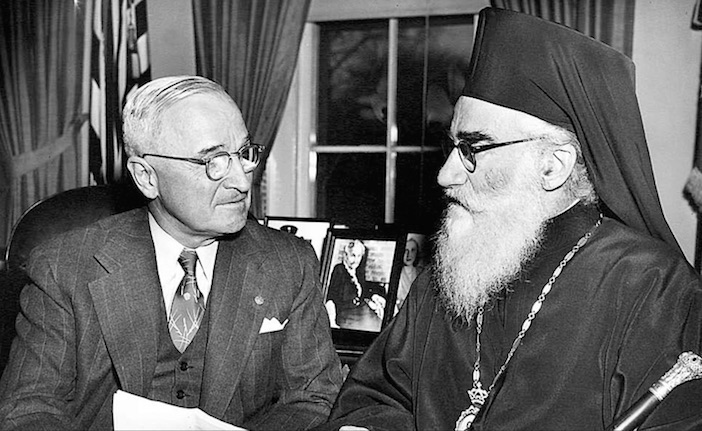 President Harry S. Truman with Archbishop Michael in 1950 to discuss the crisis regarding the repatriation of thousands of Greek children who had been taken captive in communist countries after Greece's civil war.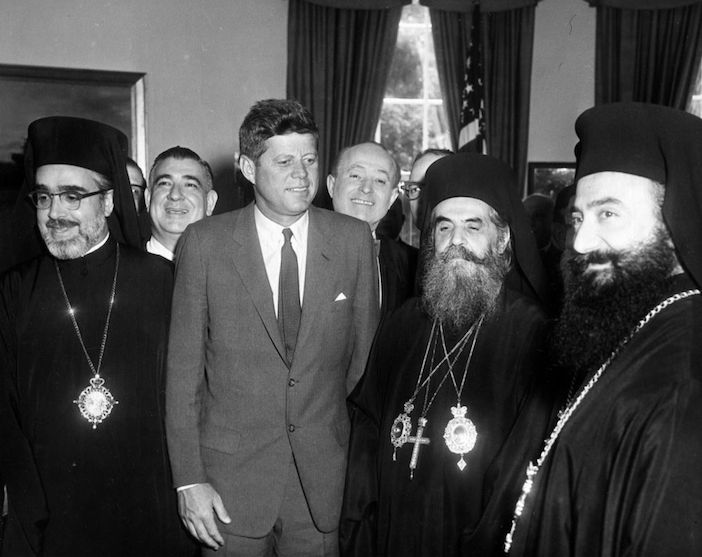 President John F. Kennedy welcomes clergymen from the Greek Orthodox Church, including Archbishop Iakovos (left), in October 1961.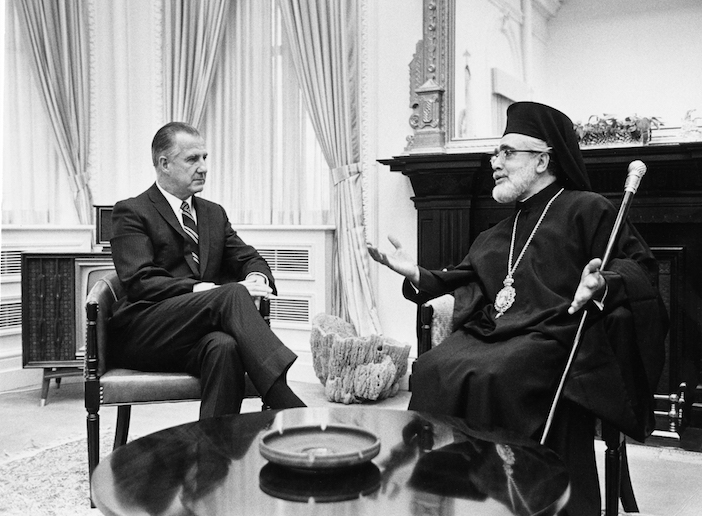 Vice President Spiro Agnew with Archbishop Iakovos in 1971.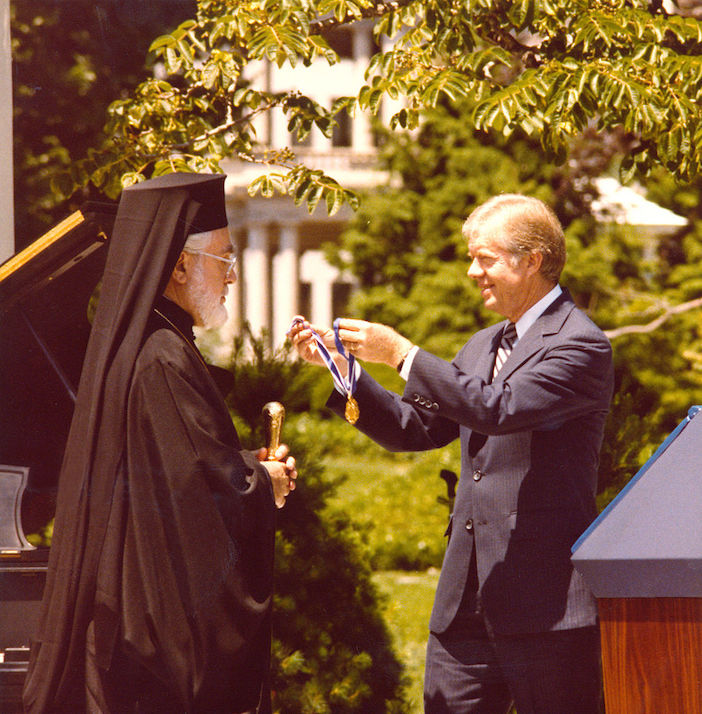 Archbishop Iakovos receives the Presidential Medal of Freedom from President Jimmy Carter. June 9, 1980.
Mike Manatos and Andy Manatos, the father-son lobbying team in Washington D.C., began the regular community-wide celebration during President Reagan's administration in 1986.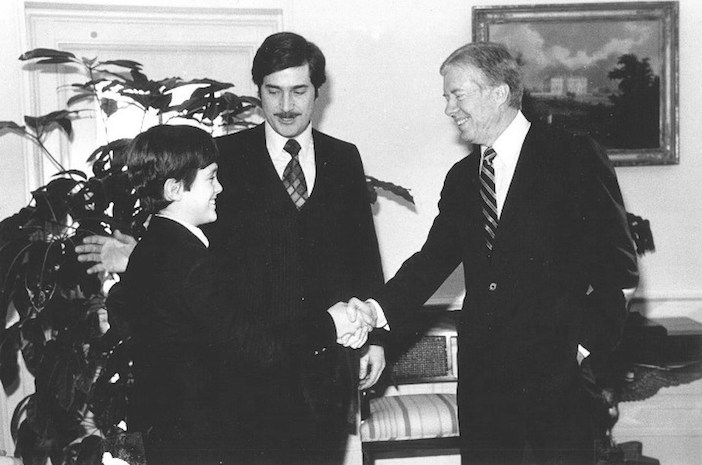 Mike got an early start in politics when his father Andy introduced him to President Jimmy Carter. The elder Manatos served as Assistant Commerce Secretary.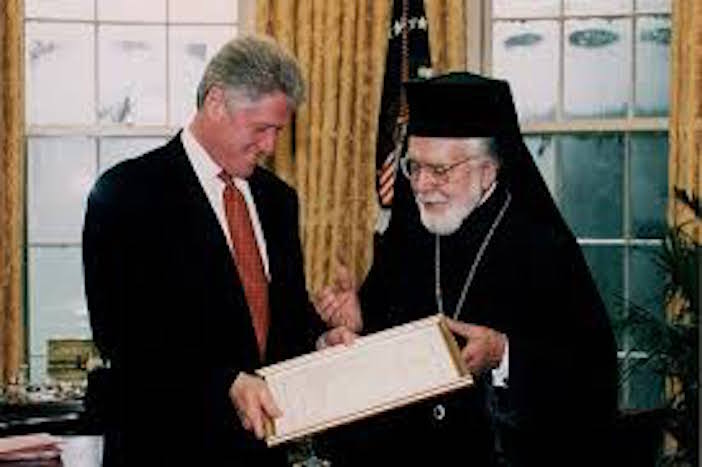 President Bill Clinton presents the Greek Independence Day proclamation to Archbishop Iakovos.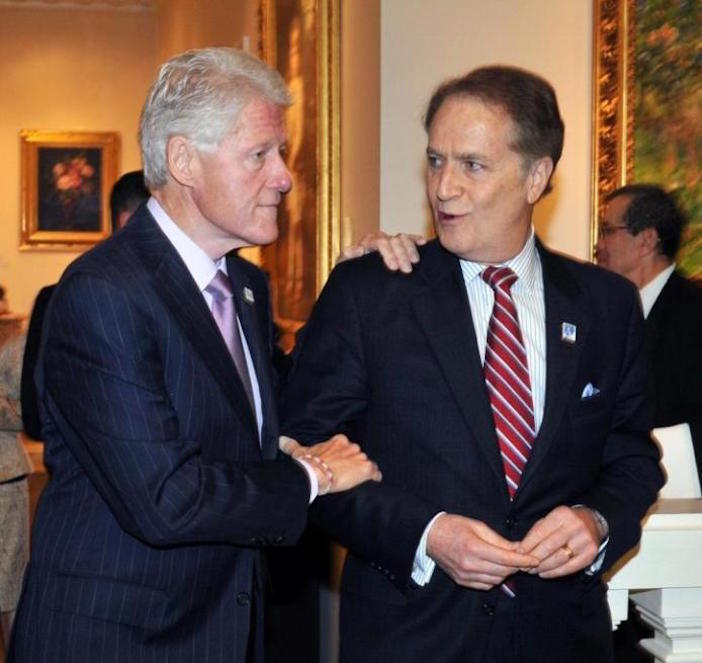 President Clinton with Andy Manatos.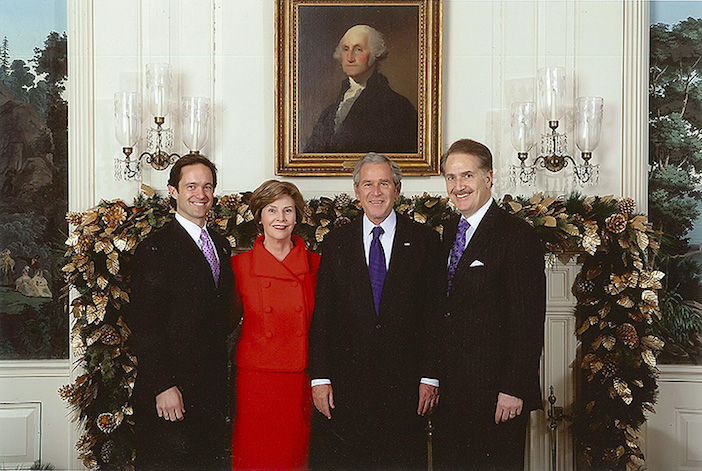 The Bush family with Andy and Mike Manatos.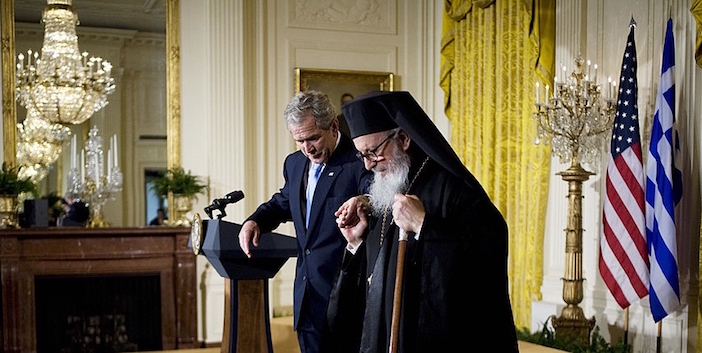 President George W. Bush helps Archbishop Demetrios off the stage.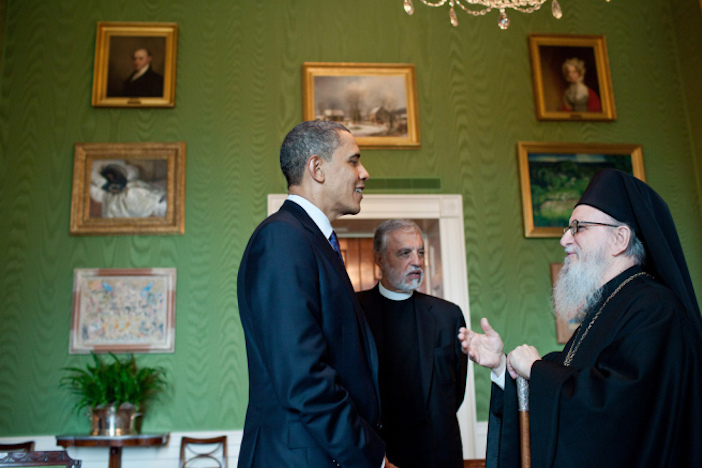 President Barack Obama visits with Archbishop Demetrios in the Green Room of the White House prior to the 2011 reception.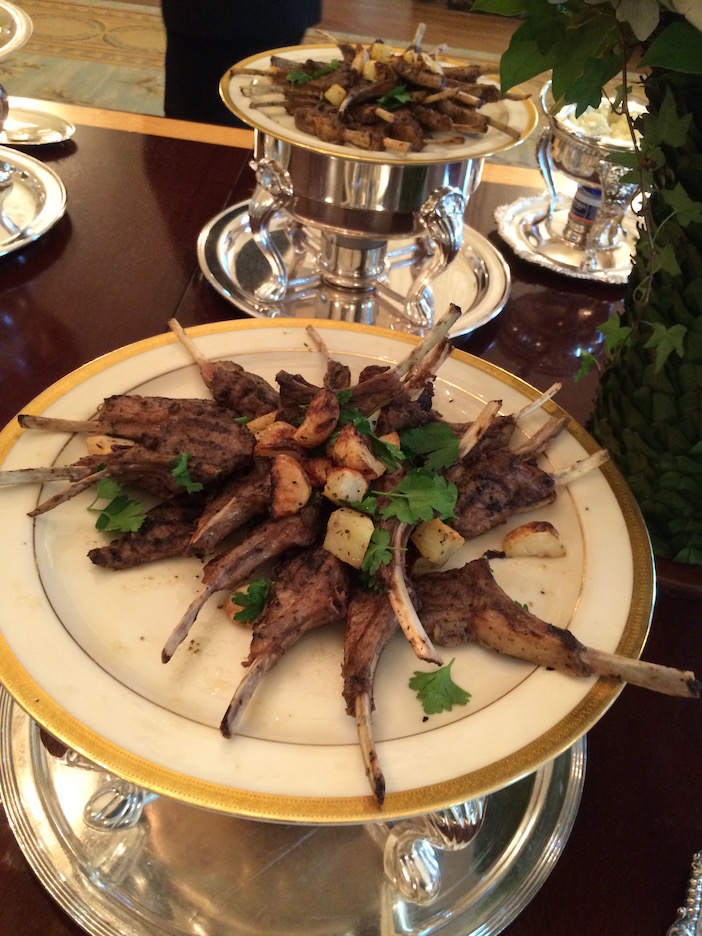 Of course, no Greek celebration is complete without lamb chops.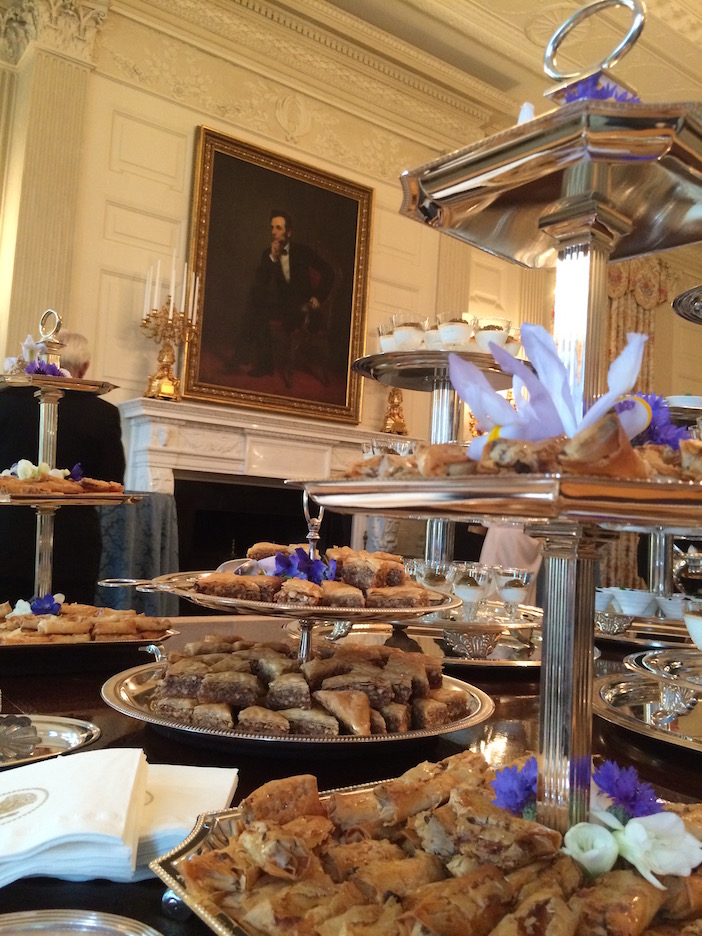 It's quite a surreal experience seeing baklava displayed so elegantly next to the Abe Lincoln portrait in the formal dining room.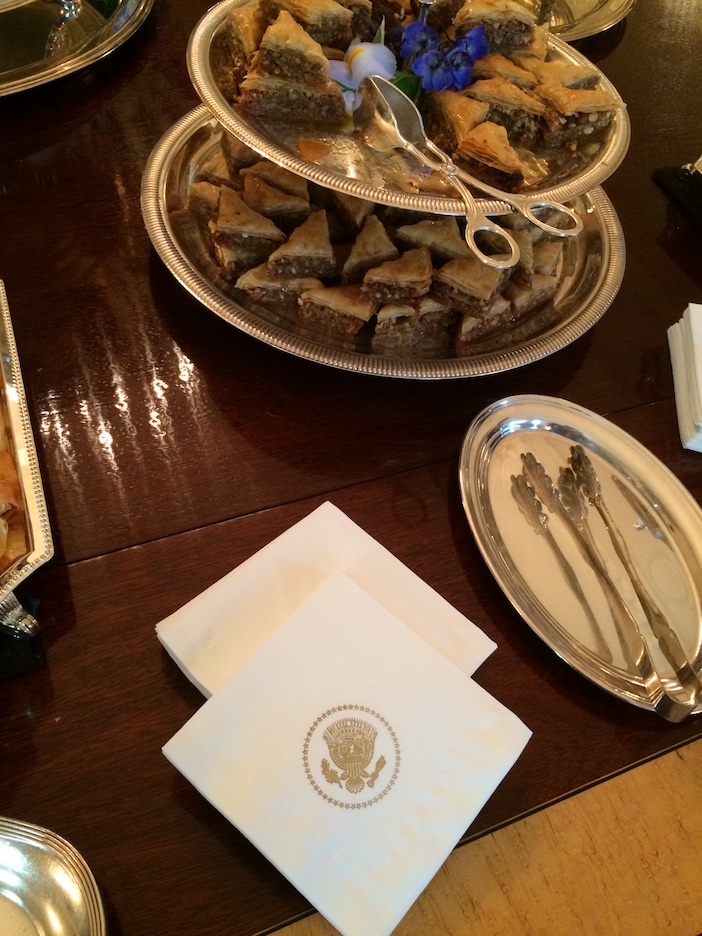 …And right next to the official White House napkins.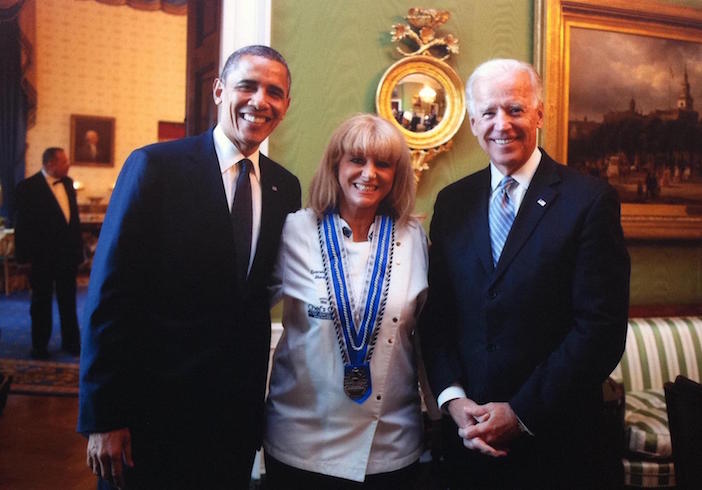 White House events have often included celebrity chefs, including Manhattan-based Chef Maria Loi in 2012.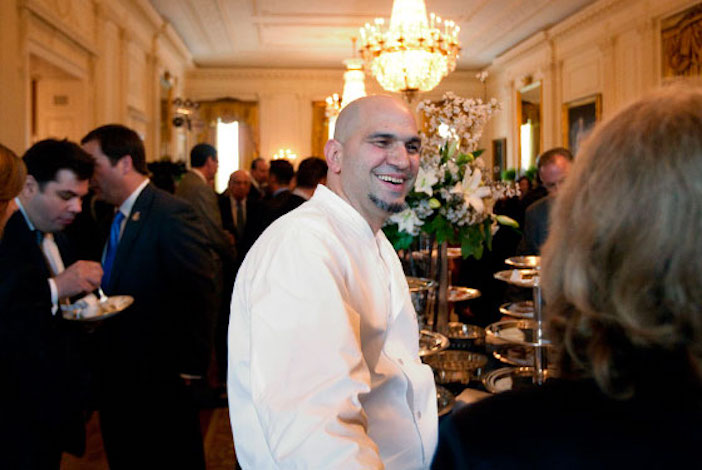 New York City's Michael Psilakis has also cooked for the reception.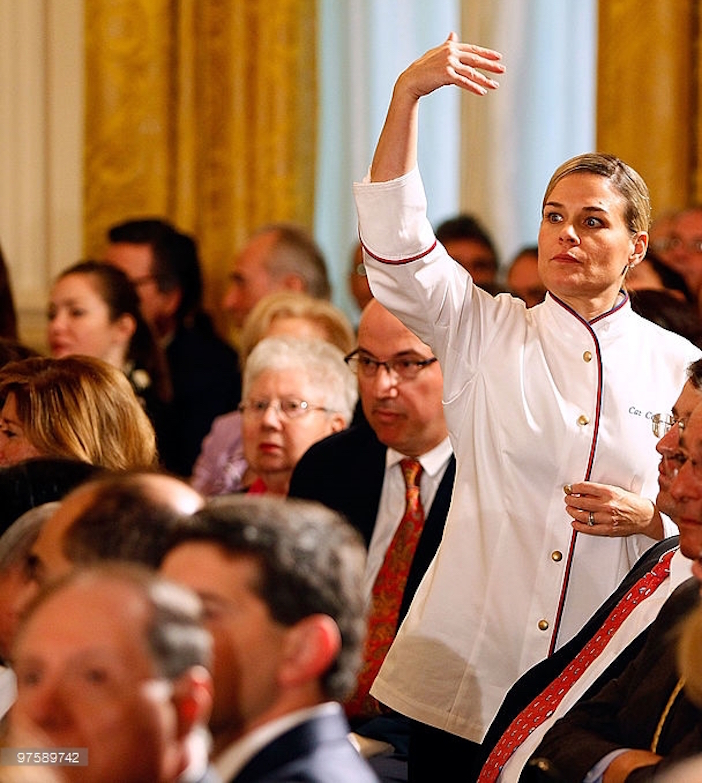 And Chef Cat Cora, who in 2010 created a special menu fusing her Greek and southern heritage.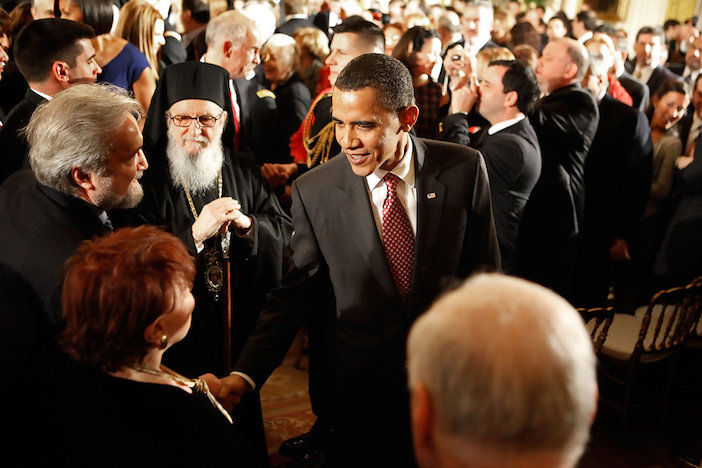 President Obama greets Greek American guests.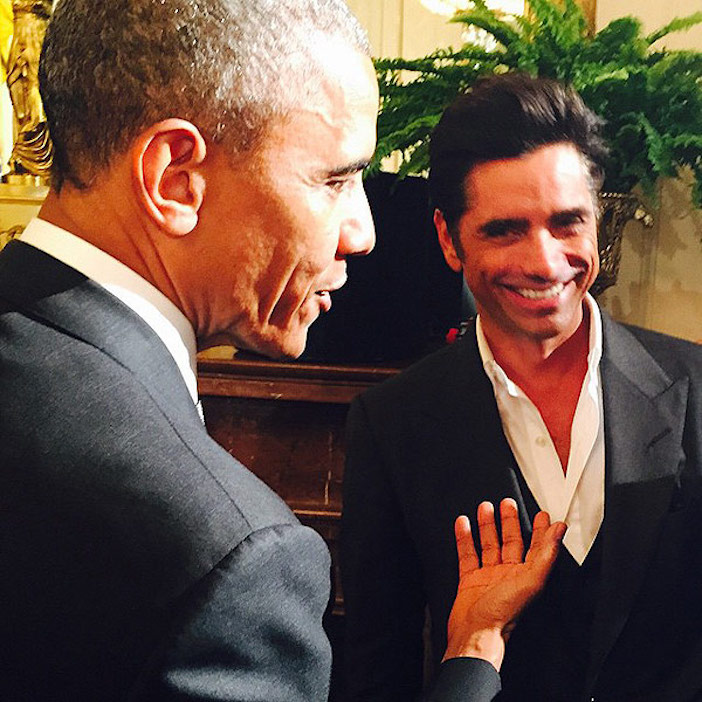 John Stamos and President Obama in 2015
Archbishop Demetrios and President Donald Trump in 2017.
President Trump delivers remarks during the 2018 reception.
---
Is The Pappas Post worth $5 a month for all of the content you read? On any given month, we publish dozens of articles that educate, inform, entertain, inspire and enrich thousands who read The Pappas Post. I'm asking those who frequent the site to chip in and help keep the quality of our content high — and free. Click here and start your monthly or annual support today. If you choose to pay (a) $5/month or more or (b) $50/year or more then you will be able to browse our site completely ad-free!

Click here if you would like to subscribe to The Pappas Post Weekly News Update